Moving Venue's Annual Gratitude Dinner at Landing 42
Thursday 19 October 2023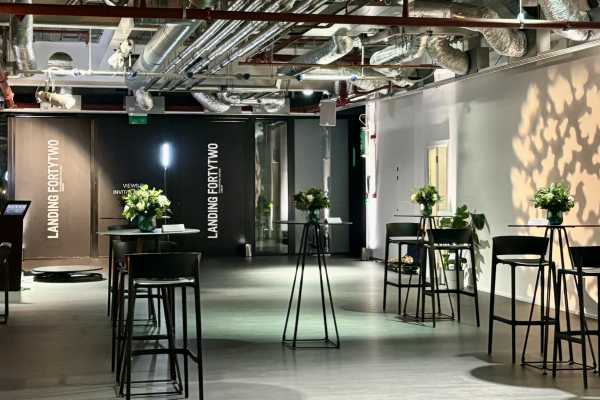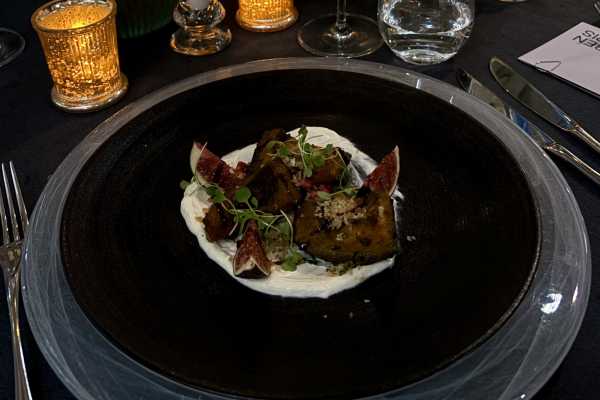 Earlier this week, VSL were invited along to an evening of fine dining and entertainment at London's highest dedicated event space, Landing Forty Two, located in the iconic 'Cheesegrater' building on the 42nd floor of The Leadenhall Building.
Attending as guests of Moving Venue, Emma and Amelia were thrilled to be invited to the 2023 gratitude dinner. Arriving at Landing 42, immediately you are greeted with a sense of grandeur and exclusivity as you make your way up the escalators to the main entrance, and onto the dedicated elevators whisking guests up to the 42nd floor.
As London's highest private events venue, the space offers breath-taking panoramic views over the city where guests can marvel at London's iconic landmarks, such as The Shard, Tower Bridge and St. Paul's Cathedral. The space can accommodate 300 for a standing reception and 220 for seated functions, providing a truly unique setting for a number of events; from company conferences and gala dinners to product launches and drinks receptions, the blank canvas venue can be tailored to suit a number of corporate occasions. The modern, industrial and stylish interior, combined with floor-to-ceiling windows and panoramic views, created a stunning backdrop for what was to be a lavish evening to come.
The evening commenced with flowing English sparkling wine, beautifully presented lychee martinis and exquisite hand-crafted canapés; demonstrating the impeccable standards you can expect to receive from catering partner, Moving Venue. With a rich history dating back to the 1980's, Moving Venue have established a reputation for delivering exceptional culinary experiences and operational excellence and are an accredited supplier of over 50 prestigious event venues, in and around London.
Moving Venue flawlessly executed a bespoke Autumn menu that showcased the very best of seasonal ingredients, prepared with a remarkable blend of creativity and precision. The chefs demonstrated their culinary expertise, crafting dishes that not only tantalised the taste buds but also celebrated the flavours of the Autumn season, which is now very much upon us! From a vibrant pumpkin and pomegranate starter to succulent loin of venison accompanied with root vegetables; each ingredient was carefully selected to create a culinary masterpiece and showcase a range of autumnal flavours on the plate in front of us. In addition to the exquisite meals served, Moving Venue's service was of the highest possible standard. The attentive and professional staff provided impeccable service throughout the duration of the event.
It is undeniable that London is a city known for iconic landmarks and impressive venues, however when it comes to hosting an event that demonstrates the very best of what the city has to offer, Landing 42 in partnership with Moving Venue, presents a truly extraordinary opportunity. The combination of the contemporary industrial design of the space, panoramic views across London's city skyline and the exceptional catering from Moving Venue, Landing 42 creates an impressive event space for any event occasion.
Landing 42 is just one of many venues available to hire in London. Our team of free venue finding experts are on hand to create the perfect shortlist of venues in London for your next event.
Please complete our quick enquiry form with your specific dates, budget and ideal location and we will use our experience and venue relationships to save you both time and money.
Alternatively, please send us a quick e mail or call our team now on 0207 870 9305 to discuss Landing 42 and other suitable venues for your next event.