7 Top Tips For Booking London Conference Venues
Thursday 2 November 2023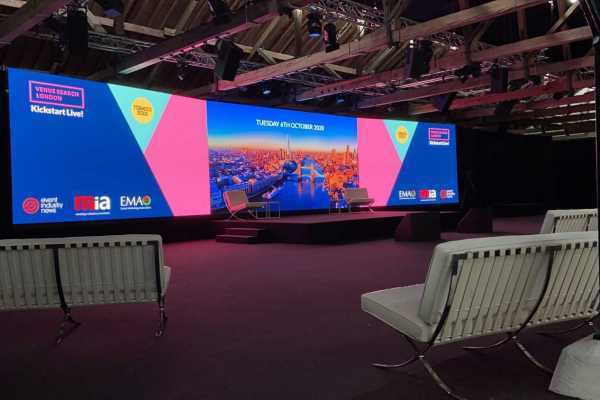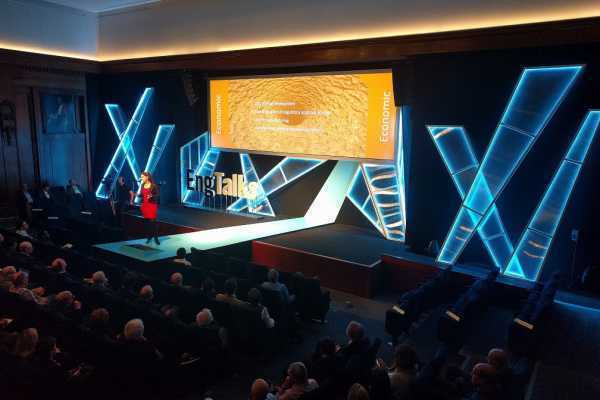 As many companies start planning their January and Q1 Kick Off conferences, we offer advice when choosing the right London conference venues in London. Our team of free venue finders share their top tips, along with our Top 5 Boutique, Large Airy Space, Hybrid, Out of Town, and Sustainable venues...
1. Plan Early - it's important to get ahead of the game and to get the best venue availability to match your specific requirements, you should start planning at least six months prior to your event for large or residential conferences. Shorter lead times are required for smaller events but the advice to plan ahead remains in place for all events.

2. Location - Location is always an important factor when booking conferences venues in London. With more service sector staff working from home, proximity to mainline stations is of increasing importance in the post-Covid era. With sustainable venues an increasingly important factor in corporate event organising, reducing travel distances is the best way to reduce the carbon footprint of events.

3. Set a date – This sounds obvious, but it is essential to have a clear brief on a date (or better a set of date options), before you start your London conference venues search to give you the best options. If you can be a little bit more flexible with the date then this can definitely be used to your advantage. Most corporate clients look to hire their meetings and conference venues in London on Tuesdays, Wednesdays and Thursdays, so if you're able to consider less popular days it is likely that you'll be able to grab yourself a great deal.

4. Timings - More and more clients are looking to host networking receptions after their conferences. However, when hiring a conference venue in London if you are extending your event past the generic daytime hire (normally around 17:30) this can often lead to a surge on the venue hire. Why not look at having a slightly shorter lunch break or having the conference finish slightly earlier and you'll be able to reduce your costs.

5. Vision - It's important to have a clear idea and understanding of what you want for your event when hiring conference venues in London. Finding the perfect venue for your event will be straight forward if you have an understanding of the type of venue aesthetics you want for your conference so that is matches the vision and key messages.

6. Catering - Depending on the type of venue you decide to hire for you conference will depend whether catering is included or whether you will need to look into hiring an external catering company. If the catering is not provided in-house, then it is important to look at the venue's preferred supplier list and get quotes before committing to the venue. Also, light and high energy menus will ensure the delegates remain focussed throughout the event.

7. Hybrid ready – Ensure that your venue has great steaming capabilities so that the vent can be delivered to those unable to attend in person. Many businesses are facing the opposing benefits of virtual conferences versus in-person meetings. There are clear benefits of virtual events in terms of sustainability, cost and potential audience reach, but most appreciate that the value of face-to-face conferences, with all the networking, social and team cultural benefits that can only come from in person conferences.

And our final tip – Use a free venue finder! At Venue Search London, we provide a free personalised service, with our knowledge and expertise allowing us to present the best conference venue London has to offer and then negotiate on your behalf, saving you money and time doing the groundwork.

So, if you are looking for the best Central London Conference venues (or beyond!) for your next event, please email us at hello@venuesearchlondon.com or call us on 0207 870 9305.

And finally, here are five of our favourite conference venues in London and the South East of England:


Best for boutique: The Dixon, Tower Bridge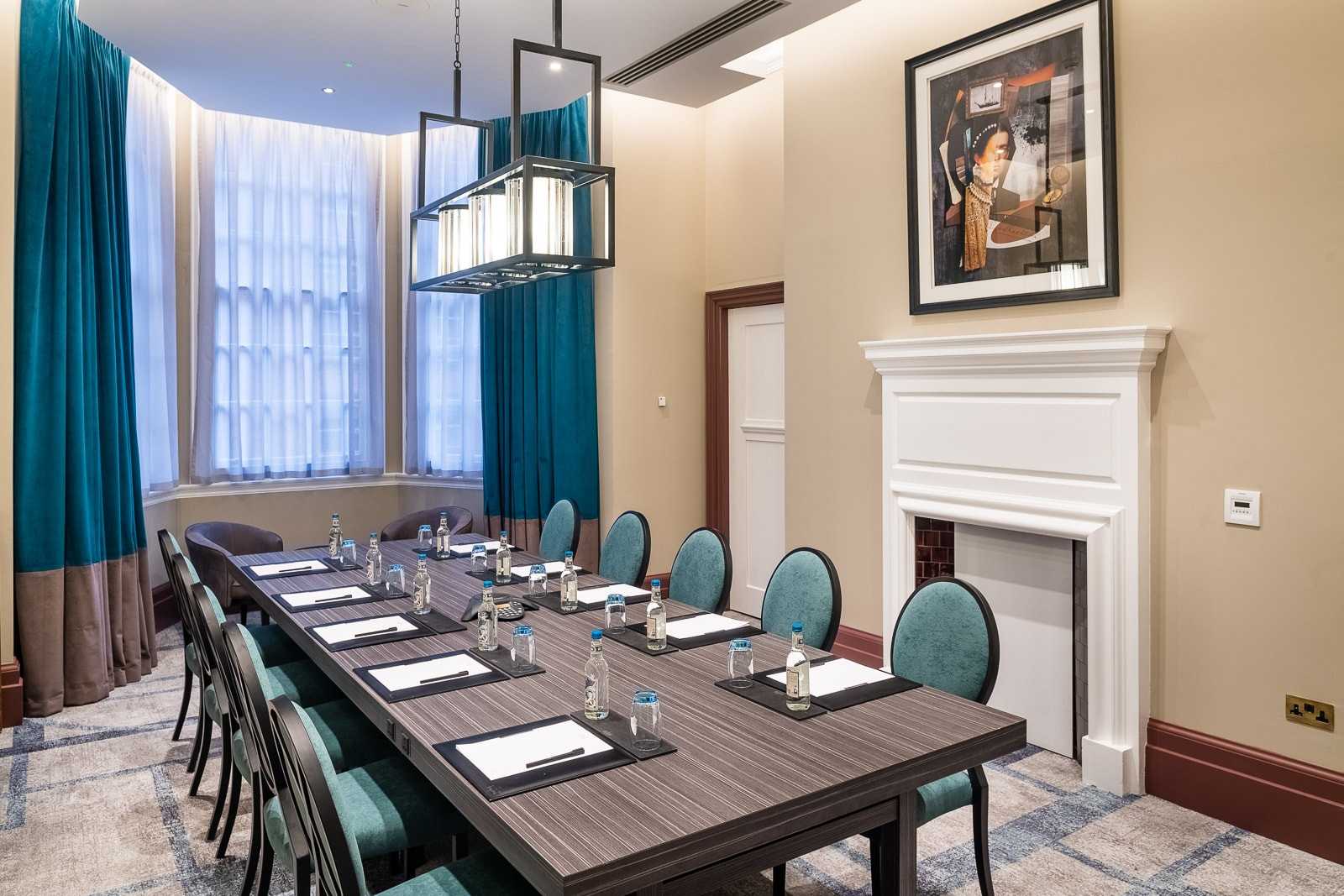 If you're looking to hire the perfect boutique meeting room near London Bridge or Tower Bridge, then look no further than The Dock. Enter via the very staircase that led prisoners from the cells to the courtroom. Filled with natural light from the original Edwardian bay window, this is the perfect room for everything from meetings to special get-togethers. This luxurious space can accommodate up to 16 guests for private dining or in a boardroom layout.
A private hire meeting room to get your guests talking. The Chambers a former magistrates court is the perfect space for those who are looking to impress. The space is fitted with a large display screen, click-share technology, and high-speed WIFI to ensure every guest has an enjoyable and productive meeting. With restored wooden panelling and a 100-year-old roof lantern that floods the room with natural light, this event space is the ideal canvas on which to paint a spectacular gathering. This spacious conference room can offer you a capacity of up to 47 guests when used as a theatre, up to 27 guests when used as a boardroom or 28 for private dining.



Best for large airy space: Magazine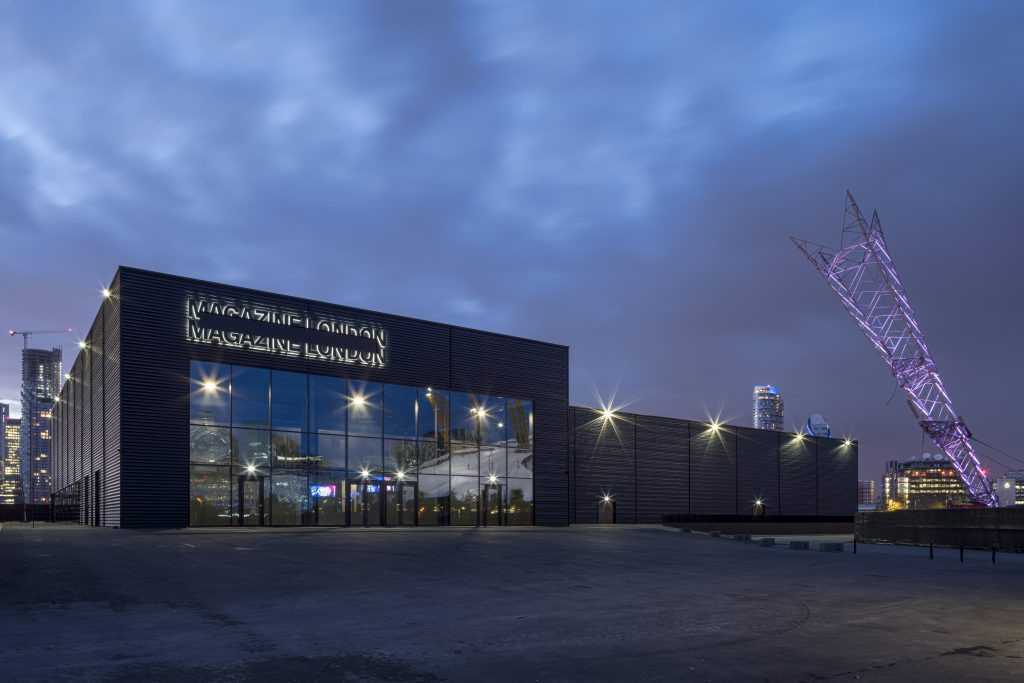 Magazine London boasts 3,205 sq m of versatile interior space for up to 3,000 people and can extend to accommodate a further 7,000 people across the venue's extensive outdoor showground. Located on Greenwich Peninsula, the venue offers unbroken views of the River Thames and Canary Wharf skyline. Both Mezzanines in the venue are accessible via two black steel staircases in Space 1 and can be utilised as VIP areas or as overflow for higher guest numbers; they can also operate as break-out, seminar and exhibition space. The venue is defined by simple architectural form, offering clean and functional spaces that provide a means for large-scale creative expression. Located in the heart of Greenwich Peninsula, with breathtaking views of Canary Wharf, the venue is easily accessible by the Underground (within a three minute walk), road and river.


Best for out of town: Fairmont Windsor Park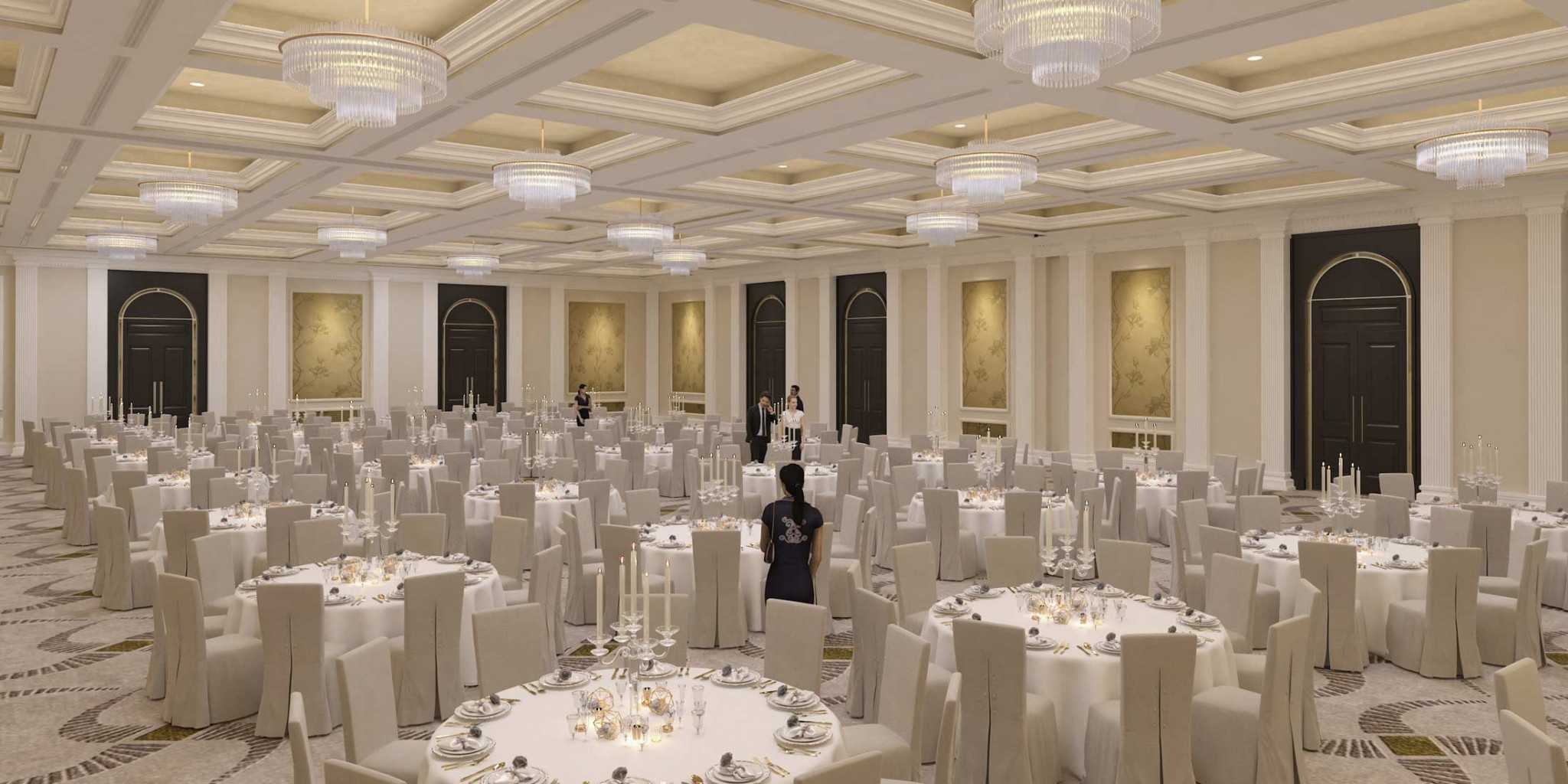 Located on the edge of historic Windsor Great Park and within an hour of London, the hotel is surrounded by 40 acres of open green space featuring a tranquil lake. Formerly known as Savill Court. the hotel has been designed to reflect the sites heritage while offering modern elegance. The Arora Ballroom accommodates up to 700 delegates in a Theatre style layout with a multitude of breakout rooms available, making the venue a perfect residential conference venue away from the hustle and bustle, in close proximity to London Heathrow Airport. Their 15 elegantly designed meeting and event rooms will stimulate thought, discussion and mirrors their ethos and commitment throughout the hotel towards wellness.

Best for hybrid: IET: Savoy Place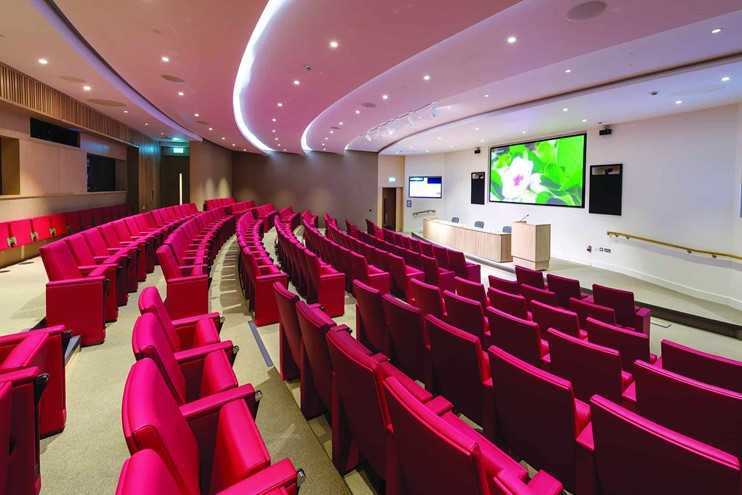 One of the best conference venues central London has to offer, IET London: Savoy Place offers state-of-the-art AV facilities, innovative catering and spectacular views over the River Thames. With 18 versatile event spaces provide capacity from 20-626 guests, perfect for conferences, presentations, meetings, exhibitions and award ceremonies. All spaces are geared up to support technology-driven events, with advanced digital fibre-optic and ethernet embedded throughout the building. Savoy Place is well placed to meet any tech requirements; including being able to stream content from any room to any other room in the building, live broadcasts, worldwide streaming and much more. With a 500MB bandwidth, Savoy Place has no problem supporting multiple devices simultaneously to the Wi-Fi during an event, offering up to 2GB capacity to delegates. No two meetings are identical, but the most successful hybrid events are those that can combine the physical and 'virtual' location seamlessly. From an hour-long consultation to a day-long hybrid conference, IET Savoy Place have a tailored package to meet client needs.


Best for sustainable: Barbican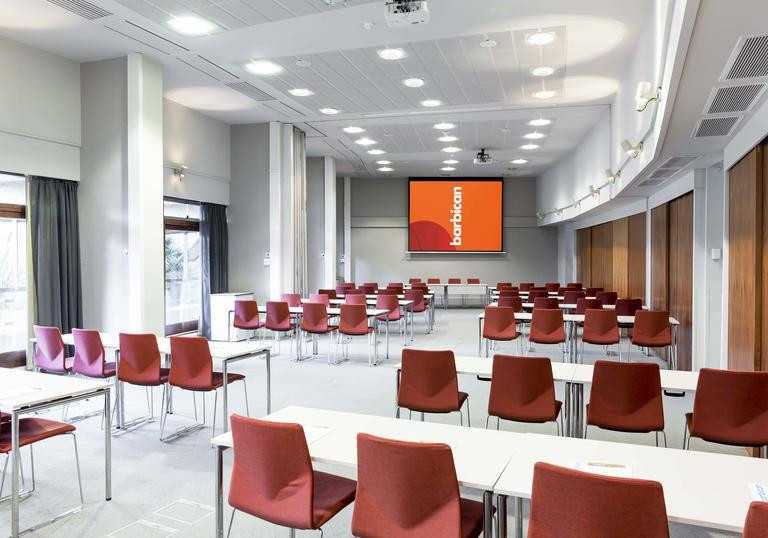 The AIM Gold accredited Barbican has 19 flexible and creative spaces that can be hired for a wide range of events, from conferences, AGMs and product launches to meetings, receptions, and weddings. With its superb technical resources, intelligent design and excellent acoustics, Barbican Hall is justifiably acknowledged as one of the country's finest auditoriums. Its breadth of facilities and size, seating from 500 to 1943 people, make the Hall the ultimate venue for larger conferences. Awarded 'Most Sustainable Venue' at the London Summer Events Show, Barbican have also signed the City of London's Plastic Free City pledge at a platinum level and are supporting Clean Air in the City of London through the Clean City Air Business Engagement Programme.
These are just a few of the many diverse venues available to hire in London. Our team of free venue finding experts are on hand to create the perfect shortlist of venues in London for your next event.
Please complete our quick enquiry form with your specific dates, budget and ideal location and we will use our experience and venue relationships to save you both time and money.
Alternatively, please send us a quick e mail or call our team now on 0207 870 9305 to discuss suitable venues for your next event.
Everything You Need to Know About Conference Venues in London

If you're planning a conference in London, one of the most critical decisions you'll make is selecting the right conference venue. The venue you choose can significantly impact the success of your event. In this comprehensive guide, we'll explore the key factors to consider when selecting a conference venue in London and address various questions you might have.

What are the key factors to consider when selecting a conference venue?

Choosing the perfect conference venue in London involves a multitude of factors. Here are some key considerations:

Location: London is a sprawling city, so your venue's location should be easily accessible by public transportation and close to major attractions or accommodations. Proximity to airports and train stations can be a plus for attendees traveling from out of town.

Size: Determine the number of attendees you expect, and choose a venue that can comfortably accommodate your group. Remember to consider social distancing and safety measures if applicable.

Amenities: Check if the venue offers the necessary amenities, such as audiovisual equipment, Wi-Fi, and technical support. A well-equipped venue can save you the hassle of arranging additional services.

Catering Options: Find out if the venue has in-house catering services, or if you can bring in your preferred caterer. Dietary restrictions and preferences of your attendees should also be taken into account.

Cost: Establish a clear budget and understand the cost structure of the venue. Make sure to inquire about any hidden fees or charges to avoid unexpected expenses.

Cancellation Policy: Learn about the venue's cancellation policy and have a contingency plan in case of unexpected changes in your event.
Accessibility: Ensure the venue is accessible to all attendees, including those with special needs. Check for ramps, elevators, and accessible restrooms.

Security: Consider the safety of your attendees by reviewing the venue's security measures. Ask about onsite security personnel and any emergency plans in place.

Transportation and Parking: Evaluate the availability of nearby parking options and the proximity of public transportation. Providing clear directions and information on these options will help attendees plan their journey.

Accommodation: If you have out-of-town attendees, explore nearby accommodation options. Some venues may have partnerships with local hotels, providing discounted rates for your guests.

How far in advance should I book a meeting or conference venue?

The timing of booking your conference venue is crucial. It's recommended to start your search and secure a venue at least 6 to 12 months in advance. Popular conference venues in London tend to book up quickly, so the sooner you start the process, the better your chances of finding the ideal location for your event. Booking early also provides you with more negotiation leverage and allows you to plan other aspects of your conference with confidence.

What is the average cost of renting a conference venue in London, UK?

The cost can vary significantly depending on factors like location, size, amenities, and the duration of your event. On average, you can expect to pay anywhere from £1,000 to £10,000 or more per day. Smaller meeting rooms or conference spaces may be more affordable, while larger, high-end venues in central London tend to be pricier.

It's essential to consider your budget and what's included in the rental fee, such as audiovisual equipment, catering, and any additional services you might need. To get an accurate estimate, contact several venues for quotes, and be sure to ask about any potential hidden fees.

Are there any hidden fees or charges I should be aware of when booking a conference venue?

Hidden fees can catch you off guard and disrupt your budget. To avoid surprises, ask venue providers for a comprehensive breakdown of costs. Some common hidden fees may include:

Service charges: Additional fees for staff, setup, or cleaning.
Audiovisual equipment: Charges for the use of projectors, microphones, or other technical equipment.
Catering fees: If you choose in-house catering, inquire about any extra charges.
Insurance: Some venues may require event insurance.
Security costs: Fees for security personnel during the event.
Review the contract thoroughly and discuss any potential additional costs with the venue before finalizing your booking.

What size of conference venue is suitable for my event?

Selecting the right venue size depends on the number of attendees and the type of event you're hosting. Here's a general guideline:

Small Meetings: For intimate gatherings or board meetings, opt for a small meeting room or a private space in a restaurant.
Medium-Sized Events: Conferences or seminars with 50 to 300 attendees may require a mid-sized venue, often found in hotels or dedicated conference centers.
Large London Conferences: If you're hosting a conference with 300+ attendees, consider a convention center or a large conference facility in London.
Remember to factor in social distancing and safety guidelines, which might necessitate more space.

Do conference venues typically provide audiovisual equipment and technical support?

Many London conference venues offer audiovisual equipment and technical support as part of their services. However, it's crucial to confirm this in advance and ensure that the equipment meets your specific needs. If the venue provides AV equipment, inquire about their capabilities, including projector quality, microphones, and lighting.

In case you have specific technical requirements or preferences, discuss them with the venue's technical team to ensure a smooth event.

Can I bring in my preferred catering service to the venue, or do they have in-house catering options?

The catering options at London conference venues can vary. Some venues offer in-house catering services, while others may allow you to bring in your preferred catering service. The choice largely depends on your event's needs and budget.

If you have specific dietary requirements or want a particular culinary experience for your attendees, bringing in an external caterer might be the best option. Be sure to discuss this with the venue and inquire about any associated fees or restrictions.

What is the cancellation policy for conference venues?

The cancellation policy can differ from one location to another. Before finalizing your booking, carefully review the venue's cancellation policy, as it can have a significant impact on your event planning. Make sure to have a clear understanding of the following:

Cancellation notice period: How far in advance you must cancel without incurring charges.
Cancellation fees: The amount you would be charged if you cancel within the notice period.
Rescheduling policy: If you need to change the event date, understand the venue's policy regarding rescheduling.

Consider event cancellation insurance to protect your investment in case unforeseen circumstances force you to cancel or postpone.

Are there any specific requirements or permits I need to consider when hosting an event in London?

When hosting an event in London venues, you may need to consider various requirements and permits, depending on the nature of your event. Some common considerations include:

Alcohol licenses: If you plan to serve alcohol, ensure you have the necessary licenses and adhere to legal requirements.
Entertainment licenses: For events with live music, DJs, or other entertainment, you may need special licenses.
Health and safety regulations: Comply with safety and fire regulations to ensure the well-being of your attendees.
Local permits: Verify if your event requires any local permits or permissions.
It's advisable to consult with the venue and local authorities to ensure you meet all legal and regulatory requirements.