15 Sensational Corporate Summer Party Venues in London for 2024
Friday 1 December 2023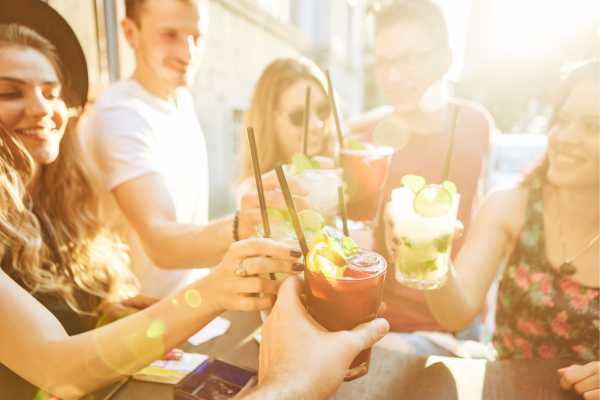 With many companies now preferring to hold summer social events and parties rather than Christmas or end-of-year celebrations, it's time to plan ahead to secure the very best Summer party venues London has to offer. See our 15 top picks of the newest and best seasonal venues with outside spaces.
There are several key considerations when finding the very best summer party venues in London for your next event. These include ensuring that that your chosen summer venue has enough inside space or cover in case the weather disappoints and that the inside spaces have sufficient cooling for our increasingly hot summer nights. In addition, many of the best London summer parties include great games and entertainment, so make sure your venue is suitable and large enough to accommodate these.
Also, an increasing number of companies are looking to mix business with pleasure, by adding a conference and/or team building element to their summer event. This could be an afternoon conference, followed by an evening reception or party, or a full day event incorporating outdoor break out activities to add to the core conference messages and bolster team spirit and camaraderie in our increasingly "working from home" business environments.
Take a look at some of our top picks below for corporate summer venues in London for the 2024 season. Please call our team of free venue finders on 0207 870 9305 or drop us an email and let us find the perfect space according to your exact requirements. Whether you need an intimate courtyard for a summer's evening, a large-scale party venue in the heart of the action or a top secret space guaranteed to impress your guests, our team of free venue finders are here to help.
Rooftop Summer Party Venues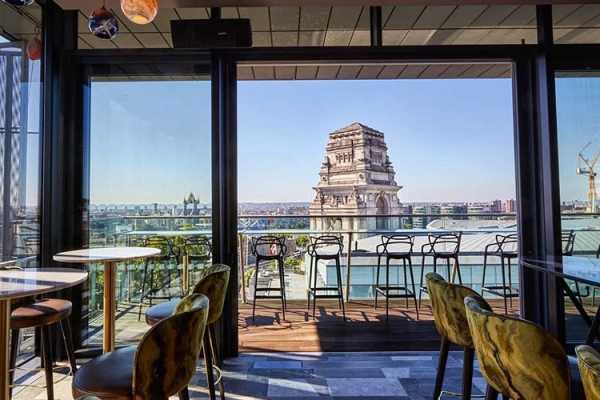 Savage Garden is known as one of London's wildest sky-high destinations. Located on the top of the DoubleTree by Hilton, this Tower Hill venue combines decadent décor, jaw-dropping views, tantalising cocktails and incredible menus.
The venue team specialise in creating amazing summer parties, complete with sharing plates, theatrical food, and unmissable entertainment. And the views are out of this world. Celebrate this summer before a brilliant backdrop of the London skyline, and treat your guests to 360-degree views of world-famous landmarks, including The Shard, Tower of London, The Gherkin and St. Paul's Cathedral. What more could you need for your office summer party?
Capacity: Exclusive hire of Savage Garden – up to 300 pax
Location: Tower Hill – EC3N 4AF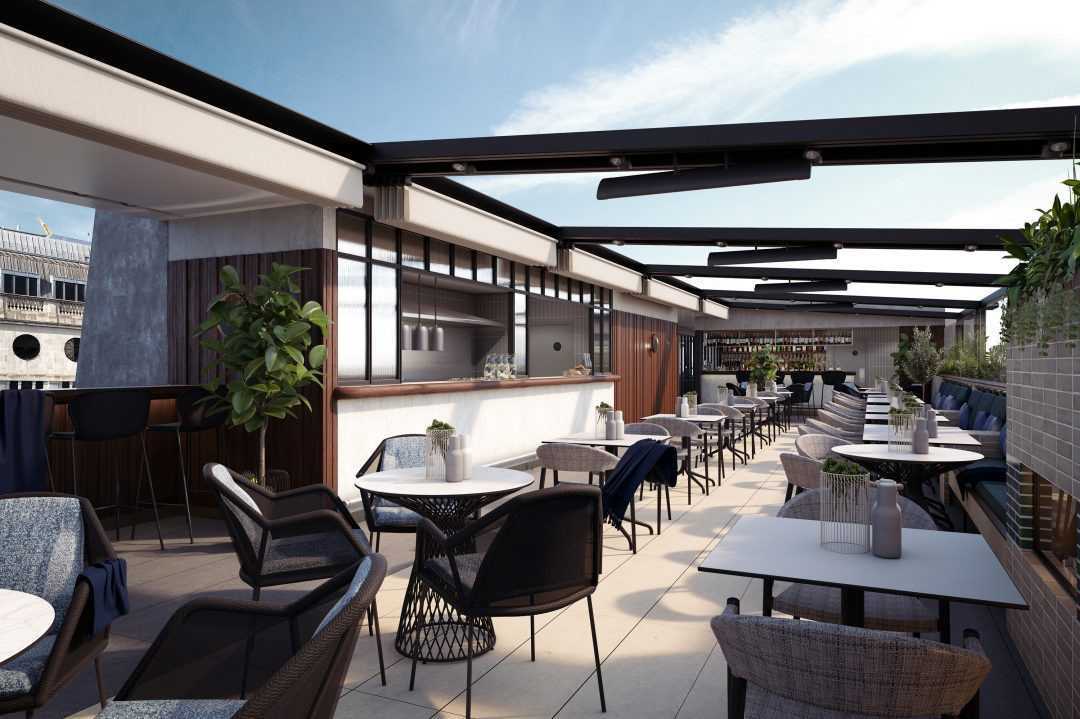 Reserve the rooftop space at Trafalgar St James and prepare for a company summer party like no other. This incredible rooftop venue is in the heart of the action in London's St James, and makes a great space for summer celebrations. Soak up the inimitable city views, enjoy handcrafted cocktails and relax at one of London's most exciting rooftop venues.
The venue comes complete with outdoor heaters and blankets to keep guests warm all through the evening, and al fresco canopy-covered seating makes this a space that can be enjoyed in all weathers. Table service can be provided for events, with small plates and other catering options available.
Capacity: Up to 180 pax on the rooftop
Location: SW1A 2TS
Skylight Tobacco Dock & Peckham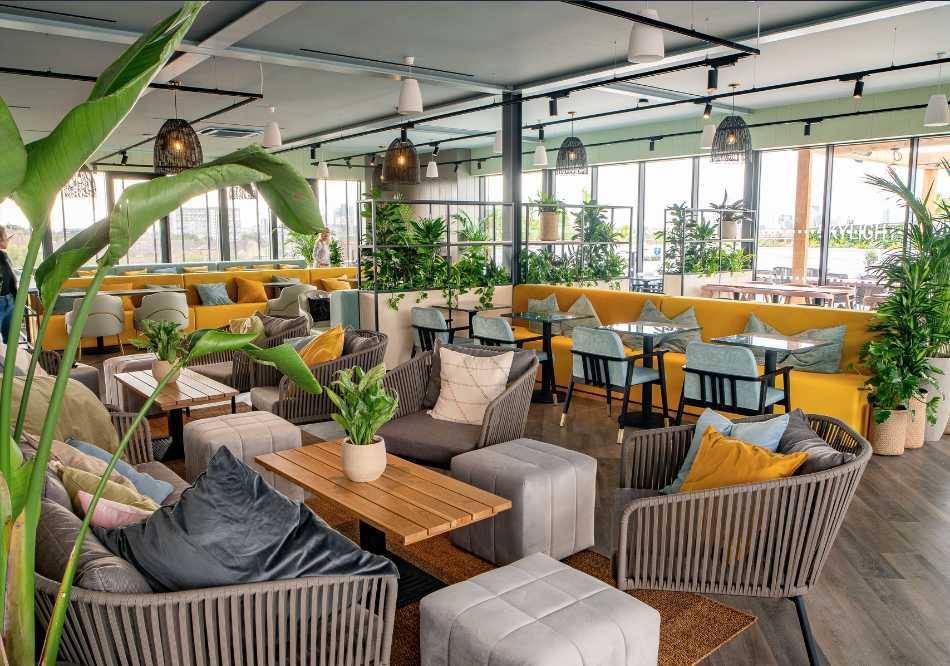 Located at one of our favourite event spaces, Tobacco Dock, Skylight is an incredible rooftop venue in Wapping. The imaginative space has been inspired by the idea of an urban lawn club in the sky, and it definitely does not disappoint. Entertain guests with a game of croquet or pétanque, accompanied by unmissable views of the city. London's top street food traders are available for your event catering, and the sky-high bar is a sight to behold. With exciting menus and delicious cocktails to choose from, this is a sensational London event space for the summer.
Capacity Tobacco Dock: Up to 650 pax for a standing reception
Location: E1W 2SF
Whether you are planning an away day, corporate milestone or casual post-work occasion, let Skylight Peckham take your event to new heights! Signature cocktails, live entertainment and delicious food, including BBQ this spring, all set against the best views of London. Skylight Peckham boasts beautiful spaces under big skies to make your main event a memorable one. Indoor & outdoor space available for hire, including the newly covered terrace with an outdoor Moet Hennessy Bar & Green Eggs for tantalising BBQ smells & eats!
Capacity Peckham: Up to 250 pax for a standing reception
Location: SE15 5JT


Summer Party Venues with Outdoor Space
Set within an English country garden themed space in the heart of the City, The Bowls Club combines a short, fast form of lawn bowls, with summery cocktails, gourmet street food, DJs, comedians, actors, magicians, caricature artists and much much more. We offer companies like yours an inclusive, feel good environment for team building, networking and client entertainment; giving you and your team the ultimate day out.
Tied to the heartbeat of London's vibrant street food culture, The Bowls Club have partnered with the city's most exciting and avant-garde vendors. Prepare to indulge in an unforgettable gourmet street food experience, serving up bold and innovative flavours.
Capacity: Up to 499 pax for a standing reception
Location: EC2A 1HD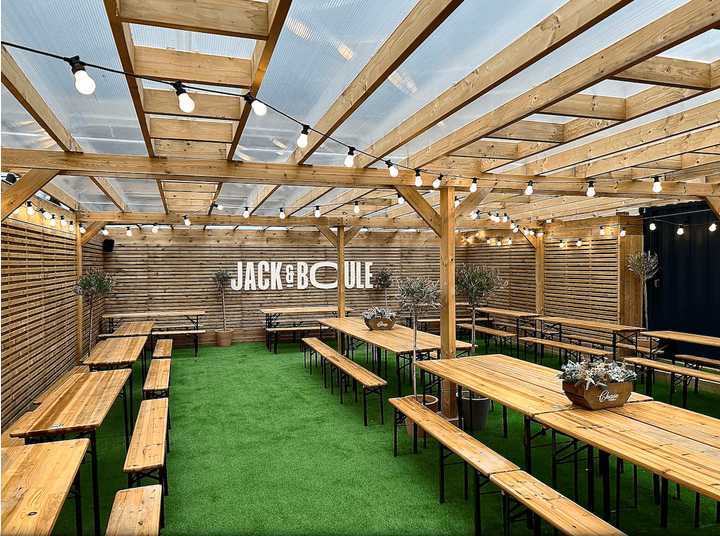 Located in the heart of London's South Bank, Jack & Boule is the perfect place to tuck into tasty Street Food, drink craft beers and cocktails and try your hand at a game of boule pétanque!
Jack & Boule is the perfect space to hire for large events in central London. Located three minutes from Waterloo Station on the South Bank, they feature two street food vendors, a fully-stocked bar with seasonal cocktails, as well as 8 boule pétanque courts.
From signage, stalls and screens, to flower walls and balloon arches - work with the in-house team to turn Jack & Boule into your 'home away from home'.
A slice of the French Riviera in the heart of London, with capacity up to 500, there's no better spot to hire for your launch party, networking event or full venue takeover.
Capacity: up to 500 pax for a standing reception
Location: SE1 9PP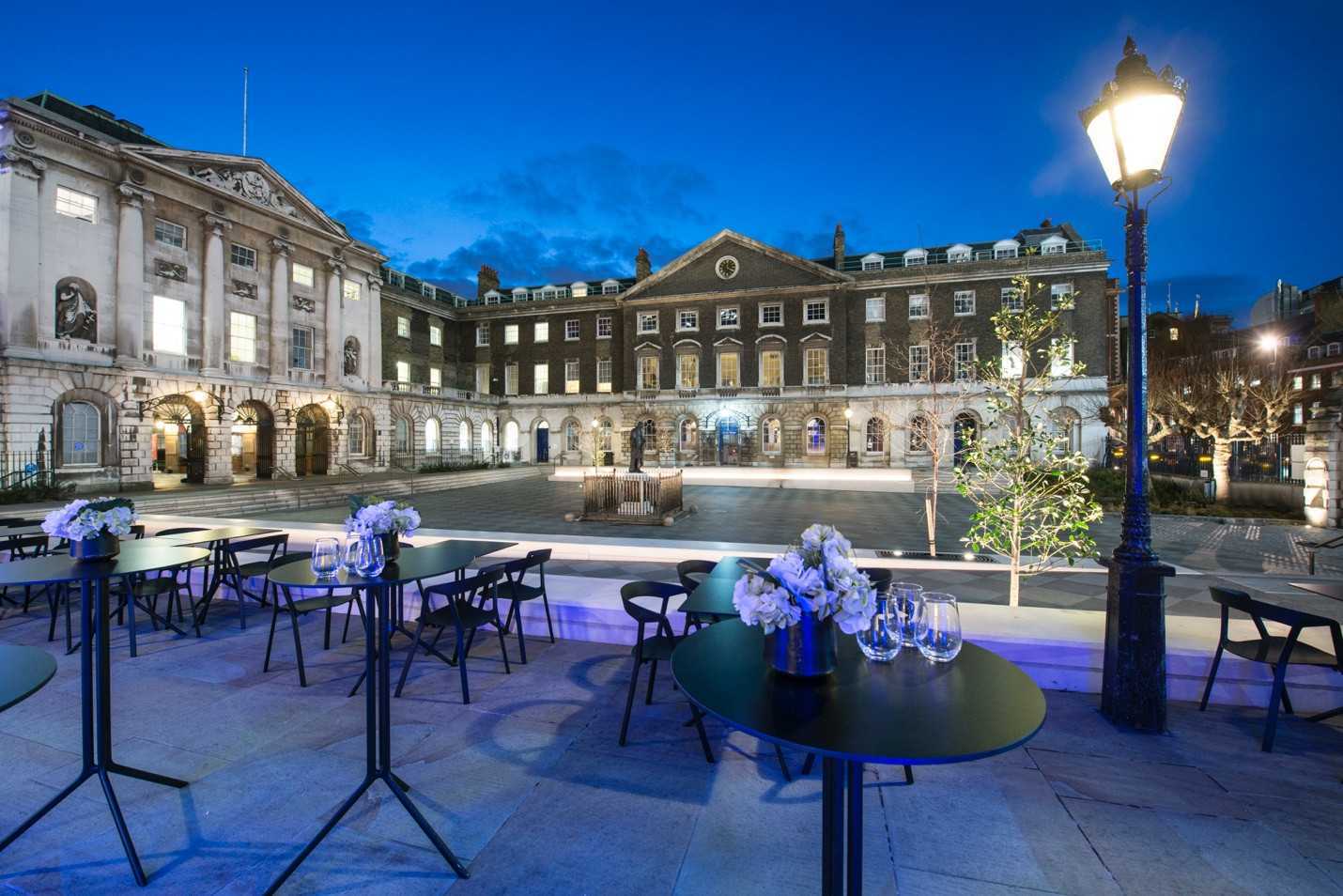 London's Science Gallery is one of the best places to head for exclusive hospitality. The venue is home to an incredibly impressive courtyard space, known as Guy's Courtyard. This memorable outdoor space makes a brilliant setting for summer staff celebrations, and it has room for up to 350 guests.
The Science Gallery boasts a central London location, inclusive summer party packages, stunning backdrops and a talented venue team to help you bring it all together. If you're looking for a unique courtyard space in a prime London location, this could be the summer venue for you.
Capacity: up to 350 pax for a standing reception
Location: SE1 9GU
Garden Summer Party Venues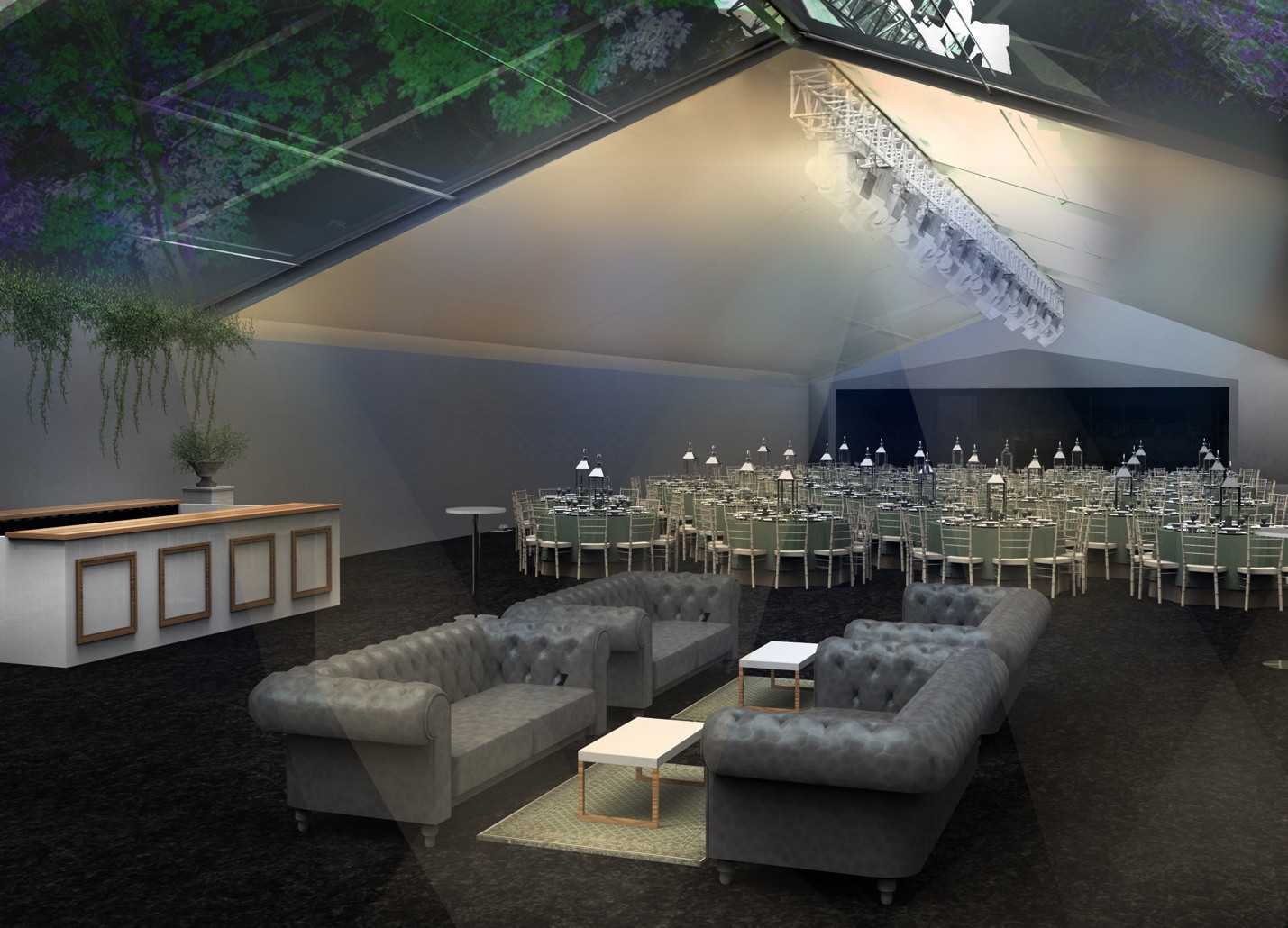 Gray's Inn is a historic London venue. One of the four Inns of Court, this is a place with the exclusive right to call men and women to the Bar of England and Wales. The Inn has been home to a community of extraordinary individuals for over 600 years, and it's also a great events space with many rooms available to hire. Take a look at the full collection of rooms available for different events, and don't miss the amazing summer gardens.
During the summer, event organisers can hire the Inn's gardens, known as The Walks. Available from late June to late July, the gardens come complete with a summer marquee for parties. This is an idyllic London venue for corporate parties, weddings and other outdoor events.
Capacity: Up to 650 pax for indoors, 1000 for outdoors
Location: WC1R 5ET
Museum of the Order of St John (The Cloister Garden)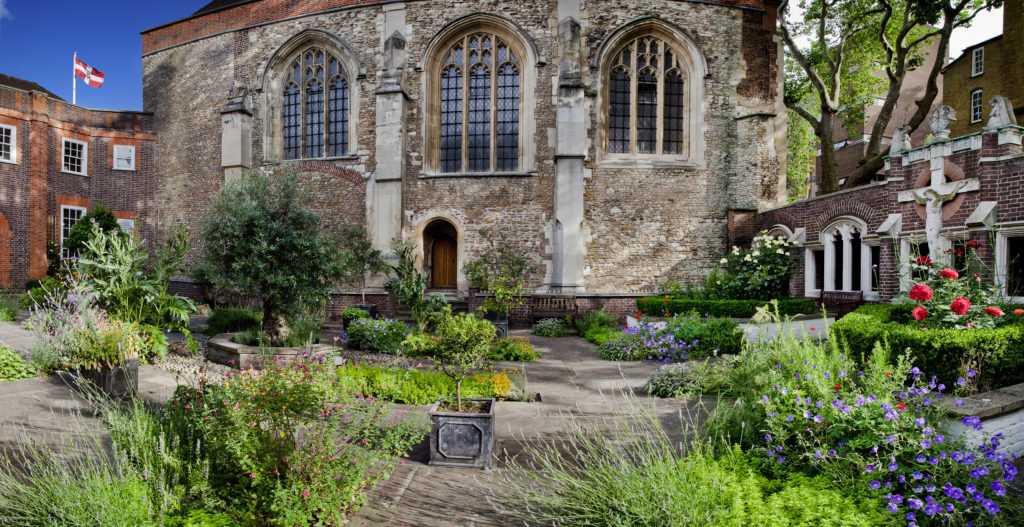 Looking for something a little different this summer? Well feast your eyes on this incredible venue space. The Museum of the Order of St John is one of the capital's real hidden gems. Located in the heart of London, the venue is home to collection of evocative rooms, dating back to between the 12th and 16th centuries. There are also several modern spaces with sleek interior detailing.
For company summer parties, don't miss St John's Gate and its Cloister Garden. This amazing secret garden boasts a prime London location, and it's practically overflowing with beautiful scented flowers. The charming garden is often used for champagne receptions and summer parties; it's a real hidden gem. St John's Gate and its Cloister Garden can accommodate up to 150 guests.
Capacity: up to 150
Location: EC1M 4DA
Courtyard Corporate Summer Party Venues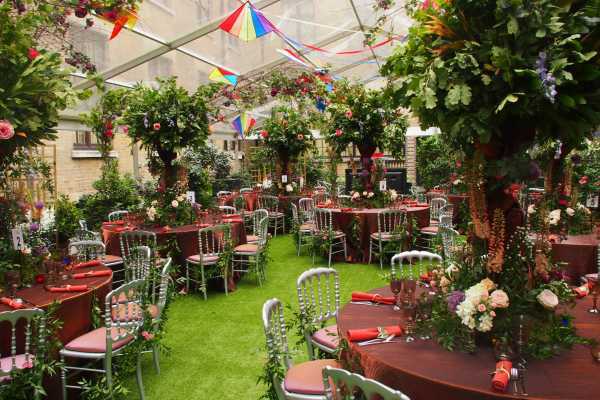 Two exquisitely decorated marquees at either end of the courtyard can be hired together for large numbers or separately for more intimate gatherings. Complete with raised clear roof, (in case of any summer showers!) the marquees will be fully planted and luxuriously furnished, transforming the space into an idyllic summer oasis for city dwellers. Packages include food and drink with access to an after party inside The Brewery or Grubstreet Author, from 9pm.
Capacity: up to 700
Location: EC1Y 4SD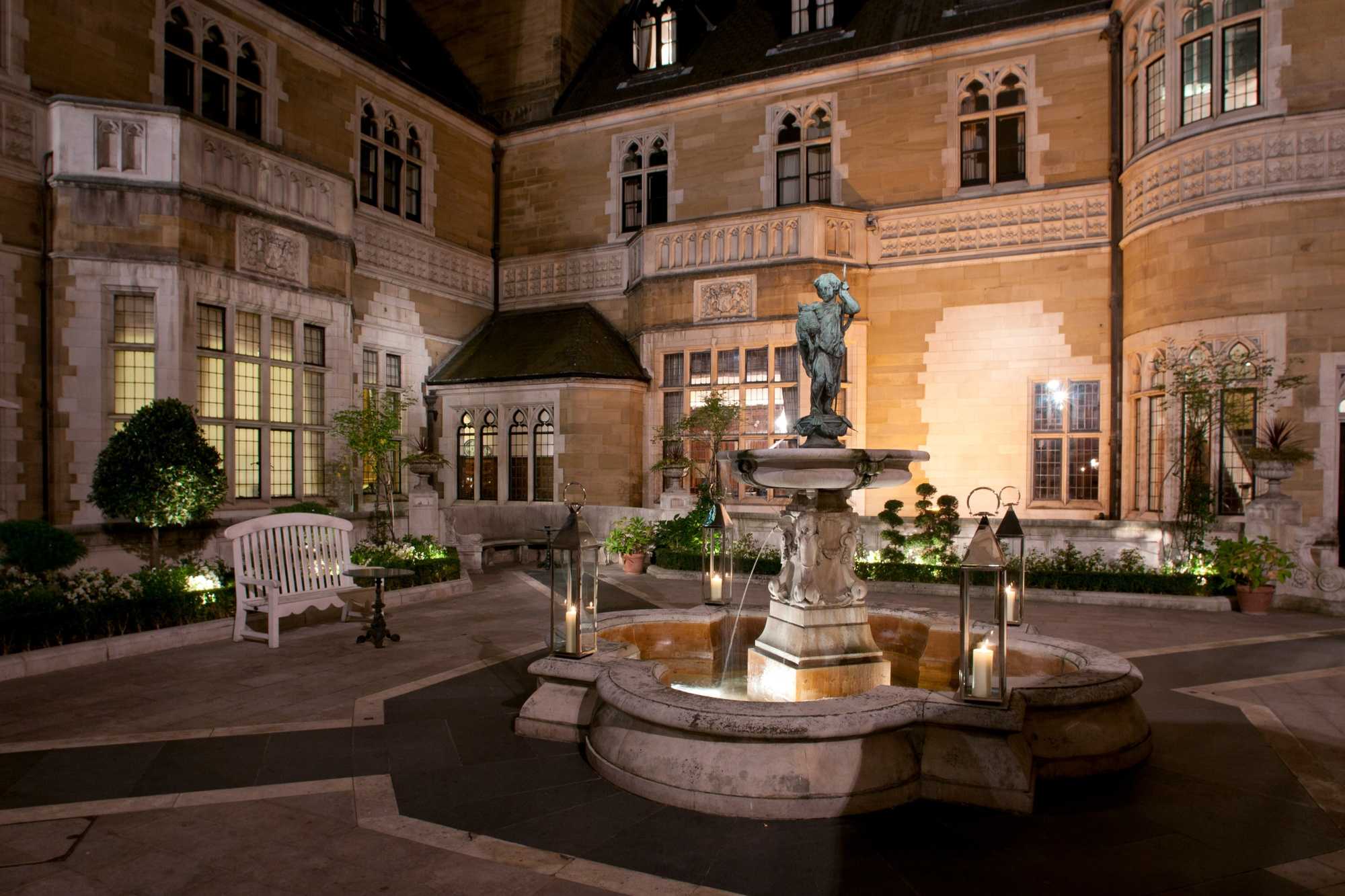 Merchant Taylors' Hall is a unique, inspiring space in the City of London. The venue is ideal for summer events, where guests can celebrate in an outdoor courtyard garden. This private stone-flagged courtyard forms the heart of the Merchant Taylors' experience. The garden can be combined with any of the other nine spaces on offer within the hall, to create an event according to your specific requirements.
Guests will enjoy great service courtesy of the venue team, and an experienced events catering team are on hand to create stunning summer menus for your party. The team's fine dining events are legendary, and this year's summer menus look sensational too. Take a stroll around the space and imagine what you could do.
Capacity: Up to 175 pax for a standing reception outside
Location: EC2R 8JB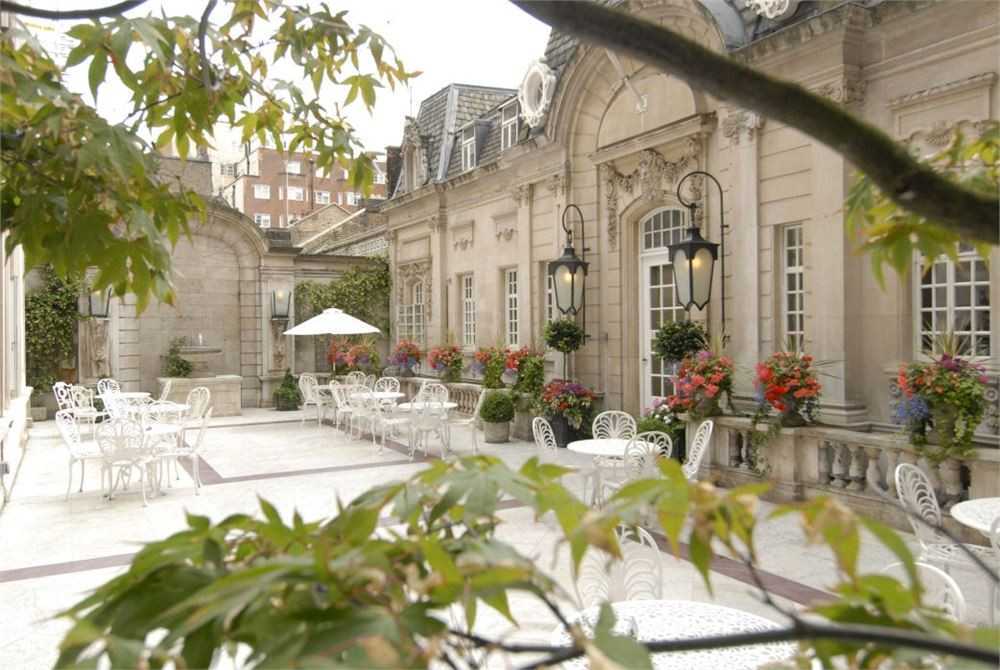 You'll find a standout courtyard space at Dartmouth House, suitable for open-air receptions all summer long. This secluded space is located in the heart of London's Mayfair, with great transport links just moments away. Look out for traditional wrought-iron tables, incredible architecture and even a fountain.
The courtyard at Dartmouth House is well suited to drinks receptions and summer parties, and is also often used for wedding ceremonies. Book an event here and create the ideal setting for your guests to mingle, relax and unwind as they celebrate summer.
Capacity: up to 150
Location: W1J 5ED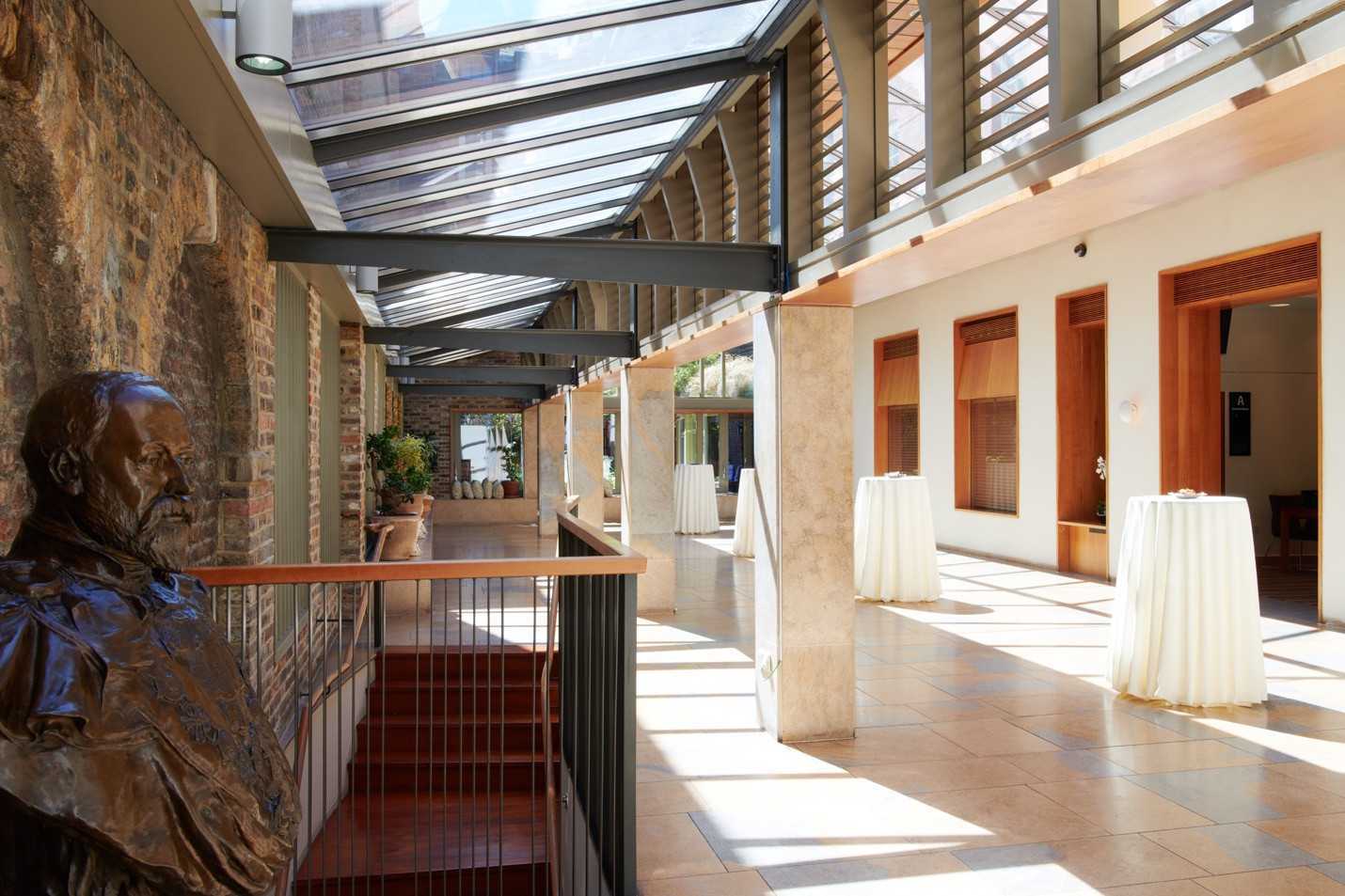 Marylebone venue 11 Cavendish Square is known for its flexibility. For summer parties, the space really comes into its own. There's a fantastic outdoor courtyard available for office summer celebrations, which can be hired alongside The Orangery. Complete with a living wall and water feature, this is a great spot to escape the hustle and bustle of the city.
Choose from barbecue, bowl food or canapé menus, and complete your summer party package with unlimited Pimm's, beer, wine and soft drinks. The garden at 11 Cavendish Square is one of our top summer venues for corporate parties, with room for up to 250 guests.
Capacity: up to 250
Location: W1G 0AN
BBQ Summer Party Venues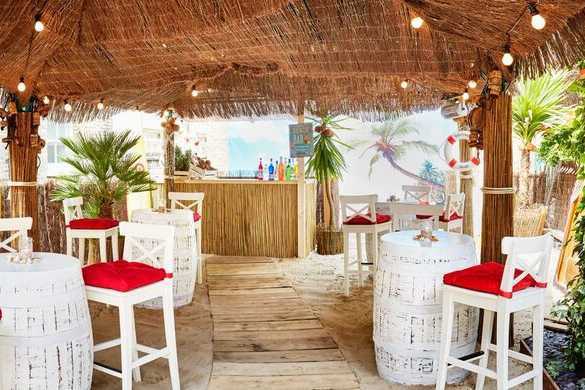 The award-winning Beach Bar at The Montague on the Gardens is an unforgettable summer party venue. Complete with real sand, a beach-hut style thatched roof, delicious cocktails, palm trees, and a backdrop of a beautiful beach, you'll feel like you're basking in the Bahamas rather than in the heart of Central London.
To get you in the summertime spirit the chef serves a delicious range of BBQ options including meat, fish, and vegetarian/vegan dishes followed by a tasty line-up of tempting desserts including assorted ice creams in cones. Cocktails are served in coconuts on arrival, alongside a superb selection of wine, beers, and spirits.
Capacity: up to 160 pax for a standing reception
Location: WC1B 5BJ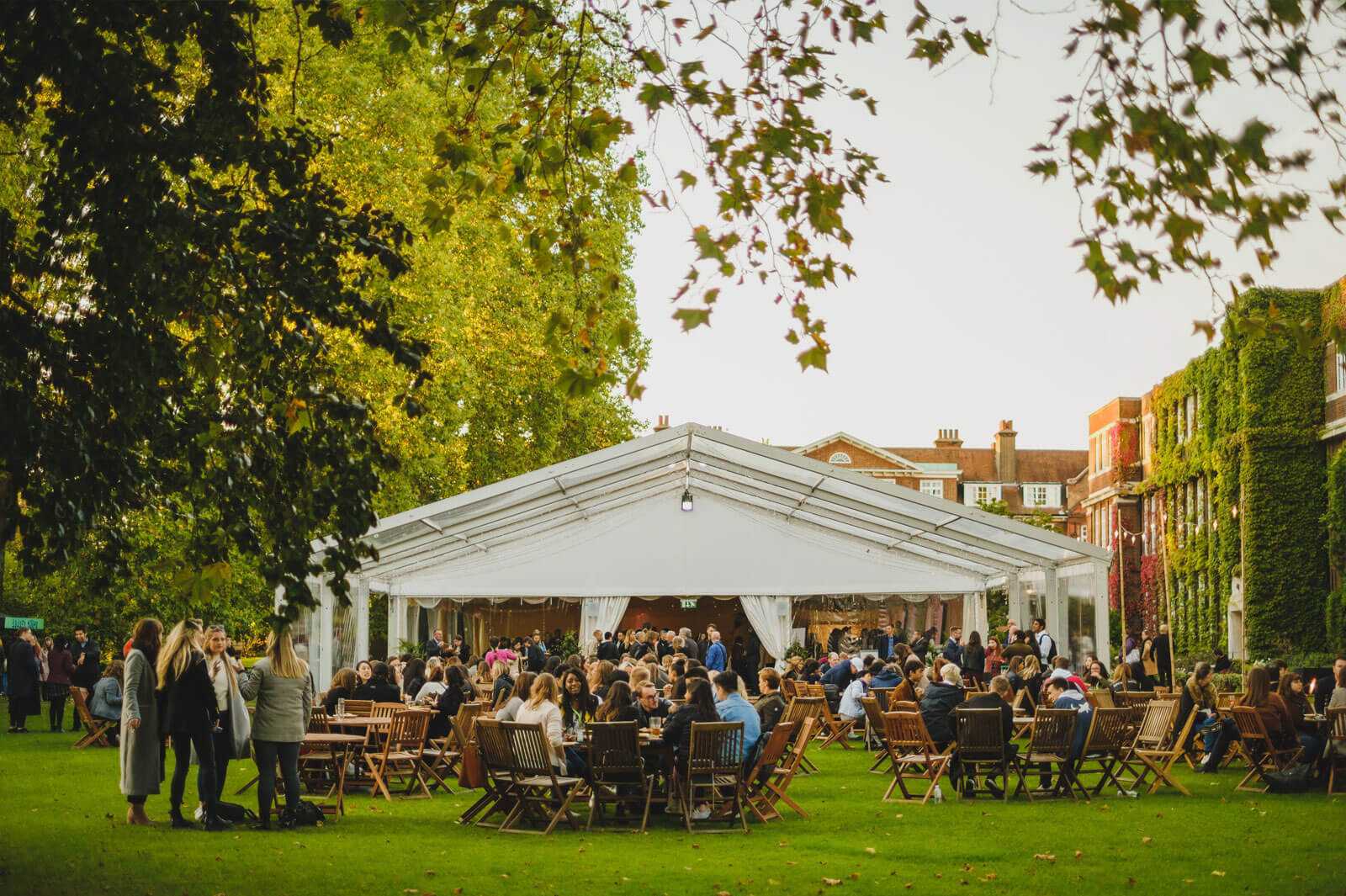 With beautiful gardens in Regent's Park, the incredible spaces of Regent's College are just waiting to be explored. The venue boasts four acres of lush, foliage-filled gardens, which make a beautiful backdrop for barbecues and summer parties. This is a vast venue, with room for up to 1,200 guests and endless opportunities for customisation.
The gardens of York Lawns include a summer marquee, available to hire as part of your event. This elegant marquee space is included in all summer packages, so you won't need to worry about the weather. The blank canvas space can be fully themed for your event. Make the space your own and treat guests to an incredible barbecue in the heart of London.
Capacity: up to 1,200
Location: NW1 4NS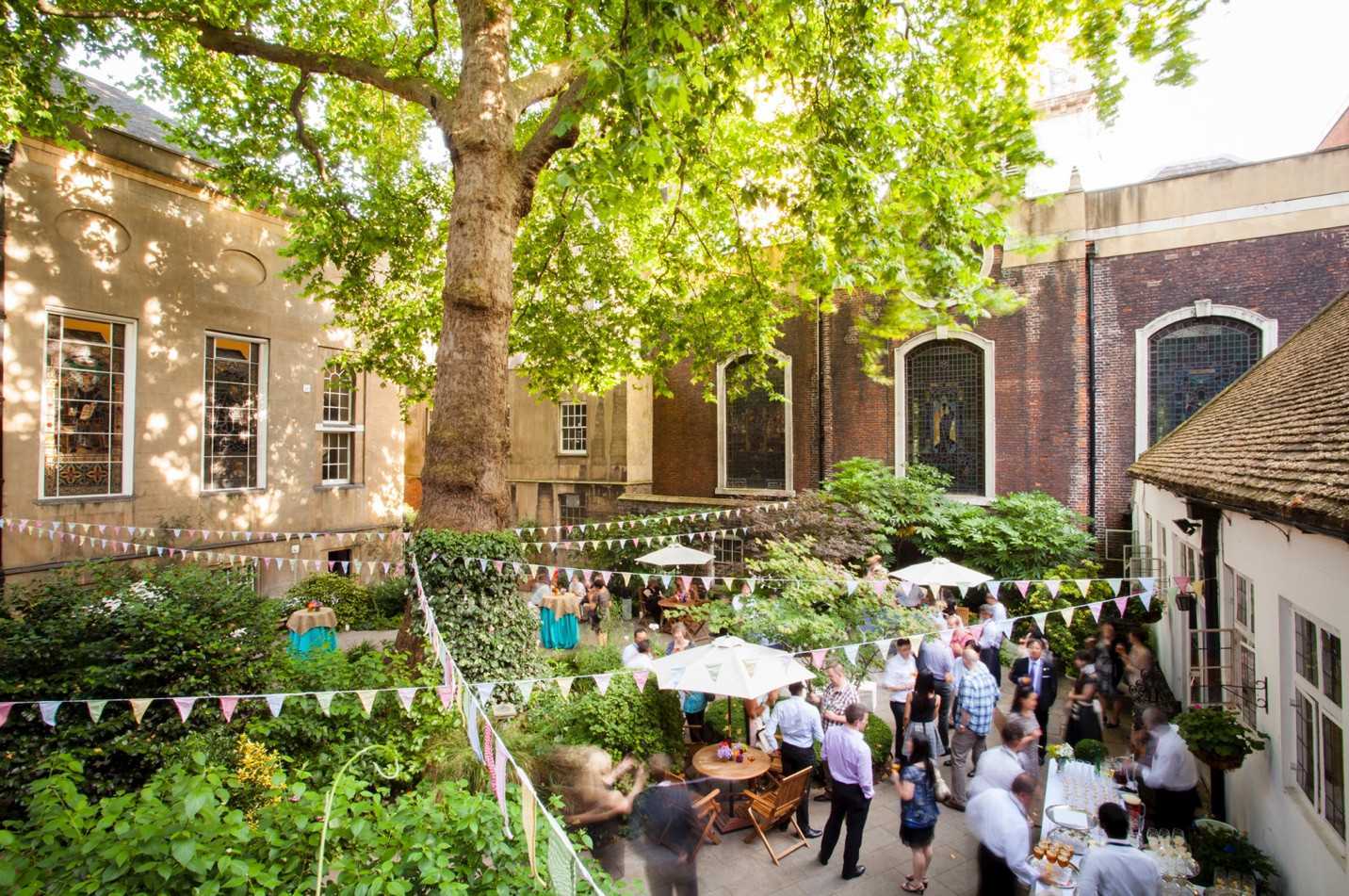 When it comes to idyllic, secluded summer event spaces, it doesn't get much better than this. The garden at Stationers' Hall is a blissful event space, packed full of seasonal plants and flowers. Decorate the garden with bunting, festoon lights and lanterns to create an atmospheric summer venue for your event.
The garden at Stationers' Hall is perfect for barbecues, and can also be used for summer canapé receptions, or street food parties. And of course, there are indoor spaces available too. The Court Room is a bright, airy space that can be used for your event if the weather is bad.
Capacity: up to 200
Location: EC4M 7DD
Feeling inspired? If you'd like to learn more about any of our top summer spaces for 2019, don't hesitate to get in touch or call us on 0207 870 9305. Our expert venue finders will be delighted to show you around any of these summer party venues, and provide you with all the information you need to plan your office summer party. Summer is just around the corner…