17 Ideas for Office Christmas Party Venues in London 2024 You Simply Can't Miss
Monday 27 November 2023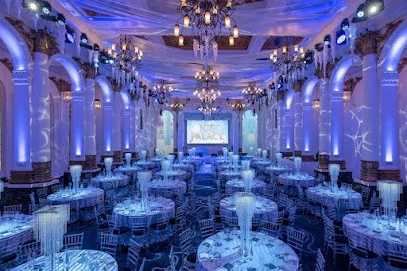 Stuck for time or just lacking inspiration? If the idea of planning the 2024 office Christmas party fills you with dread, fear not, for we have put together a handy list of the capital's coolest Christmas party venues in London that will make this year's celebration totally stress free.
We've done all the hard work for you, so check out our round-up of 17 office Christmas party venues and ideas for London 2023 that you simply can't miss…
If you need help finding the perfect Christmas Party Venue in London, then our free venue finding experts are on hand to create the perfect shortlist based on you specific budget and requirements, so please Just drop us an email, call us on 0207 870 9305 or fill in the enquiry form to the right of this page and we will get started on your free London venue search..
And remember, our service is FREE and INDEPENDENT. We earn commissions from the venues for any business introduced and you will still contract directly with your chosen venue.
Over the past ten years we have have placed over £35m of venue bookings in London, successfully placing events for over1,000 clients looking for the perfect event venue for their conference, seasonal party, product launch, reception or dinner.
If you require any help with onsite event management, event production or logistics, then we are happy to refer you to our colleagues at Story Events, who would be happy to discuss their event management services with you.
How we work
When making an enquiry with us, we will review your online search and present you with a shortlist of suitable London Christmas party venues, based on your brief. We love a challenge and love to think outside the box, you can trust that we will negotiate fantastic rates for you to ensure you have the best deal possible!
Our team of free venue finding experts are on hand to create the perfect shortlist of venues in London for your party.
Please complete our quick enquiry form with your specific dates, budget and ideal location and we will use our experience and venue relationships to save you both time and money.

Alternatively, please send us a quick e mail or call our team now on 0207 870 9305 to discuss suitable 2024 Office Christmas Party Venues.


1. Experience a carnival-inspired celebration at

Barbican Conservatory
The Barbican Conservatory is one of our favourite sustainable office Christmas party venues in London , famed for its alternative look and atmospheric vibes. The City venue never fails to impress at Christmas, and 2023 will be no exception.
This year, the Barbican presents a carnival-inspired celebration, with a garden party feel. The venue promises to impress from the moment guests arrive, with street food stalls, secluded gardens, tropical fish ponds and Latin beats. Christmas packages include welcome cocktails, a DJ, unlimited wine, beer and soft drinks for three hours, carnival snacks and food stations.
Dates available: Various December dates
Price range: Standing from £99 + VAT, seated from £125 + VAT
Capacity: 150–650
Location: EC2Y 8DS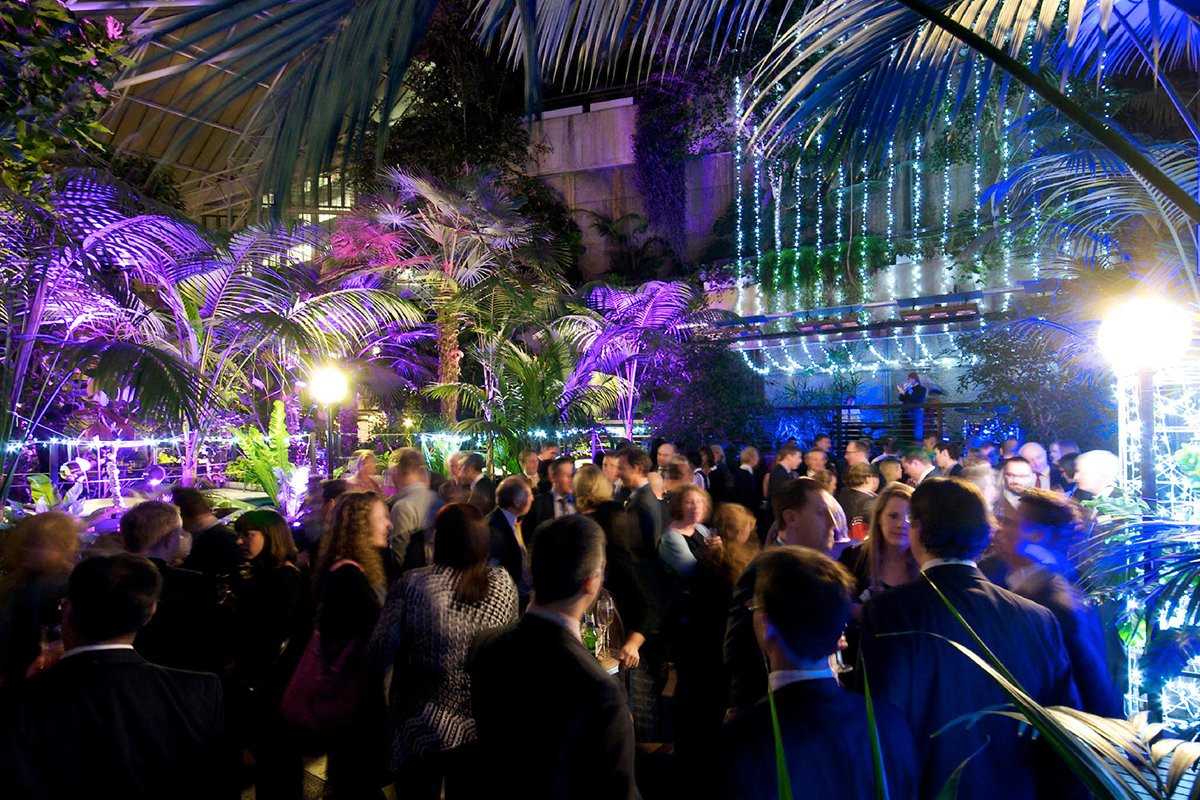 2. Explore the 17th Century pleasure gardens at

Museum of London
The event spaces of the Museum of London offer a dramatic backdrop to all occasions, but at Christmas this venue really comes to life. The venue has a great, central location near to several major transport links, and boasts a selection of different spaces for festive celebrations.
This year, the Museum of London will be celebrating the capital and its people, inviting partygoers to explore London's history as they toast the occasion. Enjoy drinks on arrival in the entrance hall bar, before exploring the 17 Century pleasure gardens, Victorian walk and people's city gallery. Then, dinner will be served in the Sackler Hall, where your work staff and guests will be treated to unlimited beer, wine and soft drinks. After dinner a DJ will get the party started within the stunning surroundings of the Sackler Hall, for a Christmas night out like no other.
Dates available: Various dates available
Price range: From £125 per head + VAT for seated & £72 + VAT per head for standing
Capacity: Seated – 250- 400 & Standing 400 - 1000
Location: EC2Y 5HN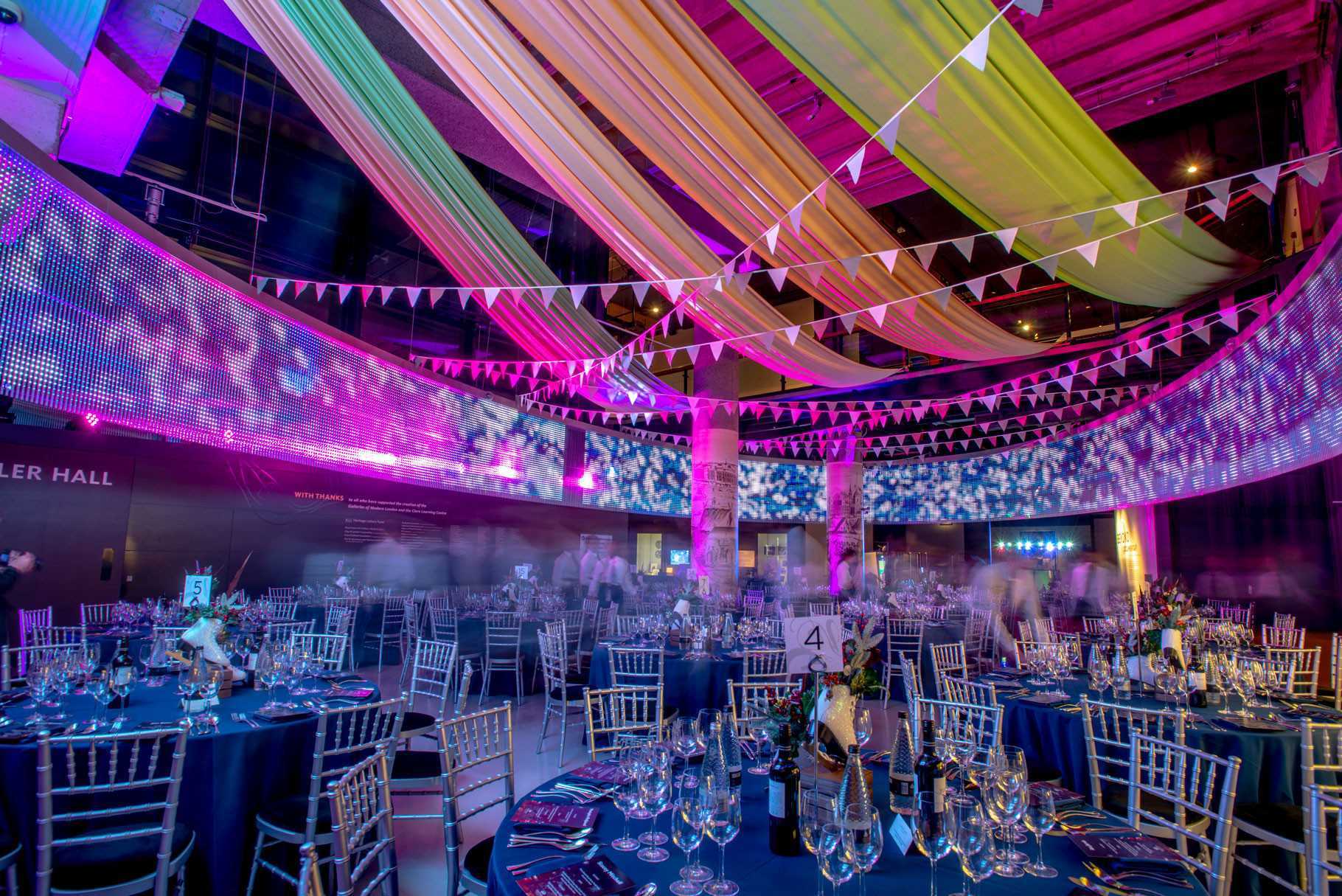 3. Enjoy show-stopping street food at Between the Bridges
Just a short stroll from Waterloo, Between the Bridges is an unmissable events space for this year Christmas celebrations.
Throughout the colder months the venue is heated and winter-proofed making it an all-year-round destination. The venue has 3 private spaces, meaning depending on your number of guests you have multiple spaces to hire from 20 people to much larger whole-venue takeovers up to 2000 people. Their unique festival space has 6 brilliant bars, 8 epic street food traders and loads of extra room for you to play around with, including a line-up of incredible add on entertainment options to make your event extra memorable.
Located right next to the London Eye on the riverside with amazing views, Between the Bridges is a few minutes walk from Waterloo underground and overground station, with other major central London stations within a short walking distance also.
Dates available: Various dates available
Price range: Anything from £15k min spend
Capacity: 2,000
Location: SE1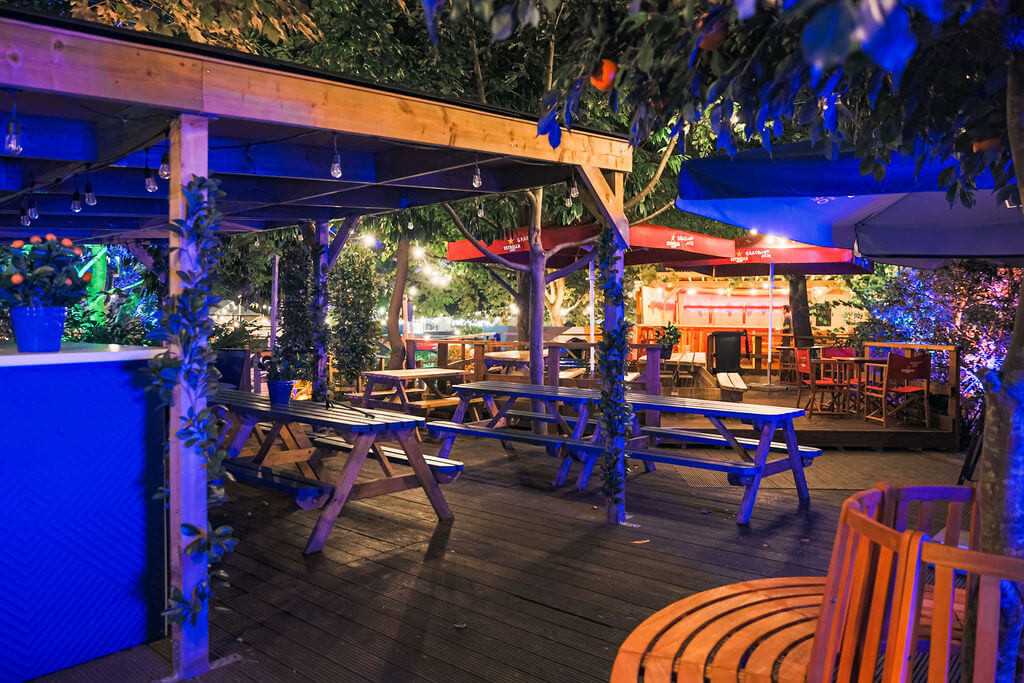 Fun Office Christmas Party Venues
4. Take To The Golf at

Swingers
Outrageously fun events space Swingers guarantees a party to remember. With two exciting locations to choose from, City or West End, two nine-hole crazy golf courses, as well as three street food stalls, five cocktail bars and an exclusive clubhouse perfect for all kinds of festivities.
The unique event space is fantastic around Christmas time, and ensures that your work Xmas party will stand out from the crowd at a busy time of the year. Hire Swingers for your event and you'll get a round of crazy golf for every guest, a dedicated event manager and premium drinks packages thrown in too.
Dates available: Various dates available
Price range: From £32 + VAT per head
Capacity: 500
Location: EC3A 8AL & W1G 0AB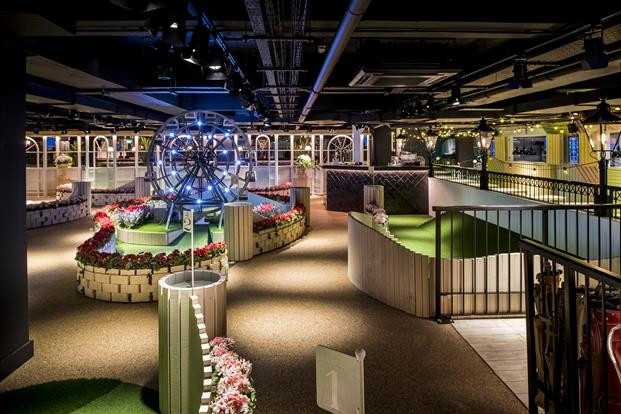 5. Join the Home of Ping Pong at

Bounce
Another event space that comes complete with its own entertainment is Bounce. The home of ping pong is always a popular choice during the Christmas season. It promises next level events, with tailored spaces available at Bounce Farringdon and Bounce Old Street.
Flagship venue Bounce Farringdon pays homage to 1820s gin palaces, with a retro design and exquisitely appointed private Jaques room. At Bounce Old Street, you'll find a private Play Room and a photo booth. Both venues include no less than 17 ping pong tables, as well as an open-counter pizza restaurant.
Dates available: Various dates available
Price range: From £6,000 + VAT – min spend
Capacity: Farringdon – 120 Old Street – 100 - 550
Location: EC1N 2TD (Farringdon), EC1V 9EY (Old Street)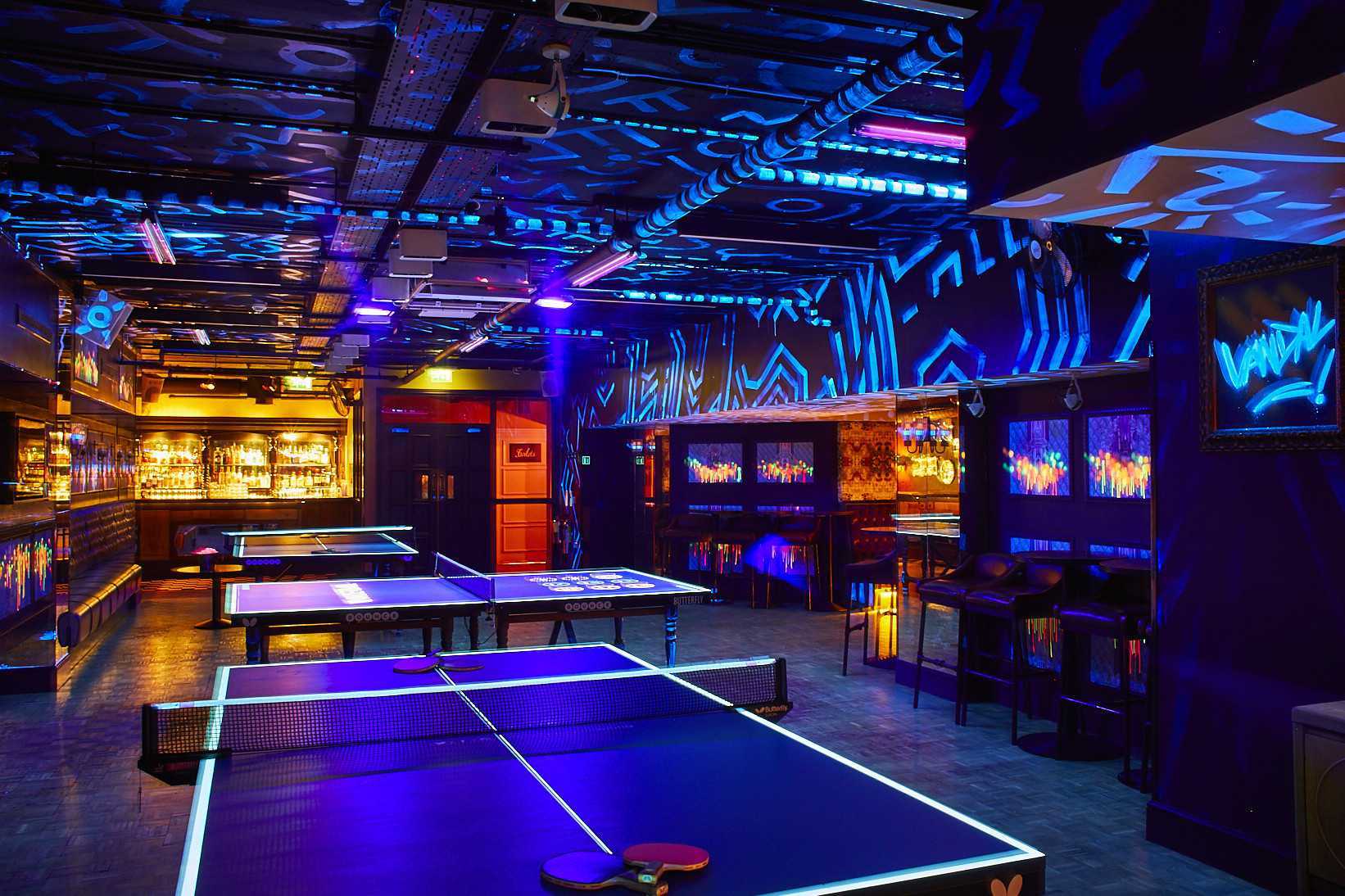 Those searching for something unique for this year's Christmas celebrations should definitely consider Mrs Fogg's Residence. The venue will be decked out in fabulous festive decorations, making it one of the top spots to celebrate this December.
This themed space is adorned in memorabilia from the globetrotting adventures of times gone by, and makes an intriguing setting for all kinds of events. Enjoy jovial celebrations in the drawing room, or hire the botanical garden for your office Christmas party. It's one of our top spots for Christmas entertaining in Mayfair.
Dates available: Various dates available
Price range: From £3000 + VAT
Capacity: Up to 400 guests
Location: W1J 6JD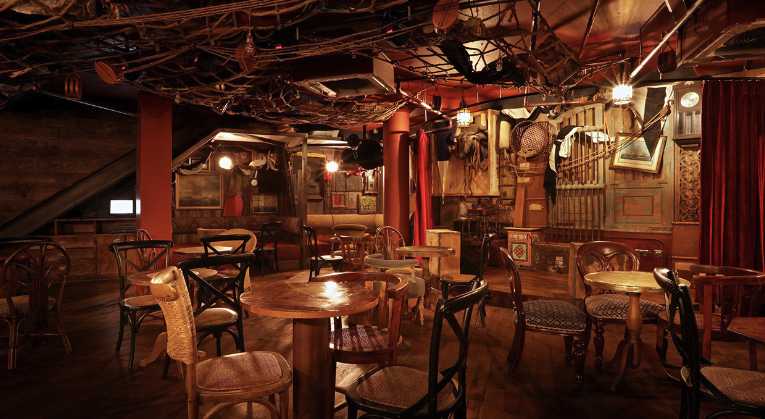 Classic Office Christmas Party Venues
For a classic take on traditional Christmas celebrations, there's no better place than the Painted Hall at the Old Royal Naval College. This Greenwich venue is historic, impressive and absolutely beautiful. Within the building you'll find a selection of different rooms, all designed by Sir Christopher Wren, and the Painted Hall is the star of the show.
Xmas party packages at the Old Royal Naval College include all you need to put on an unforgettable party, with prosecco on arrival, a three course dinner, wine, table decorations, Christmas tree, crackers, event management and security all included.

Price range: From £125 + VAT pp for a seated dinner
Capacity: 1-398
Location: SE10 9NN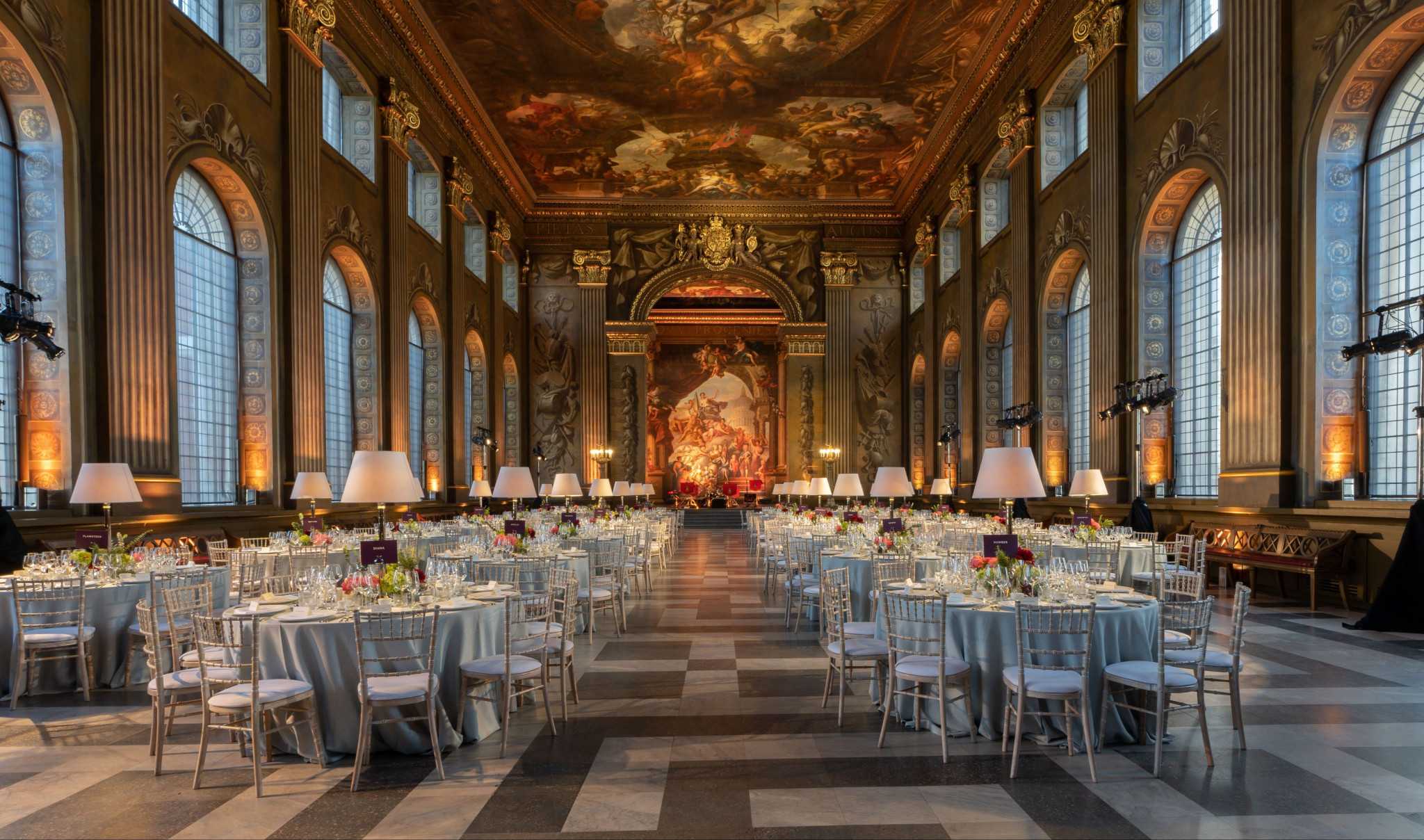 Grade II listed building 30 Euston Square offers central London festivities with a classic twist. The venue is within easy reach of both Euston and King's Cross, and even includes 41 boutique bedrooms to accommodate your guests.
With a capacity of up to 230, this event space is well suited to Christmas celebrations in the heart of the capital. There are three festive packages to choose from at this venue, all of which include themed cocktails, drinks and seasonal treats galore.
Dates available: Various dates available
Price range: Seated dinner up to 160 pax – from £105 + VAT pp Standing from £95 + VAT pp
Capacity: 230
Location: NW1 2FB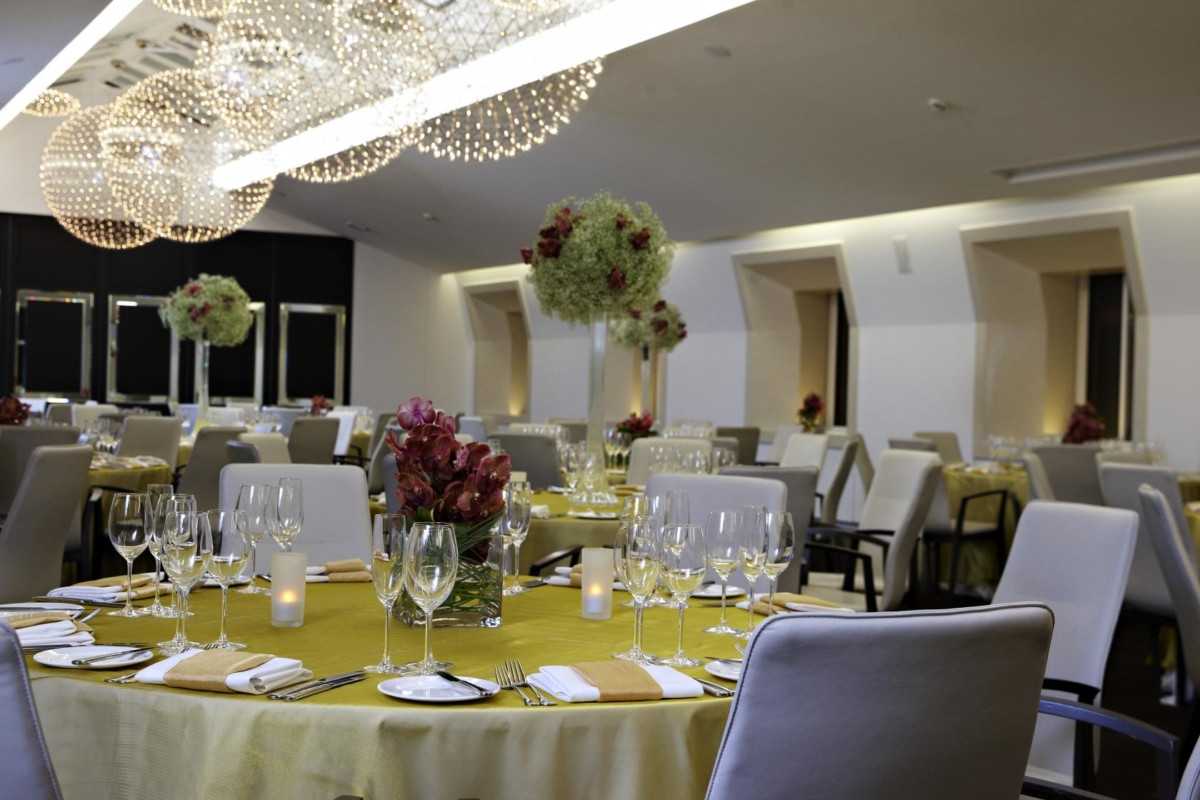 Historic city space Plaisterers' Hall is always an excellent choice for office Christmas parties. This winter, expect traditional Christmas theming that complements the venue's beautifully finished neoclassical décor.
The main space at Plaisterers' Hall makes a great spot for luxurious seated dinners, and resident catering team Create are on hand to provide stunning menus full of festive indulgences. Adjacent to the main hall you'll find a selection of smaller spaces, ideal for entertainment, green rooms, reception drinks and more.

Price range: Seated dinner – from £131 + VAT pp
Capacity: 600
Location: EC2Y 5JU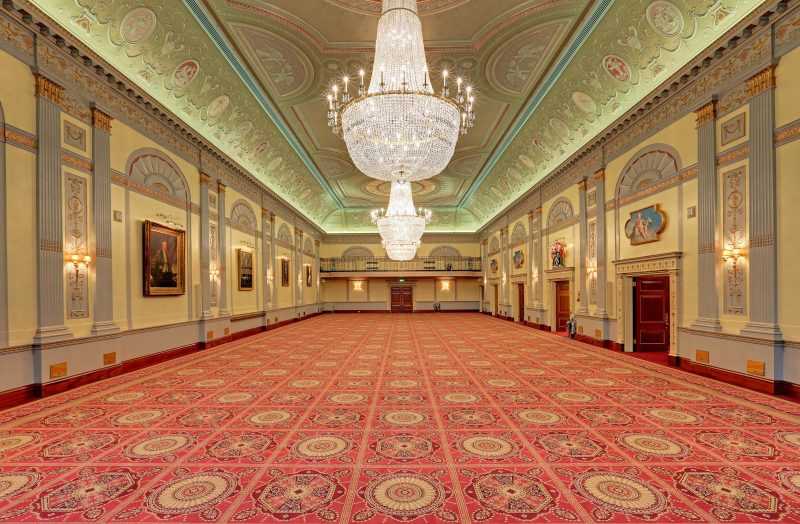 Themed Office Christmas Party Venues
10. Enchant your guests at Tobacco Dock
Every year put on an unforgettable party. This festive theme brings the world of the extraordinary to one of London's most exciting event spaces. Exclusive parties are available for groups of 200 to 5,000 guests.
Festive packages include street food stalls, four course dinners, canapes or bowl food, so you can create a party to suit your exact requirements. The venue even offers atmospheric shared party nights, ideal for smaller groups who still want to take advantage of that buzzing Christmas party atmosphere.

Price range: Packages start from £150 + VAT per person
Capacity: 200 - 5,000
Location: E1W 2SF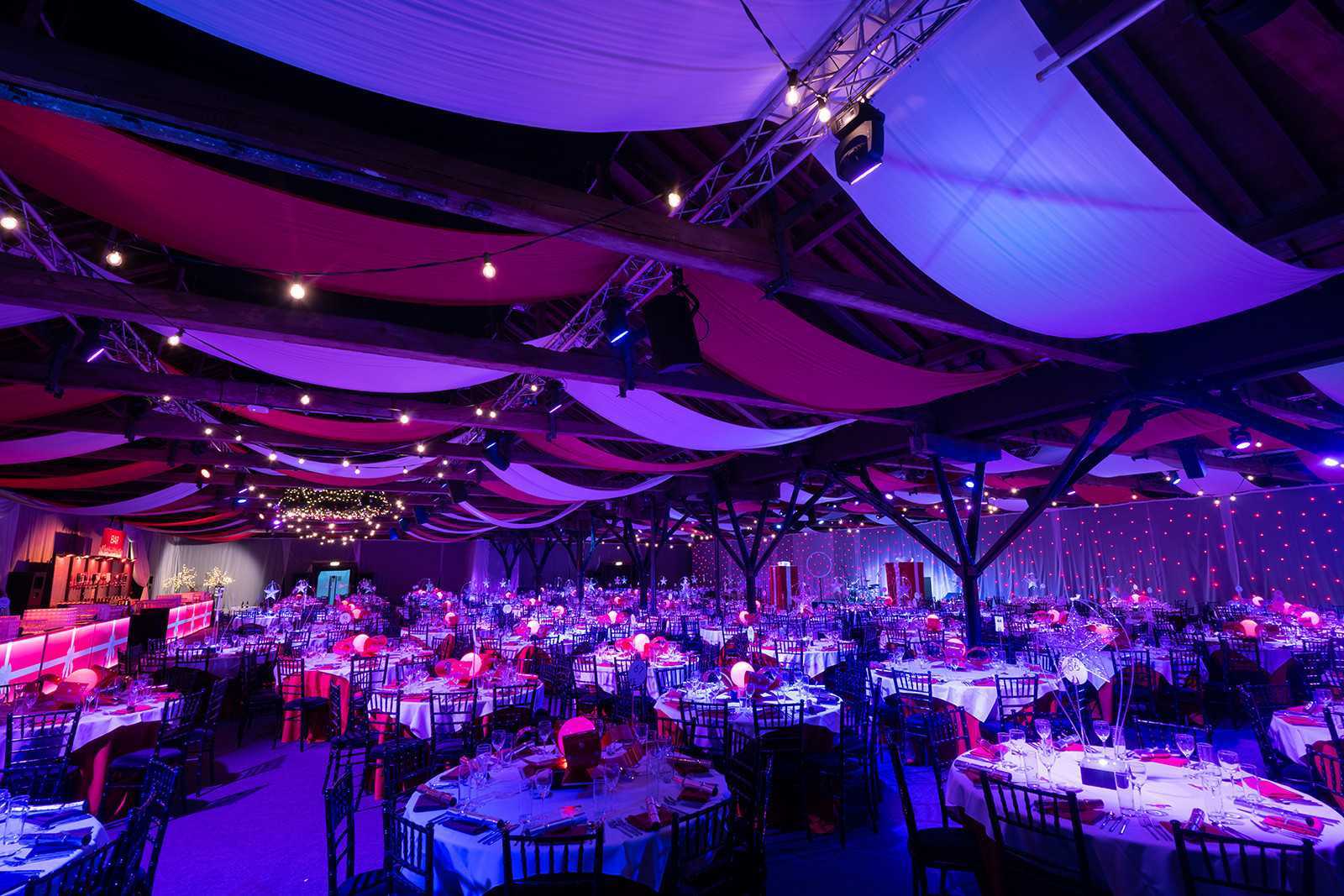 11. Prepare to be wowed at 8
Northumberland
Christmas is one of their favourite times of year and at 8 Northumberland Avenue, and they start planning well over a year ahead, devising the themes for our central London location as soon as possible.
Each year they research into Christmas parties in London and what they can design that will stand out and ensure that clients that return year on year continue to be wowed.
They run parties each night from dinners to receptions, holding 100-1000 guests and as a result, they know how to run a brilliant event.
Dates available: Ballroom – Various
Old Billiard Room – Various
Price range: Ballroom – Seated – from £147 + VAT pp, standing £91 + VAT pp
Old Billiard Room – Seated – from £147 + VAT pp, standing £96 + VAT pp
Capacity: 1,000
Location: WC2N 5BY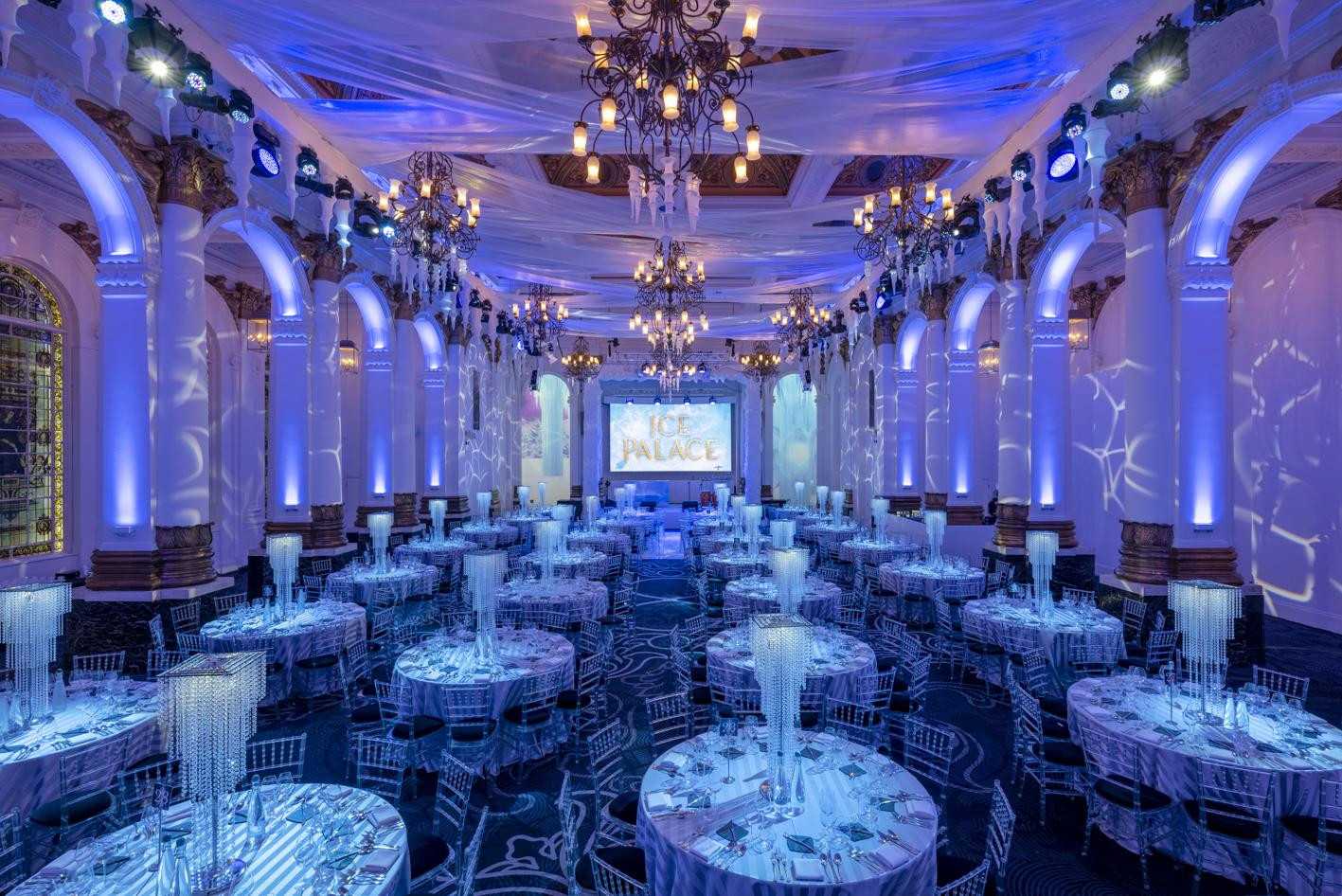 'Wow Factor' Office Christmas Party Ideas
Celebrate Christmas on the Thames this year, and experience the wonder of the majestic Silver Sturgeon. This 21st Century river yacht has luxurious interiors and decks, all created by leading British designers.
The venue is ideal for up to 550 guests, with several different spaces to discover within the boat. The spacious river room is perfect for parties, whilst the upper deck makes an unforgettable setting for Christmas drinks receptions. Within the ensign room, you'll also find a great bar to toast the most wonderful time of the year.

Price range: From £165 + VAT pp for a dinner/dance
Capacity: 550
Location: WC2R 0BP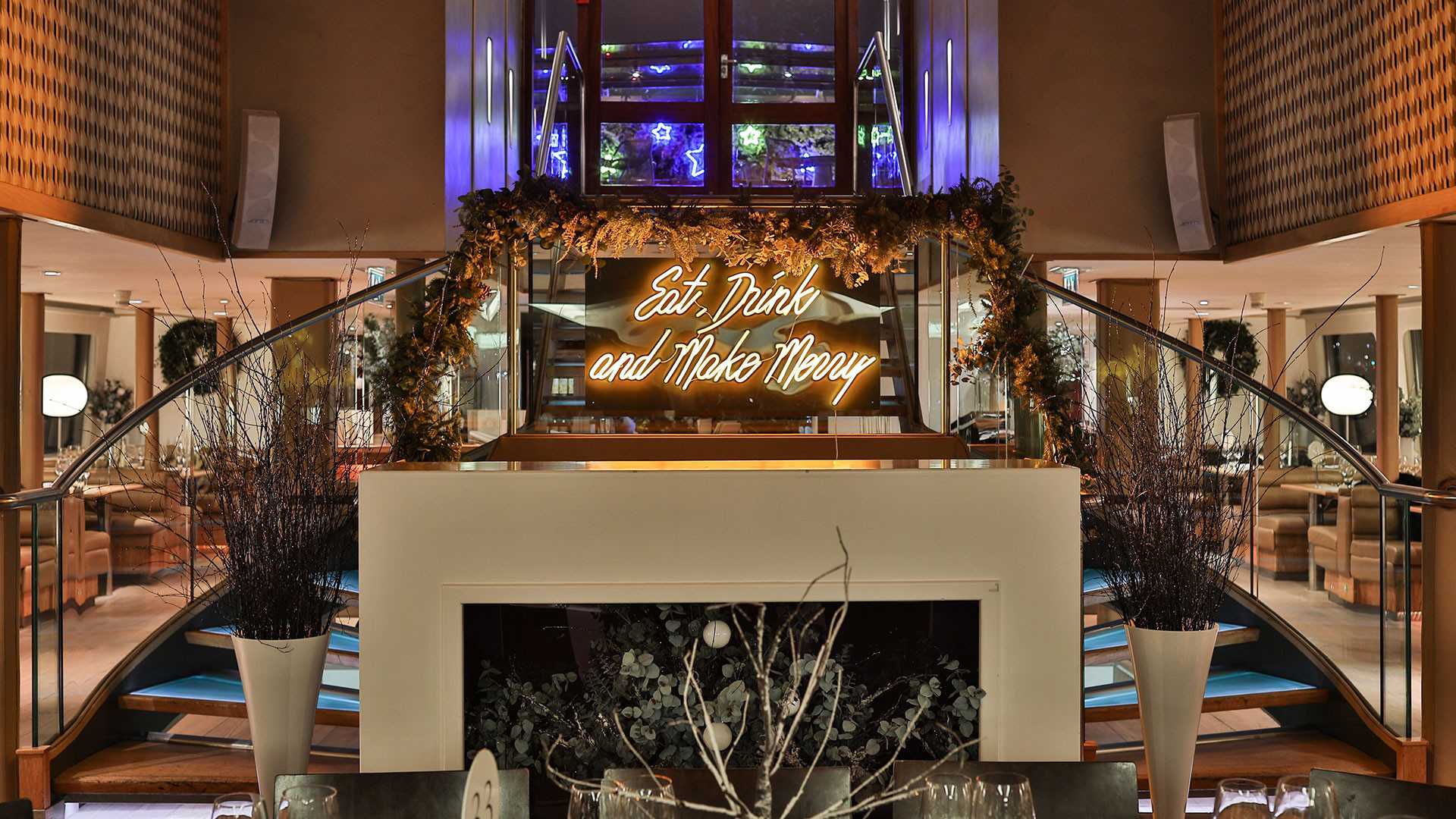 13. Enjoy Christmas up on high at

Landing 42
If jaw-dropping views are what you're after, this is the venue for you. Located on the 42nd floor of the Leadenhall Building, Landing 42 is a stunning contemporary space. High above the streets of London, the venue welcomes guests to its annual Christmas in the Sky installation.
Party packages at the contemporary space include Christmas décor, fully-installed lighting and sound systems, an in-house DJ and dance floor. The venue also offers a range of live entertainment acts, available to book via its entertainment partner Fullcircle.

Price range: Seated dinner from £193 + vat pp
Capacity: 300
Location: EC3V 4AB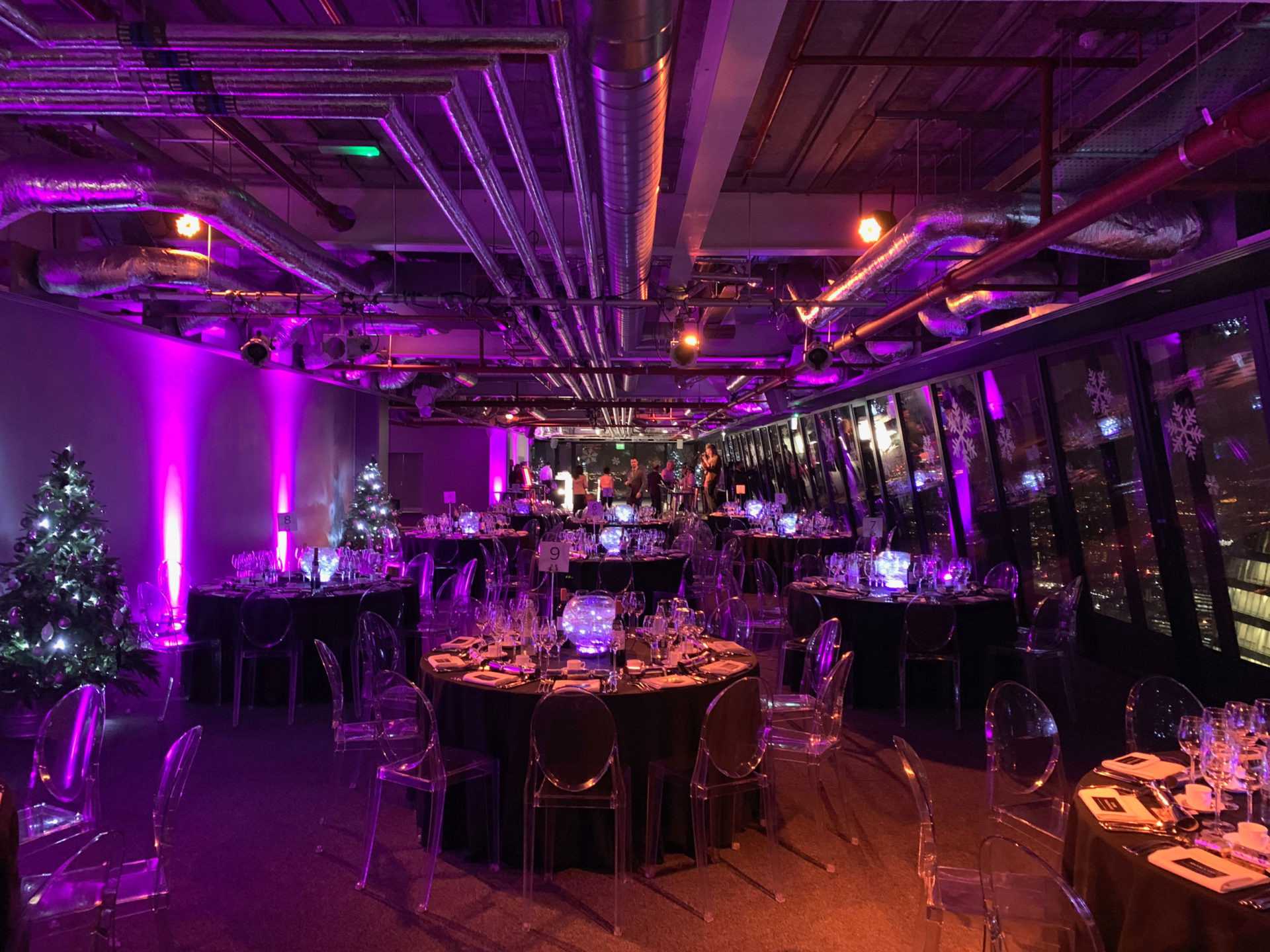 Leading London venue One Marylebone specialises in spectacular parties. The historic space never fails to astound guests, with its dramatic interiors and stunning lighting. There are a range of different Christmas party packages available at One Marylebone, and parties can be tailored to your exact requirements.
The venue has room for up to 400 guests for standing events, or a maximum of 300 for seated Christmas dinners. Choose from options including sound and lighting production, furnishings, DJ, catering and much more to create your perfect Christmas party.

Price range: From £21,500 + VAT – includes dry hire & production
Capacity: 400
Location: SW1X 7SH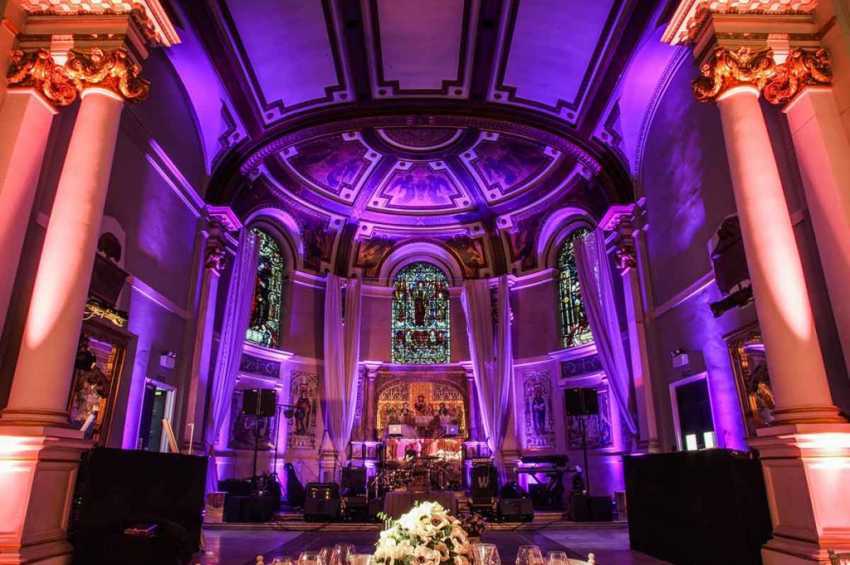 'Wow Factor' Office Christmas Party Venues
Join us for a party in the heart of London's Covent Garden at the iconic art deco Freemasons' Hall. A whirl of decadence, drama, and delight awaits you with our sensational Christmas party at The Grand Temple. Feast all your senses on our stunning recreation of the Venetian carnival, complete with extravagant theming, and our talented DJ.
Welcome your guests to a sparkling on arrival, followed by your choice of delicious food options, and generous all-inclusive house drinks packages. Upgrade options include delicious canapés, spirit packages, magicians, a four-piece band, and sensational entertainment acts. Excite and impress your guests this Christmas 2023, with this astonishing Grand Temple party.
Dates available: Various late November and December dates available
Price range: Packages start from £200 + VAT pp for a seated dinner
Capacity: 700 standing, 300 seated
Location: WC2B 5AZ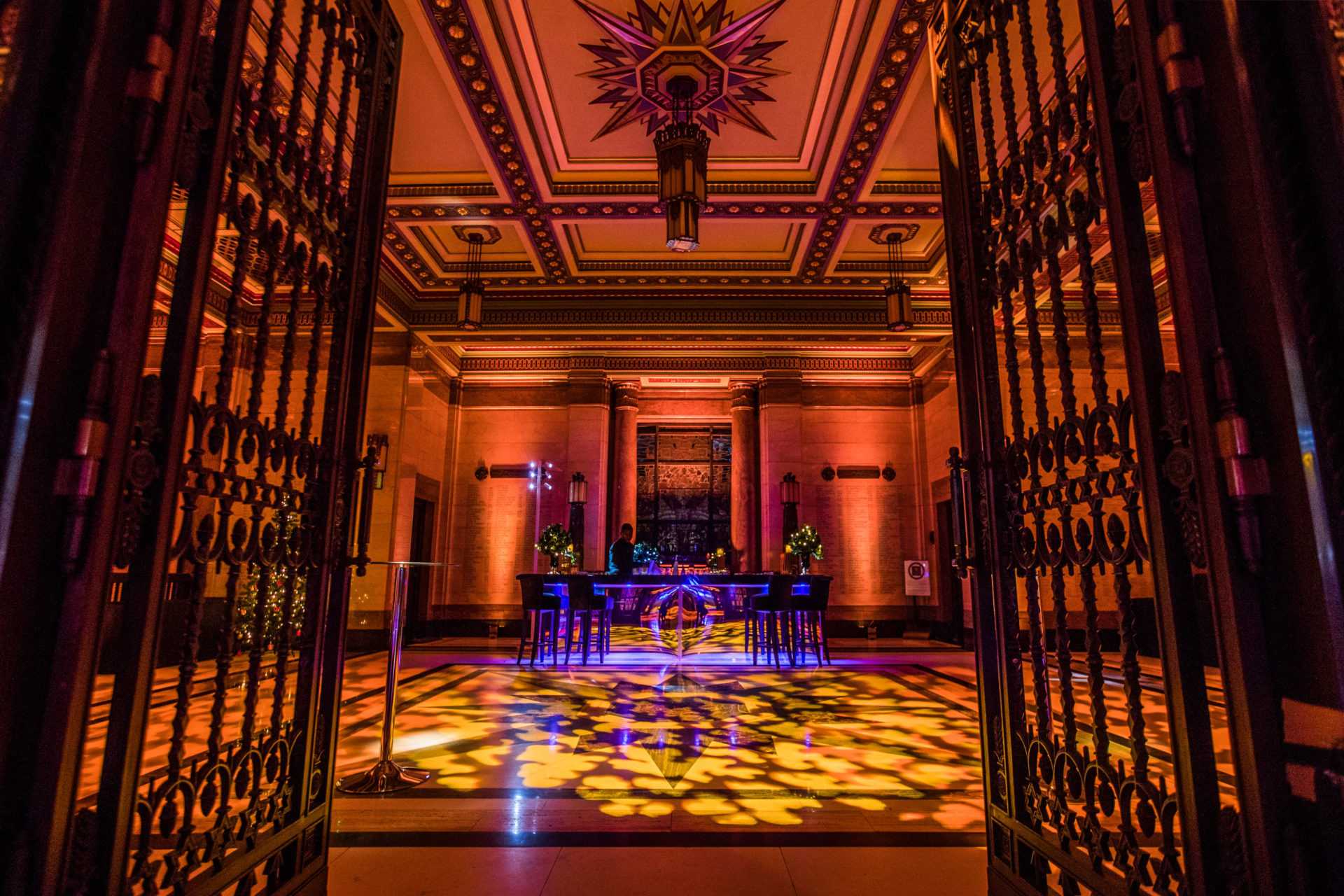 16. Enjoy a fully themed experience with Evolution
Evolution London is available to hire exclusively throughout the festive season for both seated and standing events, and is also available for shared party nights where you can celebrate alongside other companies. Each year the venue takes on a different theme, and this year, Evolution London will play host to Après an immersive event experience that will transport guests straight to the slopes.
Hire Evolution London for your Christmas party and work with our team on the extra touches that will delight your guests. All of our parties are fully managed, offer exclusive access, and include welcome drinks. Our exclusive parties are all about offering a VIP experience for your guests, whether that's a red carpet, the best bubbly, or top entertainment, nothing is too much to ask.
Dates available: Various dates
Price range: From £150 + VAT pp for seated dinner
Capacity: 3,000
Location: SE10 0QE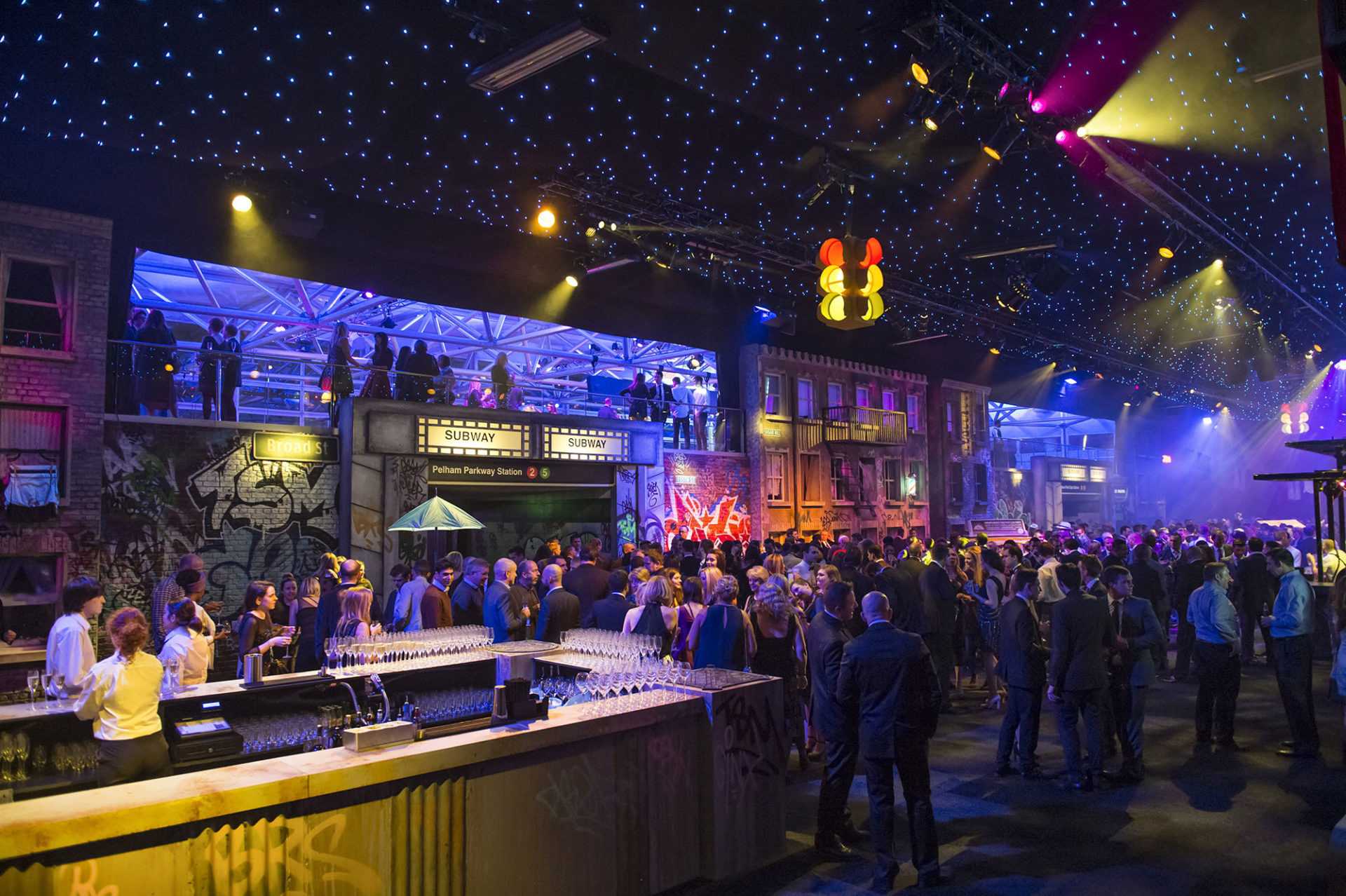 17. Unforgettable parties at 73 Waterloo
The stars of Old Hollywood knew how to party.From the glitzy fashion to the glamorous venues, these were some of the most memorable parties of all time. And the Academy Awards After-Show parties had to be the ultimate invitation. This Christmas, feel like a VIP as we recreate the best of the past with a modern twist, giving you and your guests the chance to celebrate with your team at the most sought after, exclusive ticket in town. As guests arrive at 73 Waterloo, its majestic pillars will be vibrantly lit with a red carpet laid out to create an entrance suitable for any star. Once inside, guests will be welcomed into the Piano Bar for a drinks reception before making their way into the vast Lounge & Bar for entertainment and a choice of seated dinner or stand up reception.
Dates available: Various dates
Price range: From £170 + VAT standing or £225 + VAT seated dinner
Capacity: 250 seated
Location: SE1 8TY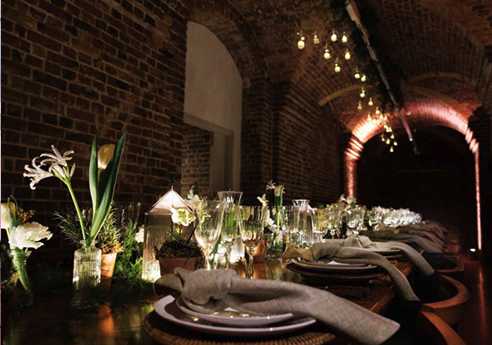 With so many epic 2023 office Christmas party venues and ideas to choose from, London is destined to host some amazing festive celebrations this winter! Get in touch today for more information, or to reserve one of our most popular dates at any of these exciting event spaces.