VSL Visit The Bankside
Monday 30 October 2023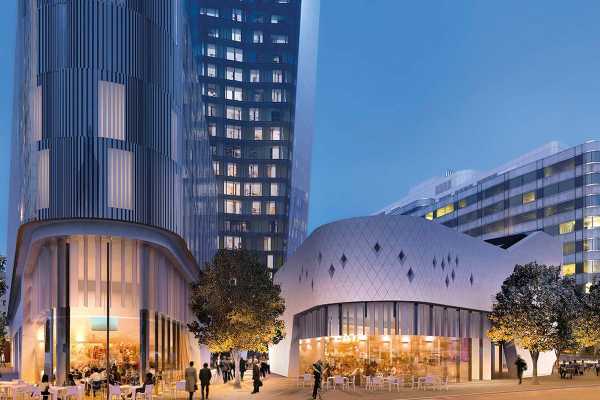 Earlier this week, the VSL team had the pleasure of visiting the Bankside Hotel, located in Southbank at the heart of Central London. This unique venue seamlessly combines contemporary art deco aesthetics along with a strong focus on sustainability.
With its edgy east-meets-central London vibe, this boutique style hotel offers not only stunning event spaces but 161 bedrooms, a design-led restaurant and bar, a stylish terrace area and a London style art gallery.

The venue offers a number of unique event spaces that are designed to be versatile and eye catching. From quirky meeting rooms on the lower ground floors to the gorgeous mezzanine and terrace areas above, the Bankside have successfully created a venue where colourful artwork, geometric patterns, and luxurious materials combine to contribute to a culturally vibrant venue.
The spaces are the perfect spot for corporate meetings, conferences, networking events, and other social gatherings with capacities ranging from 40 up to 150 delegates. However, the star of the show at this property and worth a special mention, is the exquisite Whitebox. This one-of-a-kind gallery style space is a blank canvas room that can be transformed or branded to suit any style; you can enjoy the space as an art gallery or have it simply left white. Contemporary Collective, powered by DegreeArt, curates and showcases the art collections at Whitebox. The minimalistic design allows for maximum creativity, providing a perfect backdrop for a number of events; from standing receptions to product launches, the space is designed to provide a sophisticated yet inviting atmosphere for various occasions.
Another noticeable mention for this venue has to be made for their commitment to being environmentally conscious and their commendable sustainability practices; which radiate throughout the property. From the moment you step inside, you recognise the venue's attempt to minimise negative environmental impacts and contribute more positively to a greener way of living.
The building itself is designed with energy-efficient features in mind, such as prioritising recycling and waste management, ensuring that materials are properly sorted and disposed of, solar panels and the use of low VOC paint, to reduce the emission of harmful toxic chemicals into the air. Several tables within the property are made from recycled plastics as well as keeping bees on the rooftop. These initiatives (just to name a few) undoubtedly help to reduce the hotel's carbon footprint and promote a more sustainable hospitality industry.
Beyond the architectural design and fantastic eco-friendly practices, the Bankside hotel provide a warm and inviting social space. VSL were delighted to experience an exquisite dinner at their ArtYard Restaurant. The restaurant's ambiance perfectly complemented the hotel's artistic theme, creating a wonderful dining experience. The dinner consisted of three thoughtfully designed courses that showcased the restaurants culinary skills and attention to detail. What made this dining experience all the more remarkable was the restaurant's commitment to accommodating various dietary requirements within our group. From vegetarian and vegan options to gluten-free dishes, the menu catered to all preferences without compromising on taste or presentation.
It is without a doubt the Bankside Hotel is a remarkable venue that seamlessly combines sustainability, art deco aesthetics, and contemporary design. The event spaces provide a stylish backdrop for any occasion, while the hotel's location in the vibrant Bankside area adds an extra layer of excitement. Whether you're attending an event or staying as a guest, the Bankside Hotel offers a truly unique and sustainable experience in the heart of Central London.
The Bankside is just one of many venues available to hire in London. Our team of free venue finding experts are on hand to create the perfect shortlist of venues in London for your next event.
Please complete our quick enquiry form with your specific dates, budget and ideal location and we will use our experience and venue relationships to save you both time and money.
Alternatively, please send us a quick e mail or call our team now on 0207 870 9305 to discuss The Bankside and other suitable venues for your next event.