VSL Breakfast Visit to The BoTree...
Thursday 23 November 2023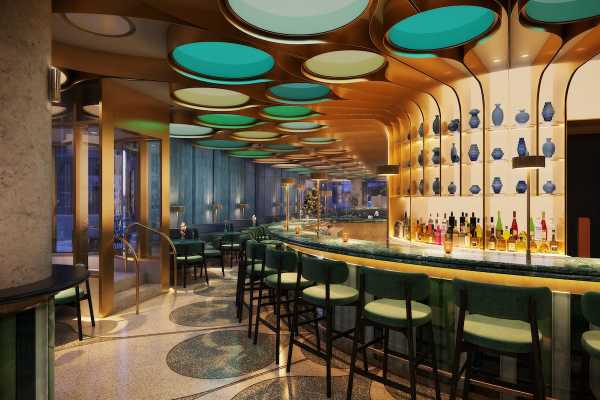 Located just a stone's throw away from bustling Oxford Circus, the Botree Hotel stands as a testament to the perfect blend of eco-conscious luxury and impeccable design. The hotel's name is derived from the Bodhi tree, where Buddha sat beneath to meditate and obtain enlightenment.
Nestled in the heart of central London at the crossroads of Mayfair, Marylebone, and Soho, this property not only offers impressive event spaces but comprises of 199 bedrooms, of which 21 are accessible, 56 are interconnecting and 30 are high-end luxury suites. From the elegant marble floors to the floor-to-ceiling windows throughout the property, every detail has been carefully crafted to create an ambiance that combines sophistication with a touch of colourful playfulness.
Before commencing our site visit around property, we were delighted to experience a seated breakfast at the stunning Lavo restaurant. As you enter the dining area, adorned with floral, botanical themes and warm twinkling lights, you are greeted with a sense of warmth and charm. It is worth mentioning that the food at The BoTree Hotel is on an entirely different level. Every dish we were fortunate enough to try was prepared using the best possible ingredients and served in the most charming crockery; elevating the overall presentation and experience. Between us, we were impressed by the classic eggs Benedict, avocado toast and stack of fluffy American pancakes. Each dish was a delightful surprise that left us craving more!
Following on from our wonderful breakfast, we were lucky enough to view a number of the guest bedrooms. All of which feature floor-to-ceiling windows which allow for the natural light to come pouring in through. The décor of the guest rooms effortlessly combines modern elegance with vibrant pops of colour and quirky design elements, making each bedroom a visual delight. At the heart of the BoTree's operations lies a deep-rooted dedication to minimising negative environmental impacts and this is evident throughout the bedrooms. Each guest room has sustainability embedded, with vegan leather headboards, Jasper Conran Wedgwood tea sets as well as Jo Loves products, (the BoTree being one of the first properties in the world to debut the brand's Pomelo collection) which are vegan, cruelty-free and naturally packaged using OceanBound Plastic.
Moving onto the rest of the hotel and the fabulous event spaces; the venue features Lavo Restaurant, The BoTree Bar and coming soon a two-storey underground night club with a late-night licence guaranteed as well as talks of a 400 person rooftop bar! Set against a backdrop of stunning architecture and the calming tranquillity of the BoTree's interior design, the venue provides an atmosphere of luxury for a number of corporate event types. From standing drinks receptions in the BoTree Bar, to seated meals for up to 300 across both floors of Lavo. In addition, the futuristic nightclub (which is yet to be officially named and announced) will be able to accommodate around 300 partygoers into the early hours of the morning. A fantastic addition to the late-night party scene in central London and we can't wait to see more of this impressive space as and when it is ready for launch!
Reflecting back on our breakfast visit to the Botree, it was without a doubt an unforgettable experience that goes beyond a typical Monday morning site visit! From the moment you step foot into the hotel, you are greeted with a vibrant, luxurious atmosphere created by a harmony of warmth and charming ambiance. The Botree Hotel takes pride in its commitment to conscious luxury, ensuring that every aspect of your visit is not only luxurious but also environmentally and socially responsible. A fabulous hotel which the entire VSL team now recommend you visit as soon as possible.
The BoTree is just one of many venues available to hire in London. Our team of free venue finding experts are on hand to create the perfect shortlist of venues in London for your next event.
Please complete our quick enquiry form with your specific dates, budget and ideal location and we will use our experience and venue relationships to save you both time and money.
Alternatively, please send us a quick e mail or call our team now on 0207 870 9305 to discuss The BoTree and other suitable venues for your next event.