VSL's Top 5 Large Christmas Party Venues
Monday 2 October 2023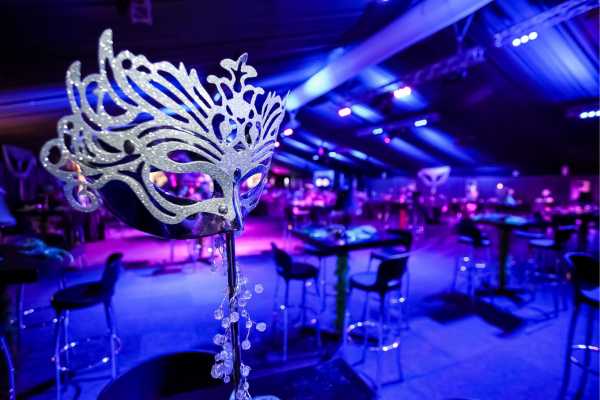 London at Christmas is a truly magical place. From the iconic Christmas lights on Oxford Street to the winter markets that line Southbank, it is undoubtable that our capital is one of the best cities in the world to celebrate.
Here at Venue Search London, we are experts when it comes to Christmas parties. So if you're looking for large venues in London that can accommodate all of your guests, all whilst providing an unforgettable Christmas experience, we've got you covered! In this article, we'll explore the top 5 large Christmas party venues in London that are sure to make your event a success…
Magazine London
Located on the Greenwich Peninsula, Magazine London is a cutting-edge venue that offers a truly unique Christmas party experience, both shared and exclusive hire, with panoramic views of Canary Wharf and The City beyond. At an impressive 3,205 square meters of event space, this venue can accommodate up to 3,000 guests. The Smart Group know just how to transform this vast venue, to create a vibrant and extravagant party setting; including providing top live band performances, a dancefloor and entertainment shows throughout the night. With an industrial-chic design, state-of-the-art lighting and sound systems, this venue is perfect for those looking for a contemporary twist on a traditional Christmas party.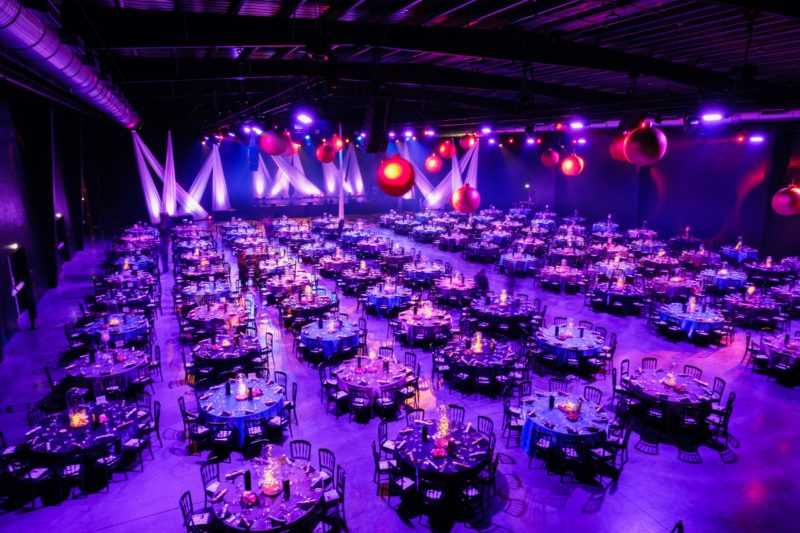 Grand Connaught Rooms
Situated in the heart of Covent Garden, the Grand Connaught Rooms are a collection of stunning architecturally designed function rooms. With high ceilings and grand features, the venue's versatility allows for up to staggering 1,500 guests! From the majestic Grand Hall to the opulent Balmoral Suite, during Christmas time every corner of this fabulous venue is beautifully designed and decorated to create a magical atmosphere that perfectly encapsulates the festive spirit. With impeccable service, exquisite cuisine, and a touch of old-world glamour, the Grand Connaught Rooms are guaranteed to create an unforgettable Christmas party experience for your Christmas Party.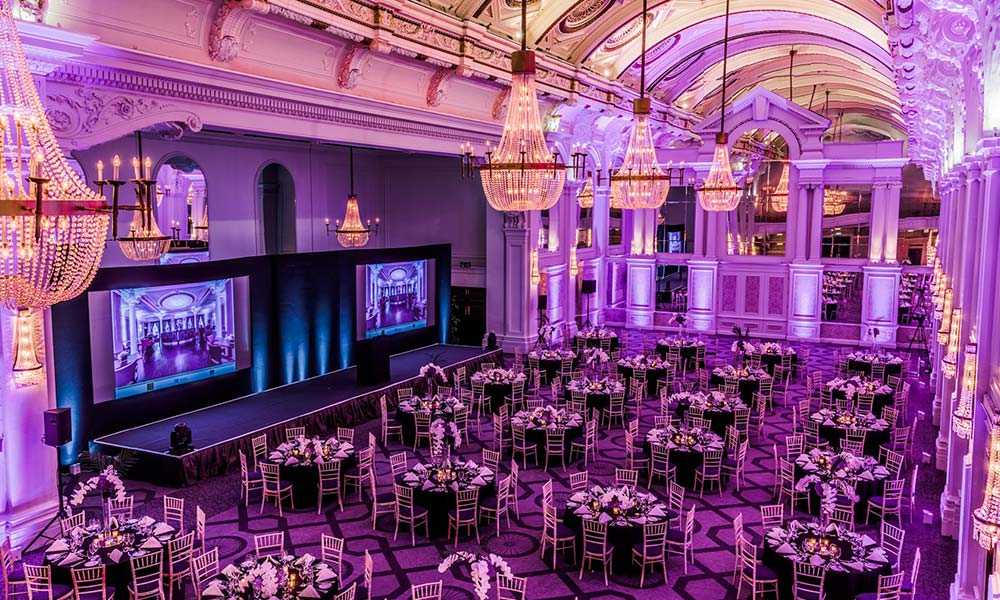 Raffles at The OWO
Raffles at The OWO is a luxurious venue Formerly Britain's historic Old War Office. The iconic Whitehall building has been transformed into Raffles first London hotel and offers the most historic address for all kinds of large-scale events. Boasting a capacity of up to 700 guests for a standing reception, 600 on rounds and 450 for a dinner dance and with access via the exceptional Grand Staircase, the extraordinary Whitehall Ballroom is complemented by an extensive pre-function space and six additional meeting rooms. With its exquisite design, range of impressive event spaces and impeccable service, Raffles at The OWO is sure to provide an unforgettable Christmas party experience, filed with luxury, style and glamour.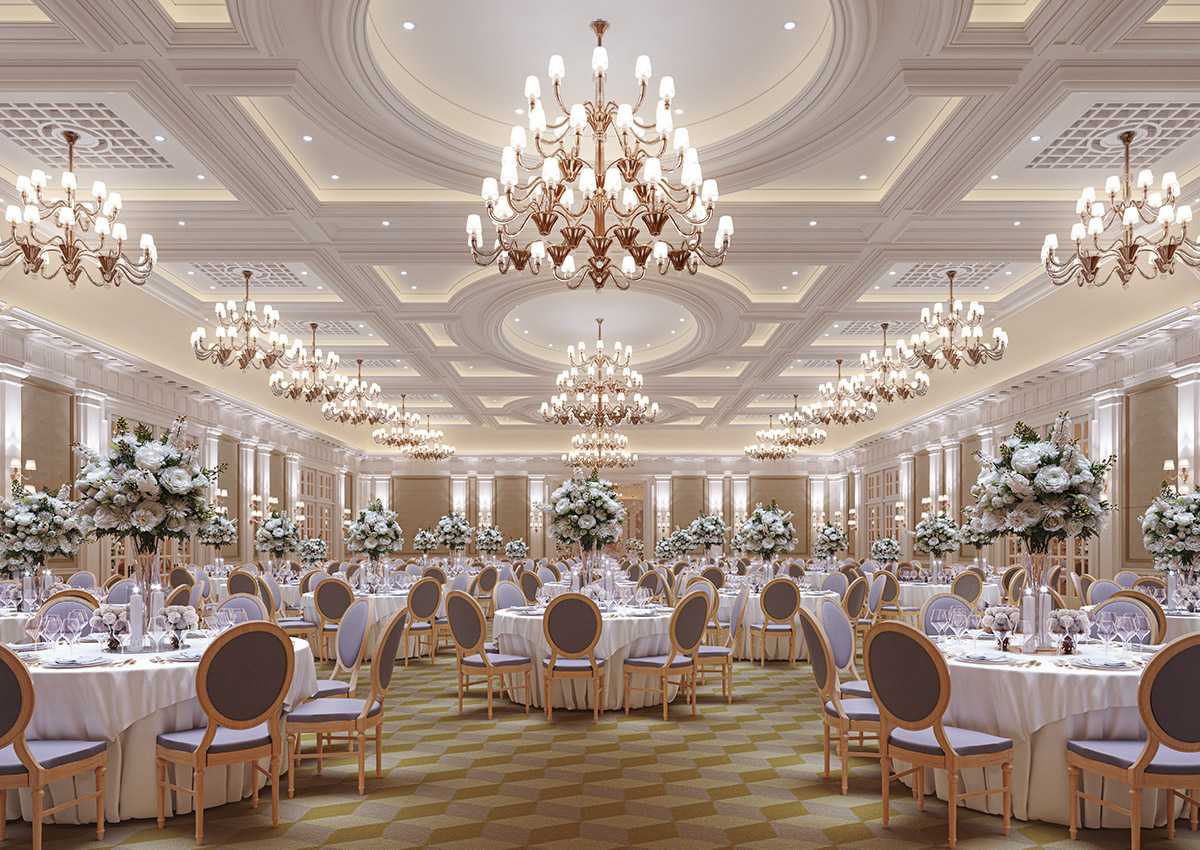 Old Billingsgate (Ultimate Experience)
Located on the North bank of the River Thames, Old Billingsgate is an impressively striking venue that resembles a remarkable part of London's heritage and history. The once world-famous fish market has undergone an amazing transformation and is now one of London's largest premium event spaces. This venue also provides unrivalled breath-taking views across London's iconic skyline with a backdrop of Tower Bridge, City Hall, The Shard and London Bridge. Managed by Ultimate Experience, The Grand Hall, features soaring ceilings and impressive architecture and can easily accommodate up to 2000 guests; making it a perfect choice for extra large-scale events! The venue also offers versatile smaller spaces; The Vault and The Gallery. With its magnificent architecture and stunning views over London's skyline, this Victorian Grade II listed building is sure to provide an extraordinary event experience.


Flipper's London
If you're looking for an exciting, fast-paced and immersive Christmas party experience, Flipper's London is the place for you. This unique venue is essentially a large roller disco rink brought to you by the Cream Group and offers a range of interactive games and experiences for your guests. With a capacity of up to 1,000 guests, Flipper's London provides a modern and energetic setting for your Christmas celebrations. From virtual reality experiences to arcade games and bowling, your guests are guaranteed a memorable and entertaining evening. The venue emphasise the benefits of roller skating events as a refreshing break from the more traditional corporate Christmas party settings, encouraging participants to let loose and have fun; creating undoubtedly a memorable experience that will leave your guests buzzing with excitement!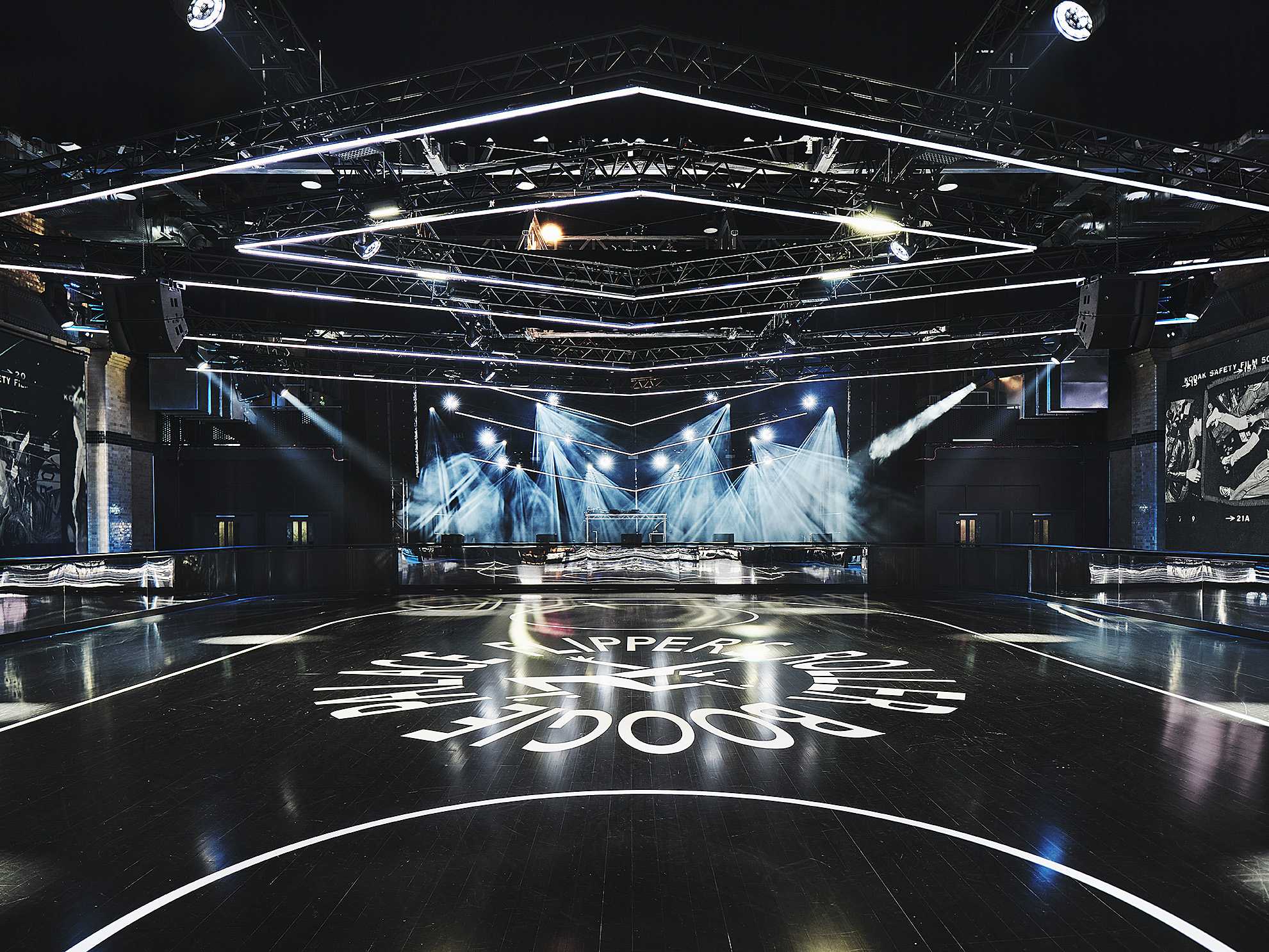 It is undeniable that London is home to a number of impressive large-scale venues. From the contemporary Magazine London to the elegant Grand Connaught Rooms, the historic Raffles and the immersive Flipper's roller-skating rink; there really is a venue to suit every event style and preference. Here at Venue Search London, we know the importance of hosting a Christmas party that your guests won't forget, so take your pick from our Top 5 Large Christmas Party Venues and we can confirm your Christmas party will be an unforgettable event, that will be talked about for years to come…
These are just some of many great large venues London has to offer. Our team of free venue finding experts are on hand to create the perfect shortlist of venues in London for your next event.
Please complete our quick enquiry form with your specific dates, budget and ideal location and we will use our experience and venue relationships to save you both time and money.
Alternatively, please send us a quick e mail or call our team now on 0207 870 9305 to discuss suitable venues for your next event.