Hire Emirates Stadium - 13 spaces for memorable events in London
The Woolwich Suite celebrates Arsenal's past and present featuring the legacies shaped by the Club's two most successful managers, Herbert Chapman and Arsène Wenger. In hosting up to 500 guests, it provides a versatile environment ideal for large conferences, banqueting, receptions and celebrations. The distinctive, adaptable space together with blackout facilities offers customised surroundings to suit your needs, whatever your event.
The Woolwich Suite can also be combined with the WM Club to provide additional space for large events. Or alternatively the WM Club can be enjoyed as two luxurious lounges and functional breakout areas. Adding to the fine selection of space offered by the main suites, WM Club and The Foundry provide two exclusive areas oozing with class and sophistication.
Room & Venue Capacities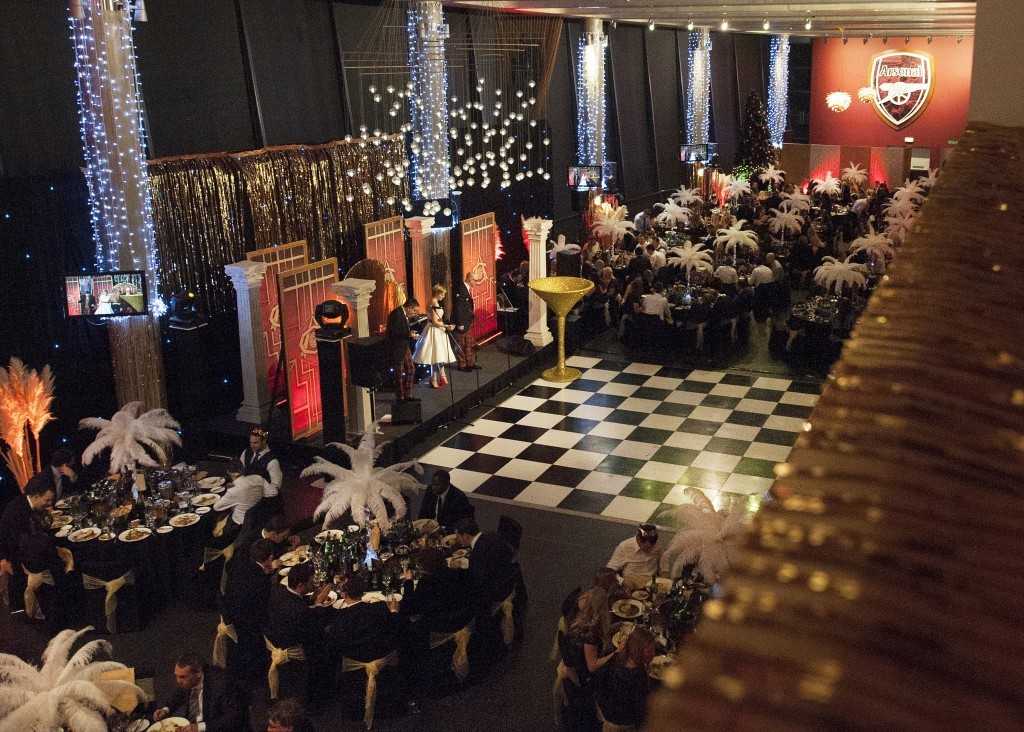 | Event style | Guests |
| --- | --- |
| Standing Reception - Indoors | 1200 |
| Seated Lunch | 500 |
| Seated Dinner | 500 |
| Dinner/Dance | 450 |
| Theatre Style | 500 |
| Cabaret Style | 350 |
| Seated lunch/dinner | 500 |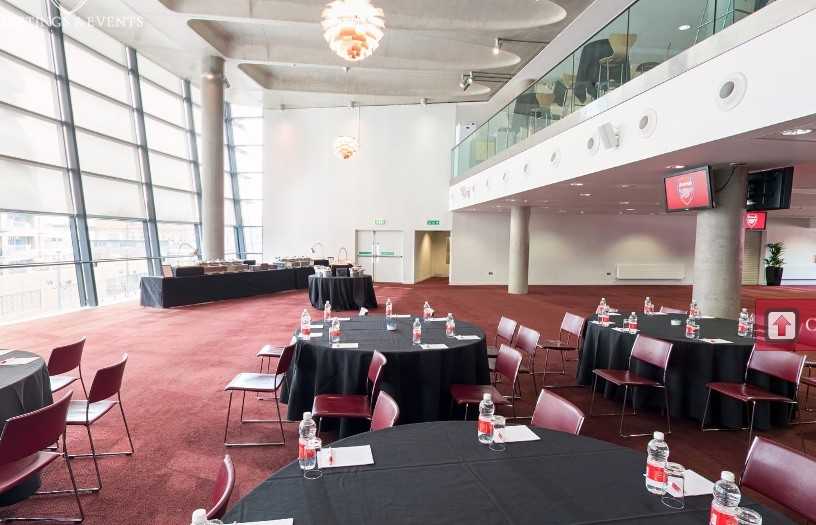 | Event style | Guests |
| --- | --- |
| Standing Reception - Indoors | 1200 |
| Seated Lunch | 450 |
| Seated Dinner | 450 |
| Dinner/Dance | 400 |
| Theatre Style | 550 |
| Cabaret Style | 450 |
| Seated lunch/dinner | 450 |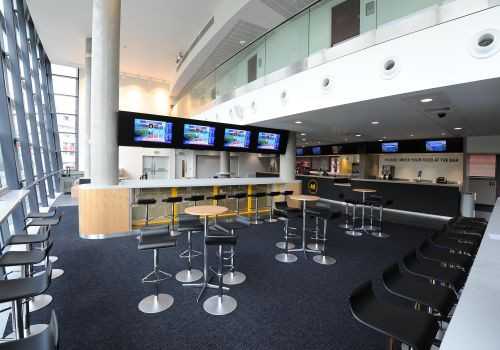 | Event style | Guests |
| --- | --- |
| Standing Reception - Indoors | 250 |
| Theatre Style | 30 |
| Boardroom Style | 20 |

| Event style | Guests |
| --- | --- |
| Standing Reception - Indoors | 250 |
| Seated Lunch | 120 |
| Seated Dinner | 120 |
| Dinner/Dance | 100 |
| Theatre Style | 100 |
| Cabaret Style | 80 |
| U-Shape Style | 30 |
| Boardroom Style | 40 |
| Classroom Style | 40 |
| Seated lunch/dinner | 120 |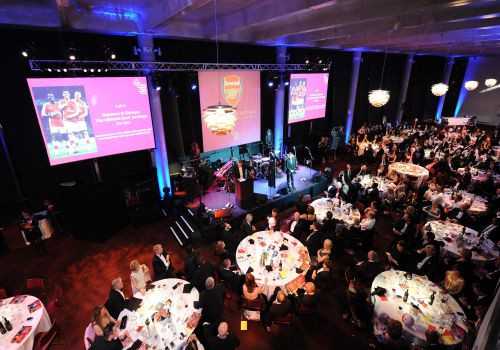 | Event style | Guests |
| --- | --- |
| Standing Reception - Indoors | 1200 |
| Seated Lunch | 450 |
| Seated Dinner | 450 |
| Dinner/Dance | 400 |
| Theatre Style | 450 |
| Cabaret Style | 320 |
| U-Shape Style | 40 |
| Boardroom Style | 40 |
| Classroom Style | 180 |

| Event style | Guests |
| --- | --- |
| Standing Reception - Indoors | 300 |
| Seated Lunch | 120 |
| Seated Dinner | 120 |
| Dinner/Dance | 100 |
| Theatre Style | 80 |
| Cabaret Style | 60 |
| U-Shape Style | 35 |
| Boardroom Style | 40 |
| Classroom Style | 42 |
| Seated lunch/dinner | 120 |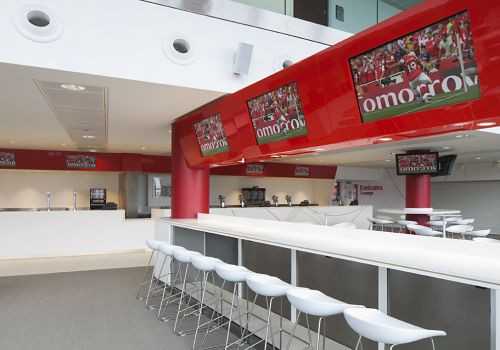 | Event style | Guests |
| --- | --- |
| Standing Reception - Indoors | 250 |
| Theatre Style | 30 |
| Boardroom Style | 20 |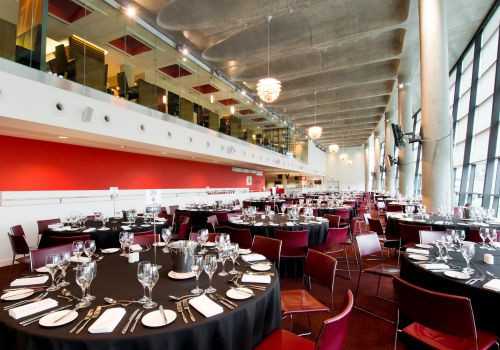 | Event style | Guests |
| --- | --- |
| Standing Reception - Indoors | 1200 |
| Seated Lunch | 450 |
| Seated Dinner | 450 |
| Dinner/Dance | 350 |
| Theatre Style | 400 |
| Cabaret Style | 240 |
| U-Shape Style | 40 |
| Boardroom Style | 40 |
| Classroom Style | 180 |
| Seated lunch/dinner | 450 |

| Event style | Guests |
| --- | --- |
| Standing Reception - Indoors | 200 |
| Theatre Style | 30 |
| Boardroom Style | 20 |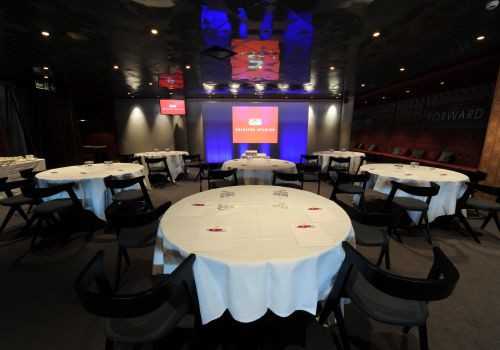 | Event style | Guests |
| --- | --- |
| Standing Reception - Indoors | 250 |
| Seated Lunch | 90 |
| Seated Dinner | 90 |
| Theatre Style | 100 |
| Cabaret Style | 48 |
| U-Shape Style | 30 |
| Boardroom Style | 30 |
| Classroom Style | 54 |
| Seated lunch/dinner | 90 |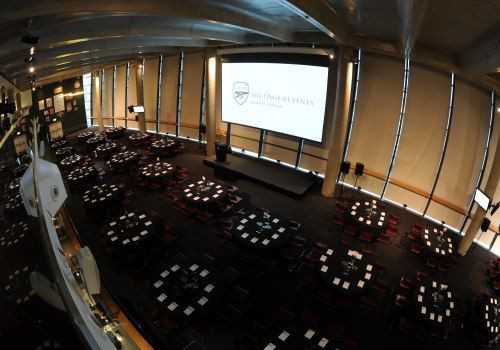 | Event style | Guests |
| --- | --- |
| Standing Reception - Indoors | 1200 |
| Seated Lunch | 500 |
| Seated Dinner | 500 |
| Dinner/Dance | 450 |
| Theatre Style | 500 |
| Cabaret Style | 350 |
| U-Shape Style | 40 |
| Classroom Style | 180 |
| Seated lunch/dinner | 500 |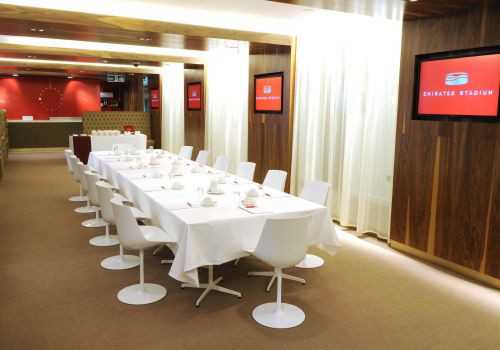 | Event style | Guests |
| --- | --- |
| Standing Reception - Indoors | 100 |
| Seated Lunch | 20 |
| Seated Dinner | 20 |
| Theatre Style | 80 |
| Cabaret Style | 40 |
| U-Shape Style | 20 |
| Boardroom Style | 20 |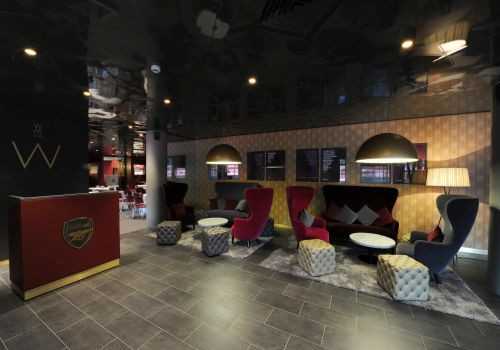 | Event style | Guests |
| --- | --- |
| Standing Reception - Indoors | 250 |
| Seated Lunch | 100 |
| Seated Dinner | 100 |
| Theatre Style | 100 |
| Cabaret Style | 80 |
| U-Shape Style | 30 |
| Boardroom Style | 30 |
| Classroom Style | 40 |
| Seated lunch/dinner | 100 |
Venue Facilities & Accessibility
Natural daylight
AV and audio facilities on site
Wifi
Disabled access
Wedding licence
Dancing permitted
Emirates Stadium address, travel directions, and parking information

Nearest tube stations

Nearest airports
London City (7.3 miles)
London Heathrow (16.9 miles)