Find your dream London Event Venue
with our free Venue Finding Service
The most comprehensive directory with 1,782 London event spaces listed
Save Time, Money & Stress - let our unbiased experts do the hard work for you
Our service is 100% free & we can even negotiate some great venue prices

Top Ten Tips for Perfect Christmas Parties
Tuesday 13 May 2014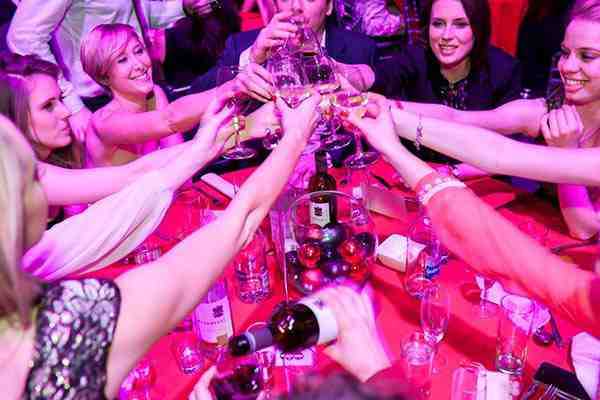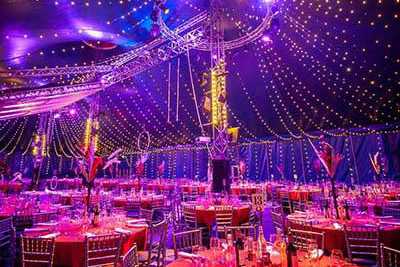 With business confidence returning to London, 2014 is going to be a great year for companies celebrating Christmas with their deserving staff.
The London Christmas Party Show at Banking Hall EC3 on June 10th and 11th will showcase over 200 of the best venues and creative suppliers. Here are the Show's top tips for delivering a party that will be eagerly anticipated, greatly enjoyed and long remembered!
Make sure your Christmas venue is the right size for your party
If your Christmas party venue is too large for your numbers, you will never create a great atmosphere, however hard you try. And this will only get worse in the last hour as the early-to-bed crew depart. Too small, and the service can be slow and you will not be able to accept any additional guests that you may employ after the booking is made. As a general rule, a venue that has a maximum capacity of 20% more than your group size is perfect! For Shared Christmas Party Nights, make sure the venue has a good chance of filling the venue.
Go online with your invitation and registration process
Use you internal e mail and intranet to ensure the best engagement and to build excitement. Include photos of the venue, planned entertainment etc. Use an online registration system to manage RSVPs, special dietary requirements etc, which will give you more time to plan the party. Remember you need to sell the party to your staff in the same way that you sell to your customers.
Get the lighting right!
Whether you have a theme or not, great lighting make a great party (and fluorescent lighting kills it!). If you are using a hotel room or blank canvass venue, make sure you have coloured wall uplighters, lit table centres (or candles) as a bare minimum and that the house lights or chandeliers can be dimmed to create a great atmosphere. The latest LED battery-operated table centres are great for rooms with low ceilings and no pin-spots.
Offer cocktails at the pre-dinner drinks reception
Whatever anyone tells you, not everyone likes Prosecco! So offer a couple of easy to make cocktails as an alternative. This costs no more than sparkling wine and will add a touch of colour and sparkle to the beginning of the party. Make sure they are not made too strong to avoid those early knock-outs!
Consider a dessert buffet for seated dinners
Some people like puddings, others prefer coffee or mint tea; but very few want to be stuck next to colleagues at a dinner table for more than 90 minutes. The perfect solution is to have a dessert buffet station with shot-glass served mini-desserts, coffees (and as many herbal tea varieties as you have guests!) which can be served for an hour after dinner. This gets the dance floor full earlier and allows guests to mix with more of their mates after a shorter meal at their table.
Avoid unlimited free shots or spirits bars
Remember you have a responsibility to look after your staff and get them home safely without visiting those messy pop-up medical centres. If you are serving spirits, make sure they are served with long mixers to reduce alcohol intake and reduce embarrassing incidents that may be regretted for months after the party. Avoid free shots at all costs!
Plan the after-party
If you know that some of your guests will want to party on after the doors close, then make suggestions of nearby clubs and check out their door policies to avoid your guests trawling the streets for late night bars and clubs. Make sure you have a credit card/expense policy for your managers to avoid those January arguments!
Ensure that your guests get home safely
When booking a London Christmas party venue, make sure you check the last train times and check out night bus routes etc. Use a taxi marshal for larger numbers and on the busier nights and recommend local hotels (including the new sleeping pod hotels) for those who want to party hard and late. Communicate the options to the guests and have information sheets and taxi numbers on reception to help them home.
Avoid the pitfalls of social media
The advent of the Smartphone has resulted in photographs of your party being uploaded onto social media channels during the party, which can get you the wrong kind of publicity. This should be covered in your company policies, but a photo booth with images uploaded to a private online album to be viewed after the party is a popular addition to any party and should reduce the use of social media to record the highs and lows of the night!
Offer a duvet hour (or two!)
If your party is on a mid-week night, then consider offering the guests an extra hour in bed. This will go down a treat with the staff that are attending and the party-poopers who do not attend can look after the phones until 10am! This is a easy give that will be well-received and avoid the trickle-in of weary staff the next morning.
We hope that these tips help you plan the perfect party. Please register for the Show to meet the very best venues, party organisers and entertainment suppliers.