Find your dream London Event Venue
with our free Venue Finding Service
The most comprehensive directory with 1,840 London event spaces listed
Save Time, Money & Stress - let our unbiased experts do the hard work for you
Our service is 100% free & we can even negotiate some great venue prices

7 Top Tips for booking your London Conference Venues in 2022
Wednesday 13 October 2021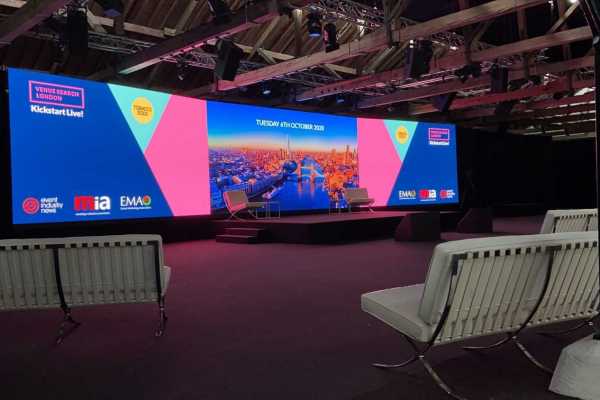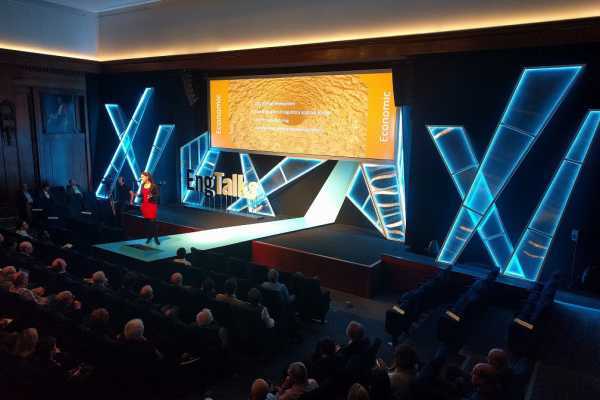 Here at Venue Search London, our team of free venue finders have been working closely with many clients as we all try to navigate our way back to delivering safe and successful live events in some of the many conference venues, London has to offer....
Whilst the demand for social events and seasonal parties have been very strong over recent months, there has been a more mixed picture when looking at London meetings and conferences.
Many businesses are facing the opposing benefits of virtual conferences versus in-person meetings. There are clear benefits of virtual events in terms of sustainability, cost and potential audience reach, but most appreciate that the value of face-to-face conferences, with all the networking, social and team cultural benefits that can only come from in person conferences.
A recent survey conducted by our friends at AOK Events indicates that, whilst the majority of companies will continue to use a mix of virtual and live events to deliver key internal messages, only 2% of those surveyed, planned to keep their meetings and conferences 100% virtual.
Over the past year, we have worked closely with our colleagues at Story Events to deliver some great virtual conferences, wellbeing and team-building events. We know have a great understanding of the various virtual platforms on offer and have used our amazing relationships with venues and suppliers to ensure that our clients' needs can still be met; whether in the form of a virtual workshop, activity or seminar or facilitating their corporate gifting requirements!
If you need help finding the perfect conference venue in London, then our free venue finding experts are on hand to create the perfect shortlist based on you specific budget and requirements, Just drop us an email, call us on 0207 870 9305 of fill in the enquiry form to the right of this page and we will get started on you free London venue search..
Here are our top tips when planning your 2022 conferences venues in London:
Stay agile and flexible
When looking at London conference venues to hire for the early months in 2022, we recommend that you ensure your contracts have in-built flexibility in terms of postponement and cancellation, in case of any possible winter restrictions or Government guidelines. Ensure that the venue has the flexibility to offer strong wi-fi and audio-visual facilities, sufficient to be able to include live streaming. Virtual and Hybrid events naturally require a far more robust technological offering, so make sure this either comes as standard or can keep with the pace should the event need to be taken online in part, or as a whole. Always enquire about technical support on site and do be prepared to pay an additional charge for this to support the smooth running of your conference or event.
Exclusive is best
Whilst the real health risk of staging live conferences is thankfully low (and declining in London), bookers of London conference venues need to bear in mind delegate perception in order to maximise attendance. With many in the UK service sector continuing to work from home (either part or full time), there may be some residual nervousness running into the early months of next year. Part of the many reassurances that you can offer, is to book an exclusive venue where you can control all aspects of perceived hygiene risk. We therefore recommend using boutique meeting venues for smaller events, rather than larger multi-occupancy conference venues
Re-look at venue locations
Flexible working hours and working from home has become the new norm for many. Whilst many used to look at conferences venues in the City of London, It's important to ensure that you understand and evaluate the changing delegate travel plans based on these new working patterns. For example, proximity to the office is potentially not going to be the driving force anymore, with maybe a great focus on looking at connectivity to mainline stations. For residential conference venues, we have noticed a growing popularity of out-of-town hotels, which reduces the need for public transport for many and the use of exclusive coach transfers where required. These smaller conference hotels also offer cost-effective pricing for exclusive hire.
Content is King!
When looking at conference venues to hire in and around London, it is important to consider what secondary content you may require before selecting from the many conference venues London has to offer. The AOK Events survey also showed a strong desire to use return-to-live events as a way to rebuild team spirit, loyalty and morale. To fulfil these objectives, it is likely that good secondary break-out spaces (and maybe outdoor space) will be required to deliver any wellbeing, team or activity-based content. In addition, it is well-known that an after party is one of the best ways to reward teams, so early consideration of overnight accommodation is advised.
Plan Hybrid with care
Whilst offering delegates the choice of either attending a live event at a London conference venue, or joining virtually, you need to think about how the live and virtual audience will view the content, access information, speak to each other, even receive gifts. A hybrid event allows you to give an opportunity for people to be face-to-face or to stay home if for whatever reason they cannot attend the event. Of course, it also allows guests around the world to attend without the cost of travel, so the benefits are not just health and safety related. In the end, remote audiences at hybrid events will never get the true value and benefits of attending live, so we feel that in-person events will continue to flourish, with the ability to live stream and record content as an important secondary channel to add value to live conferences.
Consider sustainability
With sustainability high on the global agenda, there will no doubt be increasing pressure on organisations to bring this issue higher on their agendas when planning London conferences and events. Obviously, delivering some ongoing communications virtually, will reduce the carbon impact of an annual event programme, but there are also a few easy ways to reduce the environmental impact of live events. This includes asking venues about their policies on energy use and single use plastics, food waste and looking to use venues with in-built production, which reduces the travel and other impacts of bringing in third-party suppliers. We are also happy to advise on carbon offsets, for those keen to explore delivering carbon-neutral events.
Shop around
With so many event plans put on hold this year, you may think it will be a buyer's market in 2021. But rising catering and staffing costs are putting upward pressure on prices quotes by conference venues in London. These two opposing trends are creating a fast-moving and fluid marketplace for event buyers. The key here is to take time to explore all the available venue options that might match your conference brief.
And how can all of this be made easier? Use a free venue finder! At Venue Search London, we really do provide a personalised service, completely free, with our knowledge and expertise allowing us to negotiate on your behalf, saving you money and time doing the groundwork. We know the questions to ask and we take pride in being able to provide you the best solutions for your event, whether that now be virtual, hybrid or live!
If you would like any information on the venues mentioned or have an enquiry for virtual, hybrid or live events in London conference venues, please email us at hello@venuesearchlondon.com or call us on 0207 870 9305. Alternatively, please complete our short online enquiry from here.
And finally, here are five of our favourite conference venues in London and the South East of England:
Best for boutique: etc. Chancery Lane
Just minutes from Chancery Lane, etc. Chancery Lane is an ideal boutique conference venue, mixing contemporary workspace design with an urban street feel. The venue includes built-in AV across several meeting rooms and lounges. Designed to inspire professionals to interact, learn and get creative in a more stimulating and inclusive setting than the conventional corporate training venue, the venue can accommodate a maximum of 140 theatre style. Designed to inspire professionals to interact, learn and get creative in a more stimulating and inclusive setting than the conventional corporate training venue, the new space also features a vast open lounge and formal and informal zones to work, rest and play.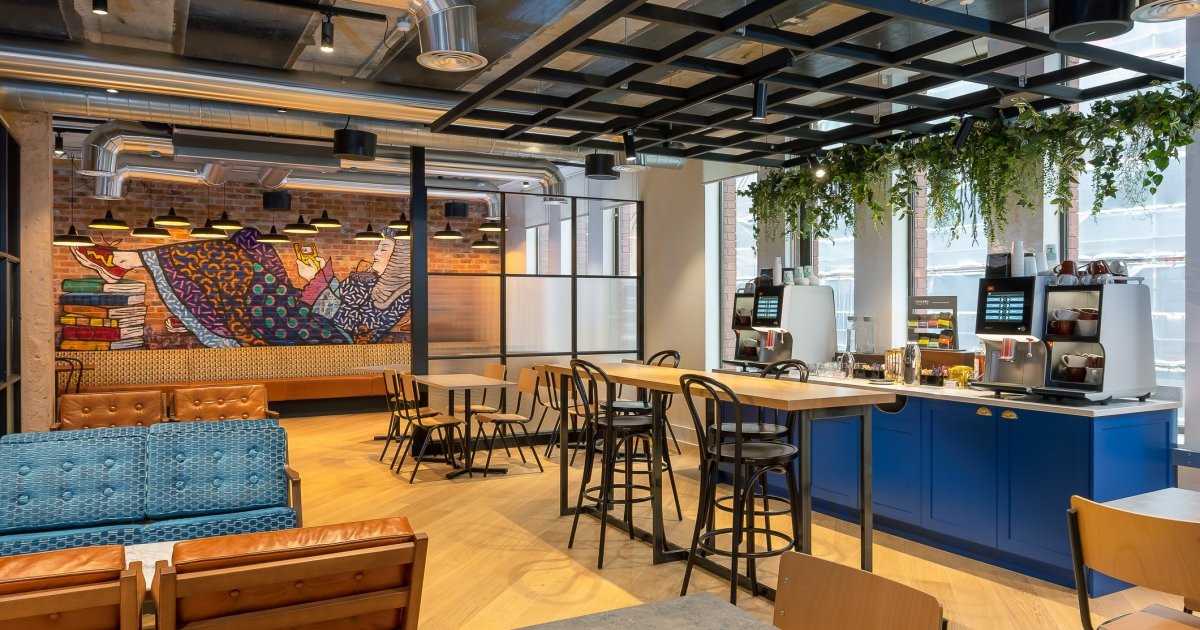 Magazine London boasts 3,205 sq m of versatile interior space for up to 3,000 people and can extend to accommodate a further 7,000 people across the venue's extensive outdoor showground. Located on Greenwich Peninsula, the venue offers unbroken views of the River Thames and Canary Wharf skyline. Both Mezzanines in the venue are accessible via two black steel staircases in Space 1 and can be utilised as VIP areas or as overflow for higher guest numbers; they can also operate as break-out, seminar and exhibition space. The venue is defined by simple architectural form, offering clean and functional spaces that provide a means for large-scale creative expression. Located in the heart of Greenwich Peninsula, with breathtaking views of Canary Wharf, the venue is easily accessible by the Underground (within a three minute walk), road and river.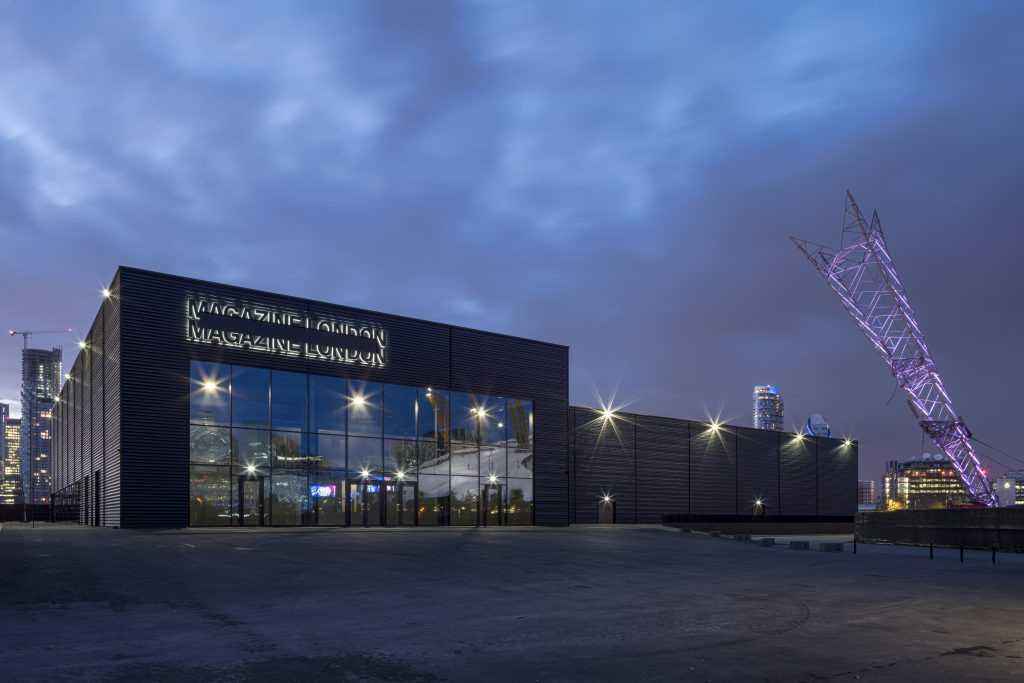 Best for out of town: Fairmont Windsor Park
Located on the edge of historic Windsor Great Park and within an hour of London, the hotel is surrounded by 40 acres of open green space featuring a tranquil lake. Formerly known as Savill Court. the hotel has been designed to reflect the sites heritage while offering modern elegance. The Arora Ballroom accommodates up to 700 delegates in a Theatre style layout with a multitude of breakout rooms available, making the venue a perfect residential conference venue away from the hustle and bustle, in close proximity to London Heathrow Airport. Their 15 elegantly designed meeting and event rooms will stimulate thought, discussion and mirrors their ethos and commitment throughout the hotel towards wellness.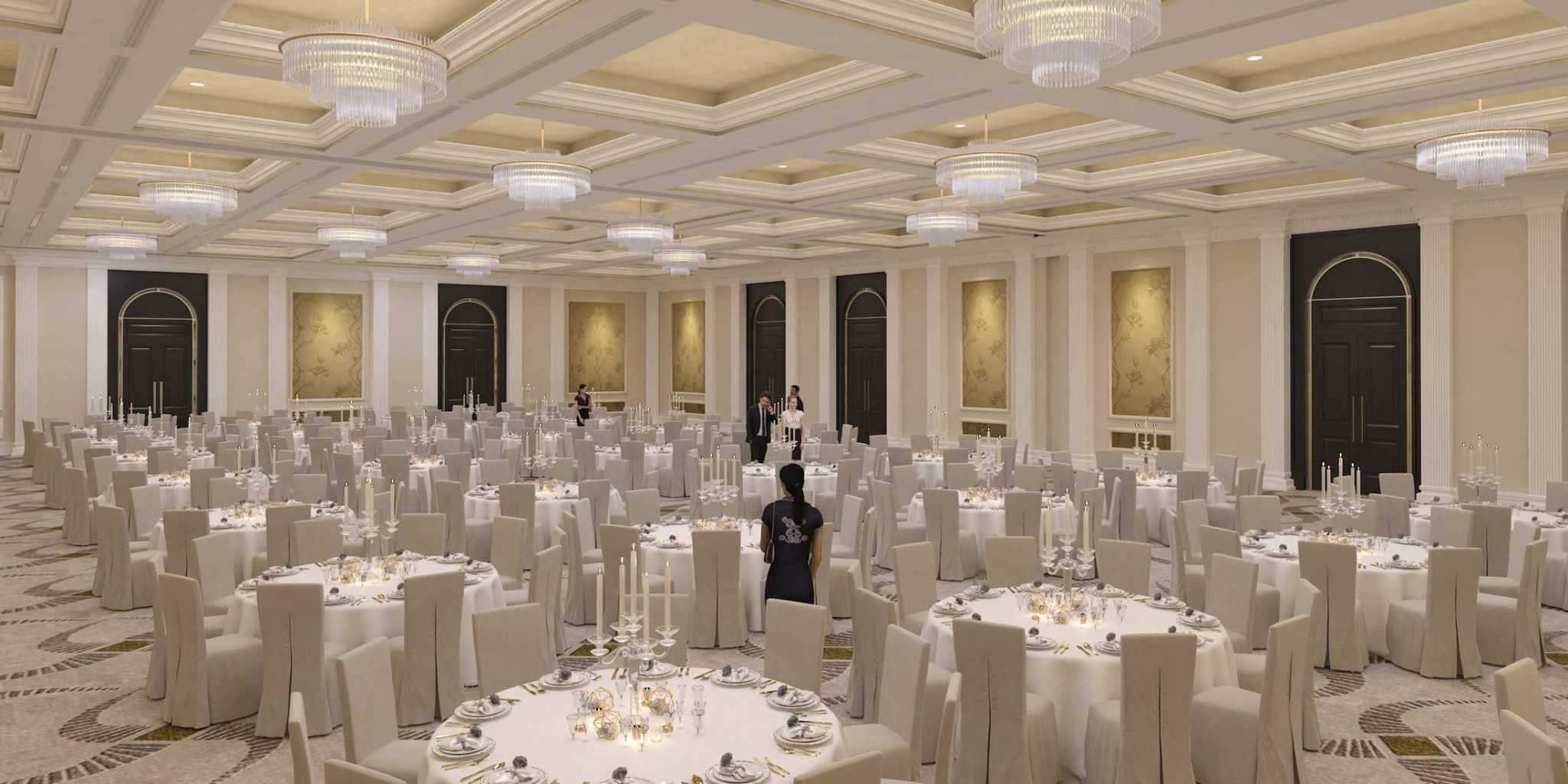 Centrally located in London, IET London: Savoy Place offers state-of-the-art AV facilities, innovative catering and spectacular views over the River Thames. With 18 versatile event spaces provide capacity from 20-626 guests, perfect for conferences, presentations, meetings, exhibitions and award ceremonies. All spaces are geared up to support technology-driven events, with advanced digital fibre-optic and ethernet embedded throughout the building. Savoy Place is well placed to meet any tech requirements; including being able to stream content from any room to any other room in the building, live broadcasts, worldwide streaming and much more. With a 500MB bandwidth, Savoy Place has no problem supporting multiple devices simultaneously to the Wi-Fi during an event, offering up to 2GB capacity to delegates. No two meetings are identical, but the most successful hybrid events are those that can combine the physical and 'virtual' location seamlessly. From an hour-long consultation to a day-long hybrid conference, IET Savoy Place have a tailored package to meet client needs.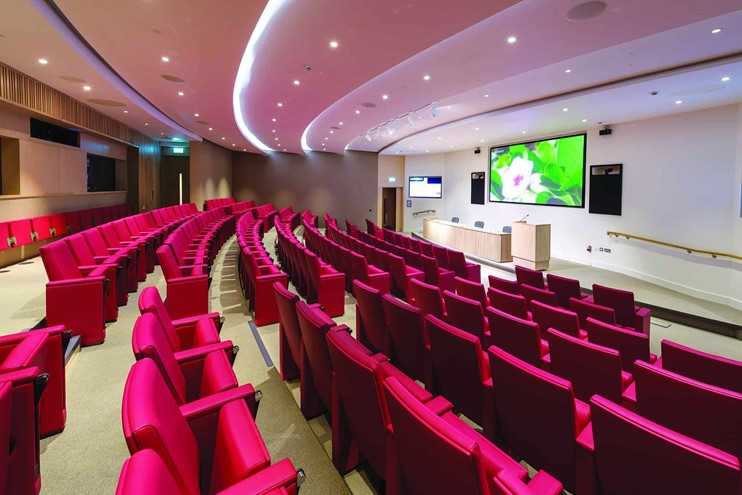 The AIM Gold accredited Barbican has 19 flexible and creative spaces that can be hired for a wide range of events, from conferences, AGMs and product launches to meetings, receptions, and weddings. With its superb technical resources, intelligent design and excellent acoustics, Barbican Hall is justifiably acknowledged as one of the country's finest auditoriums. Its breadth of facilities and size, seating from 500 to 1943 people, make the Hall the ultimate venue for larger conferences. Awarded 'Most Sustainable Venue' at the London Summer Events Show in 2019, Barbican have also signed the City of London's Plastic Free City pledge at a platinum level and are supporting Clean Air in the City of London through the Clean City Air Business Engagement Programme.
The Barbican opens out onto a lakeside area that provides a habitat for a variety of flora and fauna, an oasis in the heart of the city. In order to reduce the use of water for watering plants they have planted drought resistant plants around the Centre along with plants that promote better air quality as well as offering a home to an on-site bee colony and have recently installed two bug hotels to encourage pollinating insects.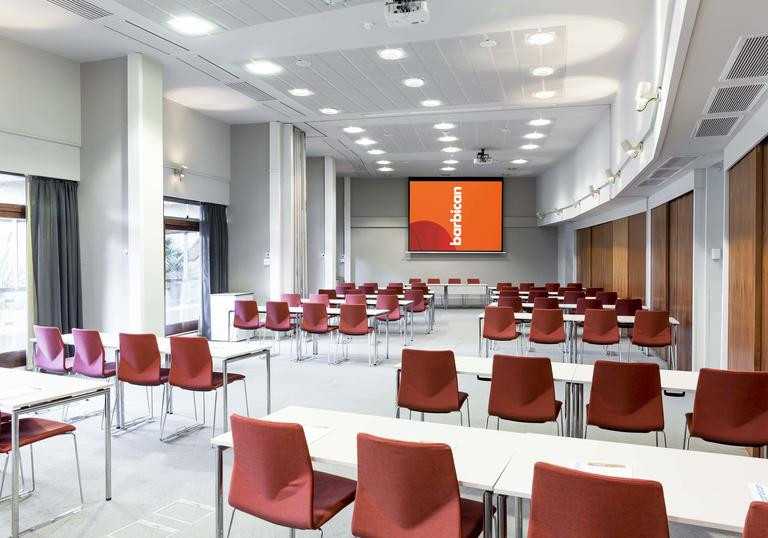 If you need help finding the perfect conference venue in London to hire, then our free venue finding experts are on hand to create the perfect shortlist based on you specific budget and requirements, Just drop us an email, call us on 0207 870 9305 of fill in the enquiry form to the right of this page and we will get started on your free London venue search.