Find your dream London Event Venue
with our free Venue Finding Service
The most comprehensive directory with 1,982 London event spaces listed
Save Time, Money & Stress - let our unbiased experts do the hard work for you
Our service is 100% free & we can even negotiate some great venue prices

VSL Voices; Moving Venue talk about Veganuary
Tuesday 18 January 2022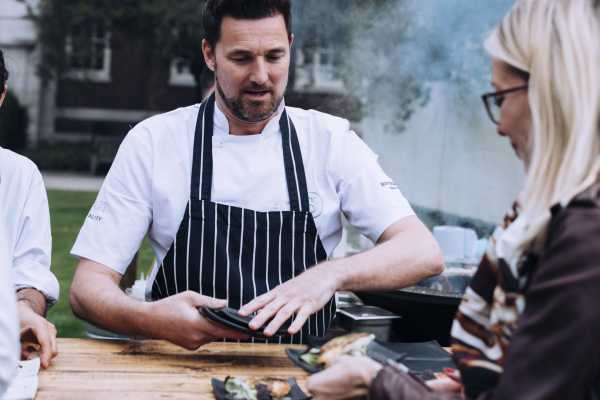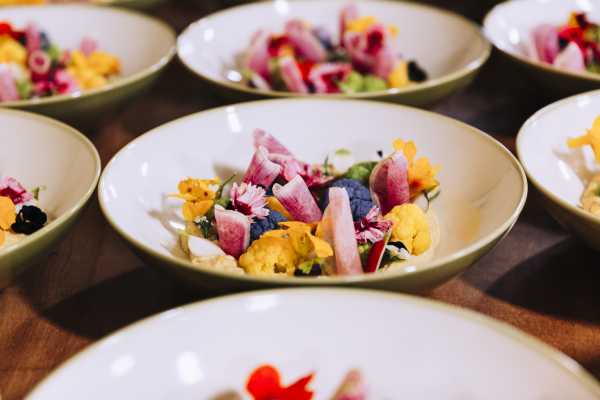 VSL Voices is a new interview series to hear from some of the unsung heroes of the industry. Their insight, inspiration and innovation make the venues we propose so special for our client's event. It's January, so we're talking to creative caterers Moving Venue about all things Veganuary...
We're excited to have an exclusive interview with Moving Venue's Group Executive Chef, David Ridgway. He's taken the time to talk us through his experience and process when developing delicious dishes for your unique corporate events. We've asked him to share where he see's catering trends emerging, particularly looking at plant-based and sustainable options this Veganuary...
Tell me a bit about your cheffing experience and what inspires you...
I am very proud of my career which has spanned over three decades. Having started my first job in a kitchen as a teenager in Lancashire where I grew up, I have been a chef in hotels, restaurants and then eventually event catering. I first met Greg Lawson, CEO of Smart Group in 1997 when I was appointed head chef for a Land Rover road show contract working alongside a team of chefs from Marco Pierre White`s award winning kitchen and I have progressed to now be the Executive Chef of the entire group.
One of my most memorable events was running the catering for the London 2012 Olympic Hospitality Centre, where Smart were the caterer. This involved providing world class corporate hospitality from 11am – 11pm for 62,000 covers across 17 days. Throughout the years with Smart Group I thoroughly enjoy working with my chef brigade in delivering events for anywhere between 12 guests at the Tower of London and 2,000 at Evolution London as well as hospitality at Royal Ascot, Wimbledon and Henley Festival.
My inspiration comes from visiting new restaurants, I encourage my entire brigade to always have an 'ear on to the ground' and seek out the newest thing in London. This could be anything from a new street food trader to a newly starred restaurant. Our entire team are going to The Waterhouse Project next week, a mainly planted based restaurant. Furthermore, as simple as it sounds, a lot of inspiration also comes from reading lots of cookery books. My hot reads currently are 'Dirt candy' a restaurant in New York and 'Vegan eat' from Smith and Daughters based in Melbourne.
How do you begin the menu creation process at MV?
I'm incredibly traditional and carry pen and paper with me, constantly jotting down new ideas whenever I see something interesting. This can be anything from scrolling Instagram, speaking to a new chef, researching new restaurants and discussing themed concepts with the Sales and Planning teams within Moving Venue. I also take note of current affairs and what trends are happening within the industry. Menu writing is also an incredibly collaborative effort with my team, I am very likely to be surrounded by a host of talented and multicultural chefs which influence our menu creation process.
What's on the plate this winter?
We are continuously trying to ensure our menus push boundaries and stay ahead of trends. In previous years we would always have meat, fish, vegetarian and vegan dishes. Going forward we are trying our best to make as many vegetarian dishes actually completely plant based where possible. Also, we want to offer something more unusual than the classic vegan option. For instance, once of my favourites this year has been the 'Sweet potato massaman curry with crispy black rice cakes, shaved kohlrabi and coriander salad' main course dish which was designed by Moving Venue's Head Chef Alistair Riley.
Are there key trends/ingredients emerging? If so, what do you believe is driving this?
It goes without saying that plant-based food has been the main trend for some years however, this isn't always the most sustainable way of eating and often can mean gaining ingredients internationally. Therefore, we believe the main trends this year will be seeing an increasing in British grains and seeds which are of course more sustainable. As well as the use of pickles and ferments to elevate the plant based menus.
What advice would you give to clients looking for more sustainable options, but not wanting to go full vegetarian/vegan?
My advice always would be to ensure you are eating British free-range at all times as well as supporting your local butcher would be a good way to be more sustainable. I would also suggest creating dishes where the meat isn't always the main focus and having a little less meat on your plate – 100g of protein is more than enough for a main course!
When is your first memory of designing a vegan menu for MV? And what was on it?
Truthfully, I only really have memory of designing vegan menus over the last six years. This isn't to say I haven't in the past, I may well have but just not been conscious of it. However, about six years ago we started highlighting vegan options on menus and one of the first was 'Aubergine rollatini with spinach and tofu ricotta, topped with toasted pine nuts and fresh basil served with baked lima beans, finished with almesan'.
It wasn't long after that that we catered our first ever fully vegan event in association with the chef Tom Hunt for an event for National Geographic at the Natural History Museum in 2019.
How has this developed for you since?
When I first became a chef in the events industry, less than 1% of guests were vegan. This has of course increased dramatically to approximately 8% so the need for change is evident.
For a long time, the word 'vegan' was dirty amongst chefs and indeed it still is for a lot of clients however, I see it as a great challenge to produce amazing dishes which are still impactful and vibrant whilst being vegan. Over the last two years, I have probably purchased over 20 vegan cookbooks, they have taught me a lot about developing these menus. I love nothing more than in a menu tasting when clients choose a dish for all guests because of it's flavour and presentation that just so happens to be vegan.
Why do you think Veganuary has come about?
Veganuary is absolutely a consequence of overindulgences over the festive period. Much like Dry-January, people feel the need to re-set and eat healthier at the beginning of a new year. Of course, inevitably, many people don't stick to it however I think it's fantastic that people are actively thinking about their food choices. Even if you slip up and eat something non-plant based during January, the fact that you're making a conscious effort to consider the types of foods your eating is great. Perhaps it'll then have a greater impact on your food choices moving forward.
How do you see this effecting events catering and the future of the industry as a whole?
Within the events industry, after the effects of the pandemic and Brexit, people are more conscious of the environmental impact of hosting an event. Therefore, plant-based and sustainable menus are absolutely here to stay and will continue to become the 'norm'. We believe that we will see an increase in 100% plant-based menus for events as well as flipping dietary requirements on its head and 'opting in' for the meat option rather than expressing veganism as your dietary preference.
Furthermore, we believe there will be a much greater increase in quality vegan products to replace diary items that are not nut based. Though there are some on the market, the choices are limited. As the market does grow and more vegan suppliers emerge, I cannot wait to start developing new and exciting dishes for future events!