VSL & Story Events' Summer Soiree
Monday 15 August 2022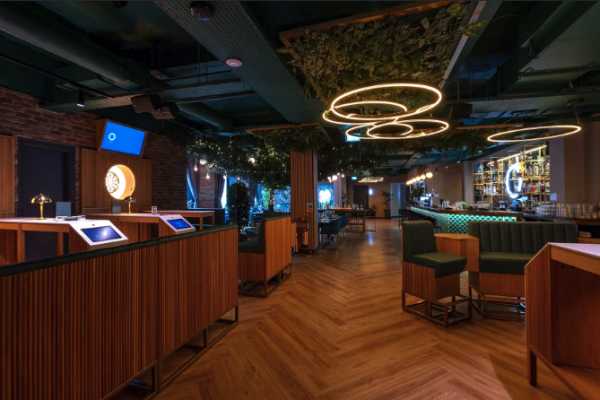 With all this talk of Christmas during the hottest months of the year, VSL & Story took some well deserved time to get together at our Summer soiree and celebrate the year so far. The team hit one of London's newest venue openings for the first leg...
Starting off at Oche, the team headed down the Strand to check out this brand new opening in the heart of London. Oche have given darts a new soul, reinventing the classic game to elevate the party atmosphere. The kitchen is inspired by street food from all over the world, packed with flavour served in a sharing concept, with Oche's signature drinks which are made with a modern approach.
Heading into the cool, underground space (welcome on a hot day!), the team were wowed by the stunning design (phones at the ready if you're on Instagram!).
If you're looking to inspire the team with something new and exciting? Then Oche is the perfect place for you and your event or party. With games to suit all abilities, you can get competitive or relax and take a casual approach. The venue offer booths, or Oche's as they like to call them, for up to 8 people. If you are in a larger group, simply ask for more oches or a table in their seated restaurant area. A personal waiter is always just a click away on your touchpad at your Oche, and always at your service throughout the evening. Oche is great for an exclusive hire and can accommodate approx 250 guests for a standing event.
For the second leg, the team walked across the bridge to Bar Elba, a gorgeous rooftop summer party venue located right beside Waterloo. The Mezzanine is the highest terrace on their rooftop. A completely open-air space boasting a more chilled atmosphere than the rest of the venue which allows you to soak up incredible views across London away from the hustle and bustle of the bar downstairs. Perfect for smaller groups of up to six where you can eat, drink and relax in that Summer sun. For larger groups, Bar Elba is also available for exclusive hire and a popular choice with some of our clients, with the whole venue taking up to 600 guests standing!
If you're yet to book your summer party, September is an amazing time to get the team back together after the holidays, whilst still making the most of the good weather.
Get in touch with the team today to find your perfect Summer party venue! Pop us an email to hello@venuesearchlondon.com or give us a call on 020 7870 9305.