London Awards Venues
London has an excellent range of larger venues suitable for high impact awards dinners and events capable of accommodating 200 - 1500 guests.
We offer a completely free venue finding service to help you find that perfect London Awards venue. With over 1000 London event spaces listed, we have a fantastic team with unrivalled knowledge of all the best event spaces to hire in London.
SAVE TIME – With great venue knowledge, we will create a fantastic proposal of the most suitable awards venues in London venues without you spending hours on the Internet or telephone.
SAVE MONEY - Not only is our service free, but due to our great venue relationships we can also negotiate some great prices and packages for your next London Awards event.
SEARCH OVER 1000 VENUES NOW - and it's free!
When planning an awards event in London, our team are here to advise you on the key considerations in selecting the most suitable London awards venue. Here are some of our top tips and things to consider when drawing up the best shortlist: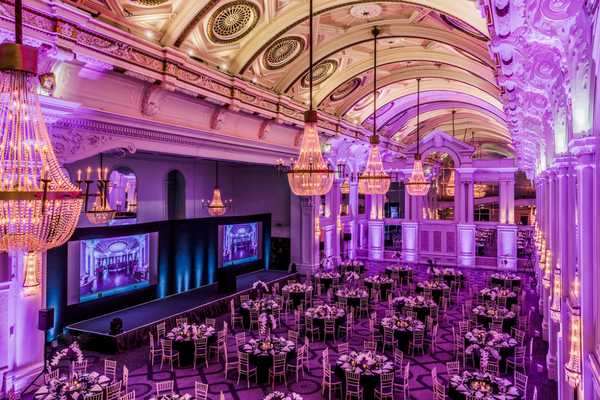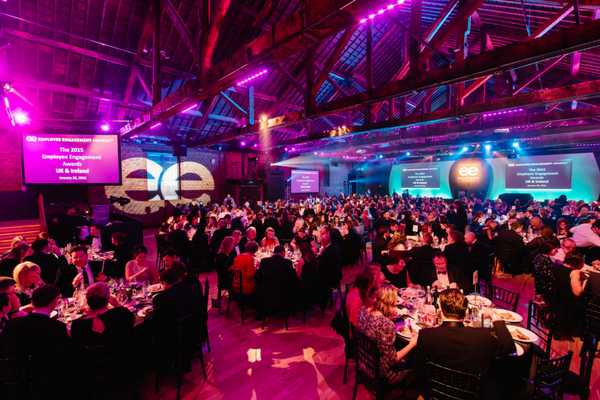 VENUE CAPACITY
Always ensure that your main awards space has the capacity to accommodate growth in tickets sales since you will be kicking yourself if you have to turn away ticket sales. We recommend booking a London Awards venue that can take around 25% more guests than your targeted numbers. Don't go over the top here since a half full venue will lack atmosphere and give guest the impression that you have under sold the event.
NO PILLARS!
Sight lines are essential for a successful awards dinner in London, since guests will not appreciate being stuck behind a pillar having paid to attend. A good ceiling height (4 metres plus) will also ensure that the projection screens will be visible to all guests.
AWARDS PRODUCTION
Ensuring that there are no sound restrictions that can restrict the volume of your stings and announcements is a very important part of venue finding for awards. Many venues have excellent lighting and sound included, but if not, ensure you have an acceptable quote for their preferred partner before committing to the venue.
REHEARSE, REHEARSE!
Make sure you have enough set up time to allow for a full run through before guests arrive since you only have the one chance to make a great impression and you need to keep the awards section fast and crisp if you are to keep the audience's attention. Ensuring that your catering team are fully up to speed with the timings and dinner service will also make the venue run smoothly.
ALLOW TIME FOR VENUE FINDING
Choosing the right venue that will encourage ticket sales and deliver you a memorable event is a big decision, so allow time to site visit up to six shortlisted venues to ensure you have selected the best awards venue in London. Our free vene finding agency team will set these you for you and be with you to ensure that all the right questions are asked and answered.
BOOK EARLY
The best large London venues get booked up a long way in advance, so for the best choice you need to book your awards venue well in advance, especially if you are planning to stage the event in the busy months of June and November.
Search over 1000 venues now
---